It's Spring in Lewis County and it's raining…again.
Inside the greenhouse at Dirty Thumb Nursery it's warm and I relax. As I look down the long, straight structure, I see rows upon rows of flats filled with healthy young plants. Overhead, flower baskets hang from the curved supports.
Connie and Spencer Davis's Dirty Thumb Nursery has served the Chehalis area since 1990. Loyal customers visit from as far away as Gray's Harbor County and Longview to choose annuals, perennials, roses, shrubs and trees. It's a grower's nursery, wholesale and retail. They also do florals for special events.
The couple's first nursery was in Orting. They co-owned it with another family. "It was a good thing," Connie explains. "But it couldn't support two families." Two years later, they were ready to start their own nursery and decided to move back to Chehalis. "Spencer had worked in Adna and drove by this place every day. He thought it might be a good spot." So they bought the narrow 13-acre site and built Dirty Thumb Nursery from scratch.
Seeing Connie and Spencer together, it's clear that they're enamored with each other. "I love working with him every day," Connie says. "I would miss not working with him; we've been doing this for 30 years."
But Connie didn't start out as a gardener. She had to learn. "Before I met Spencer I didn't garden at all. Spencer grew up gardening."
Connie also learned how to be a florist. "The Orting nursery had a floral business. The girl that we were in partnership with said to me: 'You will learn to do flowers.' And I did." Connie is modest about her talents, but adds, "I do a pretty nice job, I think. I've got four weddings booked already this year." Although they've trimmed back the floral business in recent years, Connie still does flowers for weddings, proms, and other events.
Dirty Thumb Nursery is known for its wide variety of plants. "We have a really good selection of annuals, a fair amount of vegetables, and a nice selection of hanging baskets and ornamental trees," Connie says.
The nursery also specializes in roses. "They come in bare root and we plant them up ourselves. Some years, we've had as many as 1,200," she says. "I have been told by sales people that our roses are in the top five nurseries up and down the I-5 corridor."
Good prices are also a draw for Dirty Thumb. "We have a lot of people come from Olympia because our prices are really affordable."
Still, not everything has always come up roses for the nursery. The 2007 flood was devastating to the area, no less so for the Spencer family as they lost 80 percent of the nursery. Connie gestures to the level of her office desk, "The water was here," she says. "I had a full floral shop in the back before the flood. And when the flood came, it ruined the cooler and all of my supplies." They also lost five of their greenhouses and most of their stock. "When the flood came…we lost everything."
But Connie and Spencer were determined to rebuild. "You just start over," she says. "You do your best and that's all you can do.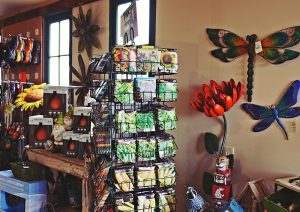 Today, Dirty Thumb is thriving.
The freshly renovated shop is bright and cheerful. "We got a new roof on the building last December," Connie says. "It looks nice now that it's all been put back together." There are new gifts on the shelves beside gardening tools, books and supplies.
Healthy plants and affordable prices might bring people in, but it's the excellent customer service that keeps them coming back, year after year.
"We're a local grower and we take pride in that. We're responsible for the quality of everything that comes in and you will go home with a good plant," Connie says.
If you want to check out Dirty Thumb Nursery for yourself, they are located at 1580 State Route 6 in Chehalis. For more information, you can give them a call at 360-748-3128, follow them on Facebook or on Instagram.