The weather is finally getting warm and now you are thinking, "Where can I go to cool off?" We have plenty of fun places in Lewis County where you can enjoy the summer without being too hot – from outdoor recreation to indoor activities – and all of them are close to home. So go and enjoy the sunshine and when you are ready
for an escape, try one of these to keep your summer cool.
Play in the Water
There are many places to dip your toes when the temperature starts to rise. From indoor pools to mountain streams. Be sure to check websites for pool open swim hours and to make sure creek or river access is open. Heed any public health and safety notices about swimming in lakes, rivers and creeks, including temperature and contamination warnings to make sure you have a safe summer. Here are some of our favorite local places to splash around.
Fort Borst Park in Centralia has many options when it comes to water fun. There is a wading pool, Borst Lake and the adjacent indoor pool at Thorbeckes. Thorbeckes has summer swim lessons and summer camps. Registration is now open for both.
The Gail and Carolyn Shaw Aquatics Center in Chehalis is the epitome of summer fun. It is opening for the season on Saturday, June 17. They will have two sessions each day. The first will be 11:30 a.m. to 2:30 p.m. and the second from 3:00 p.m. to 6:00 p.m. Cost per session is just $5.
Right next door to the Gail and Carolyn Shaw Aquatics Center is Chehalis Spray Park where jets of water randomly spray up from the ground. This park is free of charge and open from 9:00 a.m. to 8:00 p.m. on warm days.
Get out on the Water
And, if you are looking for something a bit more exciting, don't forget about canoeing and kayaking in Lewis County. We have some of the best places to do both in the region. When it comes to lakes, Mayfield Lake and Riffe Lake are not to be missed. For those looking for river trips, the Skookumchuck, Tilton, Chehalis and parts of the Cowlitz are known by the locals as the best rivers to travel down. The Tilton is hailed as the best of them, with the best access point being at Ike Kinswa State Park near Mossyrock. The Chehalis River West fork from Pe Ell to Doty is perfect for whitewater rafting, kayaking and paddling.
Spend Time in the Shade at a Park
Washington State is known for its towering forests and Lewis County definitely does not have a shortage. Our beautiful parks are a great way to spend some more time outside, but out of the direct sun. The following are day use parks that are not only shady, but also have water access, making them a perfect destination for the summer. Remember to check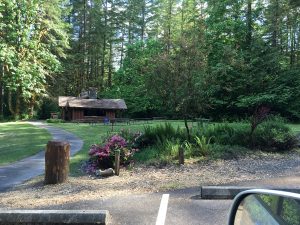 to see what passes (if any) are required to use the park before heading out.
The Lewis and Clark State Park may not have water access, but it is definitely shady. In fact, its home to a rare stand of old growth trees on a historic piece of the Oregon Trail. It's a wonderful place to escape the heat and combat summer learning loss with a bit of history.
Enjoy Some Indoor Fun
There is such a thing as too much sun, so when you really need a break from the heat, it's time to move indoors. Luckily, there are many cool activities inside that will keep your summer sizzlin'.  What's cooler than ice cream? Take a break from all that summer fun and cool off with a frozen treat. There are lots of places to indulge in Lewis County, including the historic Dairy Bar at 651 W Main Street in Chehalis and Holley's Place at 119 S Tower Avenue in downtown Centralia.
Of course, it's not summer without a blockbuster or two, so heading to the Midway Cinemas in Chehalis to trade that sun in for a cool, dark theater is always a good idea. This summer's hottest new movies are already hitting the theater, so be to check out what's showing on the Midway Cinemas's website.
If you are looking for music, the Chehalis Theatre is playing a mixture throughout the summer on Saturdays.
Libraries are another great place to go when you want something to do that's out of the heat. During the summer, many of them have free activities. The Timberland Regional Libraries – Vernetta Smith Chehalis Timberland Library, Centralia Timberland Library, Salkum Timberland Library, Winlock Timberland Library, Packwood Timberland Library and Mountain View Timberland Library – have a plethora of events planned for the whole family. From summer reading activities for the kids, to talks for older teens and adults, it's a great place to cool off while learning something.
The Lewis County Historical Museum has extended summer hours, from 10:00 a.m. to 5:00 p.m. Tuesday-Saturday until Labor Day. It's a great place to get out of the hot air and learn a little bit about our community – especially if you have family visiting from out of town.
This list of places to cool off is sure to help you plan your summer days. One thing is for sure, with all these activities and choices, you can be sure to have a fun-filled summer in Lewis County that's just the right temperature.