Lots of seniors are winding down their final year of high school and preparing to go off to college or begin working. Many are just ready to move on.
We wanted to talk to one of those seniors and we approached Noah Thomas, a senior at Centralia High School who we found to be one of the most accomplished and well-rounded 18-year-olds you can imagine.
Noah didn't want to really talk about his accomplishments, he just wanted to thank those who helped him get where he's going…so we thought we'd let him (and in the process, we'd highlight one of the best and brightest members of the Class of 2017 from our area).
In the Classroom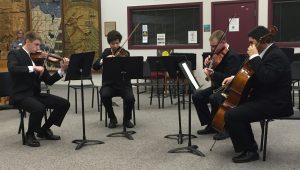 Noah wanted to thank teachers who have helped him earn academic accolades. Teachers like Centralia Middle School English teacher Michelle Sharp, who helped him learn to write well. Noah will graduate near the top of this year's Centralia class of 2017, with a 3.97 GPA. His only A minuses came in courses at Centralia College, where he did part-time running start.
When asked about Noah, Sharp said, "I have a son in elementary school right now, and if he ends up a 'Noah Thomas,' I would be very happy. That's the biggest compliment I can give."
Jodee Roberts has "put up" with Noah each and every semester at Centralia for the past four years. Noah really wanted to thank her. It was Roberts who helped him develop a love for sports medicine. Noah's been named a Regents Scholar at Washington State University, where he will go to school next year and enter the athletic training program. Noah's been a student trainer for the Centralia boys' and girls' basketball teams for the past two years, and looks forward to being a D-1 trainer in Pullman.
He'd like to thank Rebecca Gage, who Noah (and many others) have had in orchestra since the fourth grade. A large ensemble group that Noah is currently a part of (led by soloists Hannah Jeffries, and Zack Stelzner – Zach is also going to WSU and has been buddies with Noah since they played Babe Ruth baseball together) recently won the local competition and will perform April 28 at the state orchestra ensemble in Ellensburg. The group practices on their own time to get ready for state.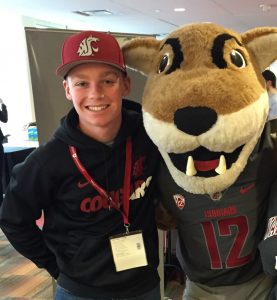 As a Leader
Whether it's been serving as VP of the student body this year, in the Tiger suit as mascot during his junior year, or on the microphone at assemblies and games, Noah is very thankful for all of the leadership opportunities offered through CHS and the community.
Without those, he wouldn't have been named as state finalist for the Wendy's High School Heisman or win the Daughters of the American Revolution Good Citizenship Award. He wouldn't have had the opportunity to lead CHS over WF West in the Food Feud this year that gathered more than 1,600 pounds of donations for local food banks.
Noah singled out Marilyn Haskins, Kristine Johnson and June Lee as those who have helped him take on leadership roles throughout his high school career, as well as high school counselors Debbie Everley, Jim Parker and Matt Whitmire.
"Noah has been exceptional in leadership. The energy, commitment and integrity he has brought have been immeasurable," said June Lee, ASB Leadership Advisor. "Noah has been awesome to work with and I will miss him dearly."
Noah said he really enjoyed working with the fellow ASB team: Taylor Powell, Emma Johnson, Hannah Porter and Riley Fast.
On the Field
May 23-24, Noah will be in Spokane for the 2A State Golf Tournament. He'd like to thank CHS coaches Hal Gronseth and Larry Mollerstuen for helping him in past years on the team. Golf is more an individual than team sport really, and making it to state is not easy. Noah would like to thank coaches Casey McCoy and Austin Abbott for helping individually.
While preparing for state golf, Noah will also be playing what has been his favorite sport since he was eight- or nine-years-old – baseball. This year, he's one of the top pitchers for Centralia and coach Rex Ashmore. Along with his high school coaches, Noah wanted to thank all the youth coaches and others who helped him get where he is today in the sport – Kevin Wasson, Adam Riffe, Paul Stulken, James Aliff, Tim Gilmore, Marc Roberts, Larry Heinz, Andy Forgione, Bob Wollan, Jared Guerrero – and his uncle Joe Thomas and friend Lyle Overbay, who have been working with him for many years.
Wollan, the current WF West football coach, graduated from Centralia High School with Noah's uncle, Mike Thomas. Wollan's son, Nole, and Noah have grown up together, playing sports as young as youth soccer when they were four. Bob Wollan has helped coach (for and against) Noah for the past dozen years.
"What's really cool about Noah is that he knows the history and traditions of our area, has listened to the stories and knows the names, and has always wanted to be a part of that…and would never do anything to disrespect the tradition of those that came before him," said Wollan. "He's always been very competitive – on and off the field – and that's gotten him to the place he is today."
Noah hopes to help Centralia get back to the state tournament and "dogpile" like they did two years ago when the Tigers won the 2A state championship.
In the Community
You get more than you give and Noah has "gotten" a lot through volunteer work in the community.
He'd like to thank Providence Hospital for allowing him to experience the medical field through volunteer work in the hospital and at events sponsored by Providence.
He'd also like to thank Emil Pierson and the City of Centralia for allowing him to spend four years on the City Parks Board, where he learned about politics and that even a teenager can have some influence on important decisions that impact the entire community. Other volunteer opportunities for the Special Olympics, Salvation Army and at the Northwest Sports Hub – to name a few – have led to lasting memories for Noah.
Noah also wanted to thank Riverside Golf Club for letting him work there the past two years and learning the importance of hard work.
God and Family
Leaving the best for last, Noah wanted to thank his God and family.
Being involved in Young Life has meant a lot the past six years, Noah said. He wanted to thank the regional leadership – Mason Keller, Josh Rodland, Jim Parker and Jacoby Gronseth. Noah will be spending a month this summer volunteering on the "work crew" at Young Life camp.
And his buddy, Hodges Bailey and family, for hosting weekly Bible study all those evenings. Noah and Hodges will be walking together at graduation. Bailey then on to his basketball scholarship in California, where Noah hopes to visit.
"I've been extremely lucky to have such a great group of teachers, coaches, leaders, friends and family," Noah said. "I wouldn't be half the person I am today without them. I'm so grateful for the things they have given and done for me."