There are quite a few reasons that led Kendra Bottenberg to believe she wasn't made to throw the javelin.
"This is not supposed to be my event," the W.F. West junior stated. "I'm not really built to be a javelin thrower. I'm pretty small compared to everyone else. I have a m


essed up shoulder. It dislocates in and out from time to time. I just thought I'd never be very good at it."
Bottenberg is 100 percent correct. She's not good at the javelin – she's exceptional.
But odds are you won't hear that from her.
"She'll always downplay her accomplishments," Bearcats' track coach Autumn Ledgerwood said. "She's never happy. She's very hard on herself, but that's what pushes her. She's very driven to be excellent. Sometimes the toughest part of coaching her is getting her to lighten up. That's just a testament of her work ethic and her attitude towards wanting to be great."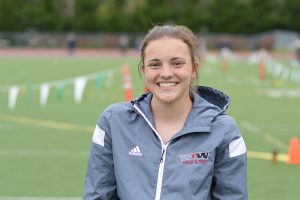 The modest Bottenberg currently ranks second in the state among all 2A javelin throwers this year with a personal record throw of 135-feet, 9 inches set during the Chehalis Activators Invitational. She trails only Cheney's Rylie Pease (138-6).
"I'm still learning to have fun with it," a grinning Bottenberg said. "I'm definitely pretty critical of myself. Everyone else around me is really positive and supportive. I have a great group of teammates around me. My family and my coaches are super proud of what I am doing. That just makes me want to do better. I really want to go to college for this. That's why I am so focused on it."
If Bottenberg continues her upward trend, she should have plenty of colleges calling.
The goal this season was to keep all her throws above 130 feet – a difficult task considering last year's 2A state champion won the event with a throw of 122-3.
With the exception of an off throw during inclement weather during W.F. West's meet against Aberdeen, Bottenberg has so far accomplished what she has set out to do this season.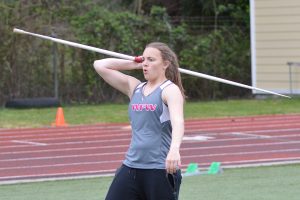 The feat is even more remarkable given the fact she's been doing the event for less than two years.
"I didn't try [the javelin] until the very end of my freshman year," Bottenberg said. "I was just kind of having fun during spring break of my freshman year and tried throwing it. I ended up being kind of decent with it and just started to pick it up. I'm glad I found it. I almost tried running actually, which is funny because I'm really slow."
Things really started to click for Bottenberg during her sophomore campaign when she was constantly posting marks just shy of 120 feet.
She cruised through the early portion of the postseason slate, claiming both the 2A Evergreen Conference and 2A District 4 championships, before advancing to the state meet where she finished seventh.
"I think last year was actually a disappointment for me at state," Bottenberg said. "I came in ranked second. I was too focused on the fact that I was ranked that high, and I think I let that go to my head. But I did realize this is something I can be good at. I just don't want to be average. My sophomore year at the start of the season my goal was just get to state. This year I want to win state."
With that goal firmly set, Bottenberg spent the past summer improving her skill set as she attended the Iron Wood Development Camp at North Idaho College.
The work paid off immediately as Bottenberg threw 130-4 right out of the gate this season, winning the Lewis County Invitational and bettering her previous best mark by nearly 10 feet.
At the Pasco Invitational, widely considered one of the state's premier in-season meets, she finished a game third with a mark of 134-7.
"Pasco had the top five javelin throwers in the state from the previous year and I actually beat four of them," Bottenberg said. "That really helped change my mindset. I always looked at myself as being outside that top group, but that showed me I belonged."
The top seven finishers in the javelin at last year's 2A state meet all return this season, making the event one of the more top-heavy in the state.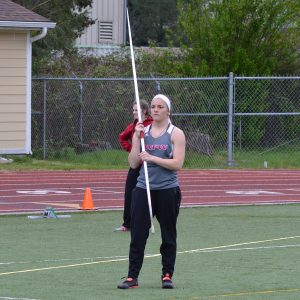 But Bottenberg doesn't limit her goals to simply winning a state title this year. She's out for bigger things.
"The goal this year is to beat the school record. It's a 138 feet," Bottenberg said. "I want to leave something behind. We have a lot of good younger throwers on the team and I'm just trying to set an example. I don't want to settle for just taking first (at state). I know I can get in the 140s."
And just saying that out loud actually put a smile on Bottenberg's face.
"She's very passionate about the javelin," Ledgerwood said. "She is such a competitor and has such a great work ethic. You really need to have a side where you're focus and driven and a side where you love what you're doing and having a great time doing it. She's learning to do that more. She's starting to mesh the two."