At first glance, you will notice this lovely, four-acre, landscaped destination is a beautiful green space filled with colorful flowers, green grass, and tall pine trees nestled inside the cozy town of Napavine. Mayme Shaddock Park is well maintained and has been a popular place to visit for in and out-of-towners for many years.
Who is Mayme Shaddock?
Mayme Shaddock was a young, bright-eyed seven-year-old girl when her family moved to their Napavine homestead in 1919. For the next 80 years, this remarkable woman continued to warm the lives of her community members through laughter, generosity of spirit, and countless contributions to local families and charities.
After graduating from high school, Shaddock worked in the area at a feed store, as a postmistress, and city clerk. Having spent most of her life dedicated to owning and operating a popular variety store in Napavine for 37 years, she also ran a small candy shop where children and adults alike came to know her sweet treats as some of the best. Shaddock would even welcome community members to gather around her wood stove at the back of her shop and catch up on the day's events.
In 1983, After decades of love and dedication to her town and community, Napavine Park was officially renamed Mayme Shaddock Park. The city of Napavine and students at Napavine High School volunteered their time and materials to make the dedication possible. Countless hours were spent replanning, repainting, and rebuilding the park, and the space has undergone many improvements since 1983.
On a cold and rainy day in 1999, Shaddock accepted another outpouring of gratitude from her fellow Napavinians. More than 250 community members gathered around her wheelchair at Mayme Shaddock Park to show their support and rededicate this beautiful green space in her honor after completing some much-needed improvements.
Mayme passed away in 2000 and was laid to rest at the Napavine Cemetery.
Plan Your Next Outing at Mayme Shaddock Park
If you are in Napavine and are looking for a quaint place to have a picnic, take a brisk walk with your dog, or maybe let your kids run off some energy, Mayme Shaddock Park is the perfect place for you to enjoy.
Just a short drive from I-5, this small yet diverse day park is equipped with abundant picnic tables, convenient charcoal barbeque grills, numerous slides, ladders, and swings the kids to explore, horseshoe pits, an amphitheater, and a lovely, wooded area to enjoy some shade. Bathrooms are available near the parking area, but they stay closed during the winter months, so make sure to stop at one of the public rest stops at the Rush Road exit before heading up the hill to Napavine.
Enjoy Your Local Take-Out at Mayme Shaddock Park
If you are hungry and looking to satiate your hunger before visiting Mayme Shaddock Park, why not stop at one of the many local spots just a few short minutes away? Better yet, get it to go and have yourself a picnic at Mayme Shaddock Park!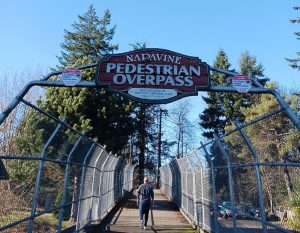 Check out Frosty's for some quick but delicious "bar" food. Plaza Jalisco offers amazingly mouthwatering Mexican cuisine. Sahara Pizza is a local favorite if you are looking for a yummy slice of pizza, and Napavine Diner makes deliciously satisfying homestyle meals.
Take a Walk Over the Napavine Pedestrian Overpass at Mayme Shaddock Park
The short but lovely eighth-of-a-mile out-and-back walk over the pedestrian overpass is worth adding to your Mayme Shaddock Park experience. The entrance to this wide concreted path is found near the back of the parking lot and to the right of the park. Follow this path up and pause a moment to notice the picturesque views of Mayme Shaddock Park and the city of Napavine. If you stay long on the overpass, you will see (and feel) trains will pass beneath you, so be cognizant if you have nervous children or pets.
The other side of the overpass lends relaxing views of many different types of wildflowers and trees that border the path. At the end of this walk, you can continue your journey through the residential streets of Napavine, or you may turn around to complete your stroll back toward Mayme Shaddock Park.
Mayme Shaddock Park is a perfectly convenient location for your next outing, so pack your picnic basket and make this lovely green space your next destination.
Mayme Shaddock Park is located at Park Street and Second Avenue, across from the elementary school in Napavine. If you want to host an event at Mayme Shaddock Park, contact the city clerk at 360.262.3547.