In the days when east Lewis County was still mostly wilderness, and the railroad had yet to reach Morton, enterprising homesteaders from the Big Bottom country of Randle herded hundreds of farm-fresh turkeys to market — a three-day trek that wound through 50 miles of backwoods trails. These annual fall turkey drives reached their peak around the turn of the century. Over that 20-year span, thousands of Big Bottom birds passed through the market towns of Chehalis, Spanaway or Tacoma on their way to Thanksgiving tables in Lewis County, Grays Harbor, Puget Sound and beyond.
Farm to Thanksgiving Table
"In the mills and logging camps on the Chehalis River, from Centralia to Hoquiam and Aberdeen, and over to South Bend Branch Railroad reaching to Willapa, there were over 5,000 of the hungriest loggers and lumberjacks in the whole State of Washington. They could eat every critter that could be driven out of the Big Bottom country. Like everyone else, they appreciated turkey on the long logging camp dinner table at Thanksgiving. It did not seem to matter if they were lean tom turkeys with tough drumsticks conditioned by a fifty-mile trot," wrote Dr. Woodrow Clevinger.
That 50-mile trot must have created quite a spectacle as hundreds of squabbling, clucking, complaining turkeys passed by homesteads and through little settlements on their way to market.
It was "an unforgettable sight," wrote Victor Kucera, historian, author, and descendant of two early Alpha Prairie families. According to Kucera, second-generation residents from Alpha Prairie (near Onalaska) remembered the excitement that filled the air as the large herd of gobblers marched through their little community along Centralia-Alpha Road en route from Randle to Chehalis. "The herds could be heard from a distance. I was later told that when a herd arrived at the school, the teachers gave up, and all the students went outside for whatever time it took to pass!" said Kucera.
Fuss and Feathers
For the farmers living out in Randle and Morton, turkey drives were the common sense way to get fresh goods to market in a day when the lack of decent roads made transporting crops by wagon unprofitable. Many east county homesteaders opted to raise "walking crops" like Thanksgiving turkeys — along with hogs, cattle, horses and sheep — which could simply walk themselves to market. However, organizing and leading a turkey drive with hundreds of birds was anything but simple!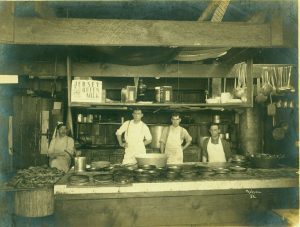 It required teamwork, vigilance and a whole lot of patience.
First, men and boys had to round up hundreds of turkeys from the bottomland range where they had been feeding on grasshoppers, wild berries and nuts — whatever they could forage from the land. The birds were then fattened up for market on grain and boiled potatoes. Next, farmers clipped their wings and tied small "turkey bells" to the necks of certain toms so they could locate the birds in case they wandered off. Wagons were packed with food and camping supplies for the workers as well as three-day's worth of feed for the entire herd. Finally, the owners hired help for the drive — usually several drovers and young boys.
At the crack of dawn, amidst a flurry of feathers, the drive began. Drovers shouted and prodded. Pack horses whinnied. Wagon wheels creaked, and young boys whooped as the massive herd of noisy, gobbling birds hit the trail.
Over the Mountains and Through the Woods
Though the birds walked at a slow pace, averaging only fifteen miles a day, everyone kept busy. Children sprinkled grain on the trail ahead of the flock to keep them well-fed and to prevent them from scavenging for food along the way. Drovers constantly prodded the birds to keep them on the trail and out of other farmers' fields. Workers at the rear kept a sharp lookout for stragglers and predators. Women cooked for the team and also helped herd. But the most exhausting job belonged to the young hired boys who spent most of the day chasing after strays.
Joe Chilkoat of Randle was one of those boys. He recalled his boyhood adventures in an interview with Clevinger many years ago:
"One sure way of getting out of the woods to see the sights at Chehalis back in the old days was to join up with a hog and turkey drive. Every boy in the country got his chance to walk 50 miles behind a flock of turkeys, often mixed in with a herd of hogs, to the county courthouse town. After the sale, the ranchers would give each a few dollars for a pair of shoes, some new britches, candy, and twenty rounds of ammunition," said Chilkoat. He also mentioned that ranchers preferred boys who could run fast. "You never knew when a turkey or a hog would beat it for the brush. Youngsters would often run all over a section of dense timber to round up the strays." Chilkoat humorously noted that sheepdogs were not invited on the drive, being "unsuited for this type of herding."
The biggest drive he joined was in mid-October of 1897. "It was all turkeys — about 300 head…the turkeys set the pace and picked the overnight camp. When roosting time came, they would hop up in the vine maple or the underbrush and go no farther. It was usually a damp, swampy place of the worst sort to camp," he recalled wryly. Walter Tompkins wrote that "since the fowls insisted on roosting in the forest at sundown, frequent overnight stops had to be made en route." In fact, so accustomed were the birds to falling asleep at the first sign of dark that on turkey drives back East, some birds were known to nod off in the middle of crossing a covered bridge believing it was nighttime! Frustrated farmers learned to bring lanterns or else be forced to hand carry each turkey across the bridge to keep them moving.
How Turkey Drives Came to America
We have our English ancestors to thank for bringing the concept of turkey drives to America. In his article, "Back When Your Thanksgiving Dinner Walked Thousands of Miles to Market," Andy Wright wrote that turkey drives were recorded in England as early as the 1600s. Settlers brought the idea to America, and over the years, the practice spread across the continent. There are historical records of epic turkey drives from Lancaster to Philadelphia, Ohio to Missouri, Iowa to Denver, and Vermont to Boston. Hundreds, sometimes thousands, of turkeys were driven to market each fall in time for Thanksgiving. So when folks came from the East to settle in the Big Bottom country, it made sense to continue the tradition. Surprisingly, the description of turkey drives in England hundreds of years ago were almost identical to the ones described by old timers in Randle.
This Business is for the Birds
Local newspaper notices give us another glimpse of just how extensive the turkey business in Lewis County was at the time:
Tons of turkeys were shipped "from Chehalis by express to Sound cities" just in time for Thanksgiving. (Chehalis Bee Nugget, November 26, 1897)
"Mossyrock — two wagons full of turkeys left here today, and lots more are to go, which will make about 500 sent from this part of the country this fall." (Chehalis Bee Nugget, December 24, 1897)
"R.T. Davis was down from Mossyrock this week. He says the people out that way have had hard luck with their turkeys this year, but in spite of that, about 1,000 will be marketed between now and Thanksgiving." (Chehalis Bee Nugget, October 6, 1889)
"A couple of thousand turkeys have been shipped by Chehalis dealers within a week past… Most of them…were sent from this town to Alaska. He knew of one wholesale dealer who had an order for 10,000 pounds to be sent to the Philippine Islands…Elwood Purrell brought 90 dressed turkeys from his ranch in the Big Bottom, arriving in Chehalis Saturday. The turkeys averaged nearly ten pounds each, and he received 14 cents a pound for them. It required a four-horse team to bring down the load owing to the roads over which they had to be hauled. Besides Mr. Purcell, A.W. Joerk, Chas. Young, William Blankenship and Charles Blankenship of the Bottom brought turkeys and chickens." (Chehalis Bee Nugget, December 8, 1889)
"Chehalis sent an unusually large number of turkeys and chickens to the Seattle market for Thanksgiving." (Chehalis Bee Nugget, December 14, 1900)
While most of these turkeys were probably driven to Chehalis by foot, some farmers brought their turkeys to town in wagons. Not everyone could afford that luxury, however. And for many, the thrill of the drive and the camaraderie along the trail were all part of the adventure! Even today, descendants of Randle and Mossyrock settlers can recall their grandparents' stories — how their families camped along the way with the women cooking and the children helping to herd right along with the menfolk, how the turkey flocks were often mixed with hogs and herded together, how the turkeys roosted at night and it was slow going, and how they all had to walk home afterward.
Before the railroad reached Morton, farmers from the Big Bottom often joined their flocks with ones from Morton, and the two combined herds made the trek together west to Chehalis on the Big Bottom trail or north to Tacoma. When the rail line finally reached Morton in 1910, herds from Randle were driven to the new and closer depot, eliminating the need for the long walk to Chehalis or Tacoma. With the arrival of better roads, shipping by wagon became more attractive and profitable. Modern refrigerated trucks and railcars finally ended the nostalgic era of driving turkeys to market by foot.
Today, the tales of these long-ago turkey drives have mostly faded away. But with the growing appeal of farm-to-table meals, perhaps it's time to bring back this tried-and-true Thanksgiving tradition. What do you think?