KelseaMae Wade and Lucy Page have roots that go back a long way. KelseyMae was a regular customer at the popular Santa Lucia Coffee on Tower Street owned by Lucy. "We built a friendship," KelseaMae said. "She was my doula for both of my home births, and now she is one of my dear friends."


Today, the friends have joined forces to reimagine the beloved downtown Centralia coffee shop and use their individual talents to bring the community Flourish Café. While still offering expertly roasted coffee, now the charming space also offers delicious food.
With fresh ingredients and a menu suitable for most diets, Flourish is a cumulation of KelseaMae's past experiences. She had helped to care for the family garden. Some family members had food allergies that honed her cooking skills in specialized diets using keto, paleo, gluten-free and zero refined sugar dishes.
Flourish is her trade name and the name of her cafe. She tossed the name around and came up with different versions like blooming, replenishing, or supplementing in a way that gives you the best growth. "I finally settled on Flourish," KelseaMae said.
"It's almost like supplementing in a way that gives you the best growth potential," she said. "I believe that good food gives you the correct nourishment to flourish. Food is an underused medicine, an underused tool. In a lot of ways, you can take better care of your own body. I believe that eating well should be sustainable and delicious. That's where the name Flourish comes from."
What KelseaMae wanted was a gathering place where people know that they can come and be their authentic selves and that they'll be safe in that space. "We really focus on community outreach and pulling community into us," she says. Cooking is an outlet for her to connect those things.
Lucy's genuine desire is to roast coffee beans to perfection. Her many projects and busy family made that hard to do, however. Lucy and KelseaMae talked it over and decided that Santa Lucia would stay and Flourish would be the new face with a new name.
"Lucy is a fantastic coffee roaster, mom, friend and a huge piece of our community. It would have been awful to lose her," KelseaMae said.
The merger started in October with remodeling around the building. Major work began in mid-February, with KelseaMae doing most if not all the woodwork.
"I discovered I have a true love of renovation I didn't know I had," KelseaMae said. "I also have some good friends that are very talented. They saved my bacon several times, especially with electrical and plumbing issues."
KelseaMae got what she wanted — the running of a kitchen. So did Lucy. She never wanted to run a cafe. She just wanted to make and roast coffee.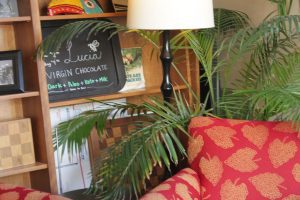 The pair closed the lobby in late February and flipped the back storage room into a commercial kitchen. "It made a more streamlined back room and dish pit with room for ingredient storage," KelseaMae said.
"It's been really great to share space with Lucy and have our businesses run in tandem and feature each other, which is kind of a beautiful thing and a little more intertwined in the way I feel communities ought to be," KelseaMae said.
Find mouth-watering baked goods, sandwiches piled high with fresh produce, delightful salads, and more on the menu at Flourish.
"Customers ask about our produce," KelseaMae said. "Locally, we source some of our cheeses from Black Sheep Creamery. Greens come from Hop Frog Farm in Onalaska, and the honey comes from Adna."
Newaukum Valley Farm and Boistfort Valley Farm will include some of KelseaMae's recipes in their CSA boxes later this year.
Not only is the food amazing at Flourish, but friendly faces also serve it in a welcoming atmosphere. Lorien Walker, KelseaMae's niece, is the kitchen assistant, and Steph Eschenwald is the manager and lead barista.
Look for the hand-scrolled sign, relax with a yummy lunch and a fantastic coffee while you enjoy the charm of the updated space. Any displayed artwork or ceramics from Gaean Allusions Pottery is for sale.
Santa Lucia Roastery and Flourish Café
202 S. Tower Avenue
Centralia