Local artists Karen and Godfrey Betts, along with one of their five daughters, Freya, create charming and functional pottery pieces from their geodesic dome in Chehalis. For the last twenty-eight years, Gaean Allusions Pottery has been producing utilitarian pottery. With the support of their parents, grandparents and now their daughter, the business has truly been a family venture. The couple received their first wheel from Godfrey's grandmother, Marie.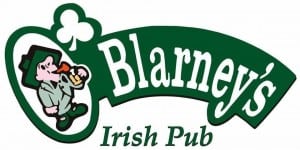 The couple have now been married for thirty-five years and are both class of 1981 graduates of W.F. West High School. Godfrey, who throws the clay, studied at the University of Puget Sound with a major in computer science and a minor in ceramic arts.
The business began as a means for the family to work together and travel to events. Renaissance affairs, such as Society for Creative Anachronism's Autumn War in Chehalis, are still a big part of the family's business. Fortunately, you can buy some of their beautiful wares online and locally at Jeremy's Farm to Table year round. A special line of mugs created by Freya is available at Santa Lucia Coffee Roasters. They also sell wholesale to shops from Seattle to Portland, and as far away as Alaska and New Orleans.
"The fulfillment of the job is creating a common item that someone uses every day," says Karen.
"People think of you and the experience of buying it fondly when they use it," Freya adds.
The designs that adorn the mugs, bowls, plates and other pieces are often inspired by Karen's heritage. Celtic represent her Scottish side and many designs are influenced by her Native American ancestry. Her father is the well-known Chinook artist, Charles Funk. Living in the Pacific Northwest has also shaped some of the creations – Sasquatch is a recognizable symbol found adorning mugs.
Karen's art is found all over Lewis County and throughout the state, usually during the holiday season. Holiday Windows by Karen Betts began as a way to earn money while in the festival down season. Karen, who studied illustration at Cornish College of the Arts in Seattle, loves the big canvas that glass windows provide to create a magical holiday or pictoral scene.
Karen and Freya are the creative force behind the Christmas Train, located across from the Gail and Carolyn Shaw Aquatics Center in Chehalis. Karen also created a photo board for the Chehalis Timberland Library for their Earth Day Celebration. The adorable fruit signs on the corner by Jeremy's were created by Karen and are now maintained by Freya, who works there in the produce market.
One unique aspect of Gaean Allusions' business is creating custom-made urns. "We are really honored to make something so personal and meaningful," states Karen. Urns range from $100 to $200 dollars, making them an affordable option over what is typically offered by funeral homes. Sometimes customers even design their own urns with symbols that are important to them, so the task is completed ahead of time.
Freya, who was born into the business, finds that her family's strength results in different ways of thinking and unique ideas. Freya has drawn from the accumulated knowledge and experience of her parents and refined it with her own style and creativity. She also attended W.F. West High School, graduating in 2010. She went on to study at Western Washington University and did a work-study with the pottery department there.
Since the state-wide legalization of marijuana, Freya has helped to design a line of pipes, mugs and other devices that can be used for smoking. These items can be found at 710 Beans and Glass and Gypsy Greens.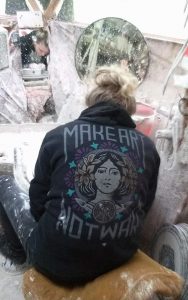 Freya has also added sculptural elements to her parents' classic designs. Her whimsical creatures are attached to vases, mugs and bowls. She has the skill to accomplish both of the tasks her parents do separately – throwing clay as well as carving and glazing it. She describes her childhood with fondness, "It was really nice to have my parents at home growing up. It was like a lot of cultural field trips going to all the festivals. It was hard to realize when my parents were at work because it was so much fun … Seeing them succeed – that is what inspired me to do this with them."
Freya is looking to earn her bachelor's degree in business from Centralia College. Both she and her mother would like to travel less and offer art classes to the community. "It's important that the community has an art interaction with families," says Freya. She imagines opening a storefront for the business at some point.
Godfrey, who oversees business infrastructure and keeps the gears running, says, "There's nothing like opening a fresh kiln … It's really cool – being creative as your job – making something that's both fine and functional."
"We turn the actual earth, clay, into stone and into something that will outlive me," Freya says. "That's what keeps me doing this."
For more information, contact Gaean Allusions at pottery@gaeanallusions.com.