The Medical Assistant Club at Centralia College is made up of students enrolled in the Medical Assistant Program. This year's club President, Tiffani Cummings shares about how her passion for serving her community led her to the Medical Assistant Club.
While many people are steering away from hospitals and the medical field at the moment, Cummings is diving in even deeper. "I am a Certified Nursing Assistant," she says. "I have always been interested in helping people. I fell in love with the aspect of helping people through medicine. And being there in a person's time of need. A lot of times the most intense and scariest moments that they will go through in life. Just being able to be that person that helps them through that, giving them a little more comfort, even in situations when it feels kind of hopeless for comfort."
She wanted to be able to help even more, so in September of 2019, she enrolled in the Medical Assistant Program at Centralia College. "I really like the patient care aspect of it. That's been my goal is just to be in patient care and I feel like as a Medical Assistant that is your main goal," said Cummings.
A good sign that a person has found the right academic program for them is enjoying the classes that they are taking. "The Medical Terminology class was my favorite class. You just get a lot of useful information," said Cummings. "Now when I am reading doctor's notes and things for my kids, the big words on there, I know what they mean. It's an own little language you get to learn."
The Medical Assisting program is usually an on-campus program. Parts of the program have gone virtual. For example, all lectures are held through Zoom. However, some of the lab classes need to continue in person. Cummings explained that her cohort has been split into smaller groups that come in to do the labs portion of their schooling at different times. "We have smaller class sizes so we get a lot more practice time in, which has actually been nice," said Cummings.
Besides her own logistical changes, Cummings has also had to juggle being a mother to two young children, both of whom are navigating their own virtual schooling schedules. Even with all that, Cummings feels her time at Centralia College has not been overwhelming, "It has been challenging, but it has not been overwhelmingly challenging. There are aspects of it where you want to do your best so it can be challenging. But I wouldn't say that it was so challenging that you are on that teetering moment all the time. And there is a lot of great support. Especially if you are in the Medical Assistant program. It's like a family. You all have each other's back. It's nice," said Cummings.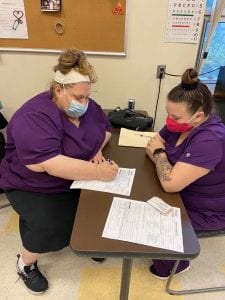 In addition to school, Cummings recently accepted a position working as the Emergency Room Technician at Providence Hospital in Centralia. Many would consider this a high-stress position in general, but with COVID-19 it comes with even higher stress than normal. Cummings doesn't mind the stress of the Emergency Room and feels safer working in a hospital than other options right now. "It's what I like to do and I feel a little safer working at the hospital because of the precautions that are in place, the standard of care, and the standard of cleaning," said Cummings.
It's no surprise that Cummings was elected by her peers to be this year's Medical Assisting Club President. Every year the club hosts fundraisers to serve those at risk in our community. "We do a lot of outreach projects with the community. We are bettering our community and bettering ourselves by being able to be involved," said Cummings.
This year the club is partnering with Reliable Enterprises to collect donations to put together care packages for people who are homeless. "We are doing basic care needs. They will include toothbrushes, toothpaste, sanitation wipes, a reusable water bottle, a quick little non-perishable snack, socks, feminine products, and hand warmers — just little things that people might not think about. People are buying food, but we forget people need toilet paper," said Cummings.
Their annual fundraisers are experiencing some logistical complications with everything social distancing requires, but just like the Medical Assistant program, the club is adapting. "The Facebook page is new this year, " said Cummings, "It's a page where people if they need something, they can find information. We post from other pages for different kinds of help. It will also be a platform for our raffles. You'll get to know what fundraisers are going to be and if we have any kind of events coming up, just what we are doing and how we are working for the community," said Cummings. The club created a virtual space where you can come and get help or you can come and give help.
When asked why she chose Centralia College's Medical Assisting Program Cummings said, "It has one of the best Medical Assisting programs and I grew up here. So, it is a comfortable place to be." She is a huge supporter of anyone interested in enrolling in the Medical Assistant Program at Centralia College. "Do it! If you are even just a little interested," she says. "It takes two years, but it is fast. The time is going to pass anyway and you get to better yourself."
If you would like to donate to the community service project facilitated by the Medical Assistant Club you can mail a check to Centralia College made out to the "Medical Assistant Club." Their deadline to donate to their current project of care packages for people experiencing homelessness is December 15.
Tara Boener is the faculty Advisor of the Medical Assistant Club and the Director of the Medical Assisting Program at Centralia College. For more information about the program or the club, you can reach her at tara.boener@centralia.edu.