Every horse-crazy kid knows what a Breyer model horse is. Many become lifelong collectors of the American made models, which can fetch remarkably high prices. At the yearly BreyerFest event in Kentucky, one sample model sold for $22,000. While some Breyer models are made from the minds of the artists that create them, many are modeled after real-life horses.

This summer, Sir Rugged Chex, bred and owned by Mark and Lee Bolender in Silver Creek, was the latest to join the ranks of special equines immortalized by Breyer.
In 1998 Mark Bolender knew he wanted to breed his Quarter Horse mare, Dedicate Chex (Lady), for a foal he would train to ride bridleless (without a bit or headstall on the horse's face). "I really wanted to train a horse to ride bridleless in multiple disciplines, including trail," says Mark. So of course, when it came time to choose a stud, a Rugged Lark son came to the forefront. "I had seen videos of Rugged Lark's bridleless routines and saw what kind of mind he had," he continues. "I flew down to meet him in person and was so impressed with him that I either wanted to buy one or breed my mare to one of his offspring."
Mark ended up breeding his mare to Lark's Favorite, a son of Rugged Lark, and on March 18, 1999, Sir Rugged Chex (Checkers) was born at Bolender Horse Park in Silver Creek. "He just had a presence about him from the moment he was born," Mark shares. "The day he was born someone who had extensive knowledge of the quarter horse world and breeding, Steve Cornwall, said to me, 'It's not fair. I know breeding farms who have bred for this horse their whole lifetime and you got it on your first try.'"
Just two years later, Mark and Lee Bolender started the International Mountain Trail Challenge Association (IMTCA), an association for a new sport, mountain trail, where horse and rider are judged on a point system for traversing man-made natural obstacles on a course. Little did they know how important Checkers would be on making the IMTCA a success.
By the age of four, Mark was riding Checkers bridleless at various events, including carrying a flag in a local parade for veterans. "I've been told that Checkers is more like his grandpa, Rugged Lark, than any other horse they have bred," Mark says. In his prime, Checkers was competing in over 10 disciplines (riding events), including roping (He had a 2.3 second breakaway bridleless!), trail, AQHA pleasure, reining, and jumping. Checkers has also hit the real trail, traversing thousands of miles in multiple states while bridleless.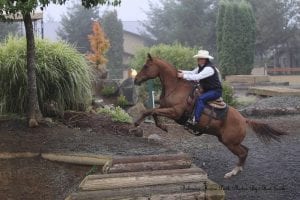 For the IMTCA, it was Checkers that certainly helped grow the new sport of mountain trail. "Checker's YouTube videos of him doing bridleless mountain trail have over four million views," shares Lee Bolender. "He really helped us grow the sport. People would see the videos and think 'I want to do that!' And they can, since we allow all riders of all disciplines. Bridleless or not."
The Making of a Breyer
In 2016, Lee was thinking about Checkers when an idea came to her. "I thought, we have a new discipline and we should really have a Breyer horse to represent it," she shares. "Who better to be the horse of mountain trail than Checkers. I started to do some research on Breyer and who to contact."
After two years of reaching out to Breyer and feeling like she wasn't getting anywhere, she got the call. "The woman on the other end of the phone said, 'Well you did it,'" Lee remembers. "I asked, 'Who is this?' and the lady replied, 'We want Checkers to be a Breyer horse.' I went outside at that point and I cried and cried. It must have been so funny for her to hear me sobbing on the phone. But that's how it started."
It took another two years of model development, but the Checker's Breyer is now available on the Breyer Model Horse site and at local farm and toy stores – wherever Breyers are sold.
"We're thrilled to have a local horse be featured as a Breyer Horse. As one of Western Washington's largest Breyer retail dealers, we've been inundated with requests to purchase Checkers Breyer horses," says Tim O'Brien, owner of Tack Room Too.
Bolender Horse Park
131 Craterview Dr.
Silver Creek
BolenderHorsePark.USA@gmail.com