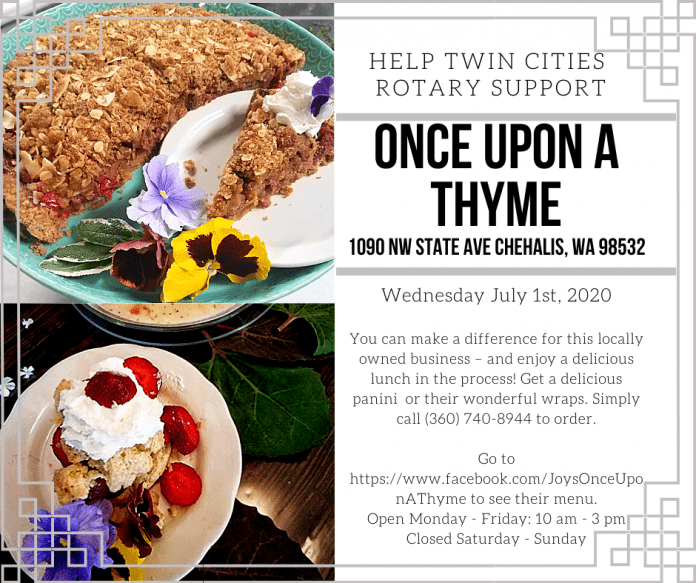 Submitted by Twin Cities Rotary
The onset of COVID-19 brought uncertainty and economic hardship to Lewis County. Perhaps no industry was harder hit than our locally owned eateries. With the switch from dine-in to take-out, followed by limited dine-in options, many restaurants lost around 70 percent of their profits.
Twin Cities Rotary saw this need and rose to the challenge. The group dedicated themselves to supporting a different local restaurant every week. Each Wednesday, Rotary members order from that week's featured restaurant. They encourage the community to do so as well. This was just the beginning.
In addition to supporting these local businesses, Rotary realized they could use the project to also support those in need. "We decided to purchase between 25 and 50 $10 coupons each week," said Rotary member Cat Cleveland. "These are given to local seniors or students in need."
The program is a win-win. "It gives the restaurant a $250 to $500 cash advance that they get to keep whether the coupons are redeemed or not," said Cleveland. "From there, we encourage the community to swarm the chosen restaurant on that day. Our goal is that these two combined efforts will give the restaurant increased business and help raise awareness."
So far, the Twin Cities Rotary program has supported Sweet Inspirations, Boccata, Flood Valley Brewery, Main St Grill, South Pacific Bistro, and Berry Fields Cafe. Their next restaurant is Once Upon a Thyme on Wednesday, July 1.
Community members are invited to join Twin Cities Rotary in supporting local eateries. This is an excellent way to ensure our prized local businesses remain open and vital – plus you get to enjoy a delicious meal. Now that's a win-win!