Moments after he won the 2B Central League cross country championship, Nicholas Marty turned his attention back to the finish line.
In a matter of seconds, the Toledo High School junior transformed himself from one of the state's top long-distance runners into an enthusiastic cheerleader, congratulating his fellow runners as they completed the 5,000-meter race.
Marty, who placed fifth in the race last year, stopped the clock in a speedy 16 minutes and 49.04 seconds, a running time that was 23 seconds faster than runner-up Addison Smee, a junior for Kalama who also finished second at the meet last year.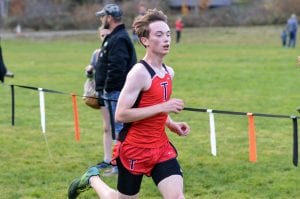 Most would at least take a moment to catch their breath. Not Marty. He was fully focused on letting his competition know just how well they did. It's a common scene whenever the gifted runner wins a race and something he's done at his last five meets, including a triumph in the 40th annual Harvest Classic in Longview where he ran a personal record 16:07.1.
"In the cross country and track world he's well known amongst the other racers," Toledo coach Angela Schaplow said. "Something that is very special with this sport is they are competitors, but they also have these close bonds."
Prior to the start of the race, a teammate's parent asked Marty how he thought he would fare. Marty failed to provide a clear response. "You never know how you're going to do against this competition because you have so much of it and you just have to make it up as you go," Marty said.
The on-the-fly approach proved to be a winning strategy. At the one-mile mark, Marty was in the lead, albeit a brief one as Smee sat right on his hip, running almost stride for stride with the leader. By the time Marty reached two miles, he had opened a sizeable lead on his competition, an advantage that was widening by the second.
Outside of Smee and Toutle Lake's Riley Kent, who finished third in the race in 17:42.74, no other runner among the 77 participants got within a minute of Marty, who received a shower of applause himself once the race was over and the Toledo team had reconvened.
"They are all excited for him and encourage him because we know this is his thing," Schaplow said. "Some kids are out for cross country to get into shape for something else and Nick is a runner. They enjoy seeing him compete."
Up next for Marty and the other top finishers will be the 1B/2B District IV championships at Onalaska High School on November 2.
"The thing is with this district we have so many incredible athletes. If I recall correctly three out of the top five runners in the state are out of this district," Marty said. "It's almost like a preview of state. There are a couple of crucial people missing, of course, but being able to get the chance to go against a lot of these top-level state athletes on a regular basis really is an advantage I feel."
In addition to Marty and Smee, the District IV championship will also feature Ilwaco sophomore Daniel Quintana, who holds the top time in the 1B/2B ranks of 15:48.1, and Pope John Paul II junior Kobe Deutscher (15:49.7) and Northwest Christian senior Noah Phillips (15:50), who have posted the second and third fastest times in the state.
"(The league championship) is important but what we are really focused on is districts and state," Schaplow said. "We have the qualifying meet in 10 days so you have the one day to show what you can do."
Adna sophomore Aaron Aselton (18:00.57) finished fourth and Morton White Pass junior Alex Brown (18:09.85) was eighth overall in the boys' race at the league championships.
Morton White Pass also had top 20 finishes from Matt Cooper (11th, 18:22.24), Asher Sympson (15th, 18:32.83) and David Martinez (18th, 18:45.01).
Additional local top finishers in the boys' race included Mossyrock's Christian Paz Tapia (14th, 18:31.81), Toledo's Tyler Harris (19th, 18:52.15) and Onalaska's Lethon Fitch (20th, 19:06.48).
Cedar Tree Classical Christian sophomore Suzie Johnson was first in the girls' league championship, covering the distance in 20:18.55. Rainier, which captured the overall girls' title, had the second- and third-place finishers in sophomore Selena Niemi (20:29.5) and senior Sophie Beadle (21:07.76).
Morton White Pass freshman Ayricka Hughes (22:02) was the top placing local runner on the girls' side, capturing eighth overall, while fellow freshman Olyvia Brownell was ninth (22:47.54) and Haley Gowen (25:11.26) was 19th to power MWP to third place overall as a team.
Adna had three runners place in the top 20 with sophomore Faith Wellander (24:44.53) finishing 15th and senior teammates Haileigh Brooks (24:55.98) and Kaylin Todd (25:14.29) finishing 17th and 20th, respectively.