The average American produces eighty-two pounds of textile waste per year. That's a ton of trash! It takes seven-hundred gallons of water to produce a cotton t-shirt and forty years for discarded clothing to decompose. What can you do to save money and the environment at the same time?

Lewis County Solid Waste and WSU Lewis County Master Recycler Composter volunteers collaborate to offer classes and hands-on learning opportunities focused on topics such as repurposing items, recycling and repair.
The Repair What You Wear series began with Jan Sparks, a volunteer who is creative and good at sewing.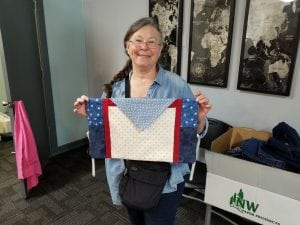 "People aren't taking the time to sew at home or school, even to do basic repairs," says Melanie Case, recycling program coordinator with Lewis County Solid Waste. "With the low cost of clothing now and how busy people are, we just don't take the time to fix something that's torn or stained. They think, 'I am just going to throw it out.' We show people the basics of sewing and to think outside of the box. If it's torn, stained or at the end of its life, it can still be repurposed."
Jan Sparks shares her sewing skills to help others save on garbage and learn to reuse. She has recycled and repurposed her entire life, as a clothing and textile advisor and master gardener.
Sewing was traditionally taught by grandmothers or in school but that's no longer the case for this generation. "It's interesting the age groups we've had," says Jan. "Anywhere from fifty or sixty-year-olds who have never sewn before to college students. They're interested in the good feeling of accomplishment that comes with this useful skill."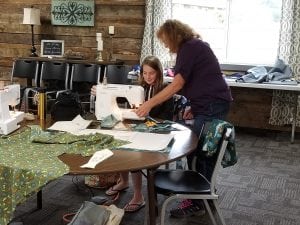 A recent class created patriotic picnic placemats from old jeans and fabric. This class saved goods from the landfill and equipped participants with reusable picnic gear for summer barbecues so they didn't have to use disposable dishes.
The upcoming class – Button Bonanza on July 26 – reuses an often overlooked item: buttons. Visit a local thrift store and grab some cheap buttons or remove them from clothing that's at the end of its life. There are always ways to find new uses for buttons. Bring an old pullover, t-shirt or sweater and learn to make a new clothing item like a cute cardigan. You can also embellish clothing or pillows with buttons. Adorable jewelry can also be made with buttons, like a bracelet or brooch.
Repair What You Wear will present daily classes at The Southwest Washington Fair. Learn sewing basics such as how to sew on a button or make a simple repair to a torn item. Or make small items like fabric bookmarks or pins.
On September 26, it's a Microwave Makeover. Instead of using a disposable paper towel that's thrown away when cooking in the microwave, create a fabric potato baker or microwave hot pad bowl using a template. Create less trash with washable items for the kitchen.
Fall Recycle Fun on October 20 will use donated burlap coffee bags to create various sizes of pumpkin décor, complete with raffia and cute fabric.
The Holiday Head Start on November 17 is the place to get a jump start on holiday gifts. You'll save money this Christmas and save good items from the trash. You'll learn to create different items that are easily made, and fun to give and receive, including table decor, placemats and runners, pillowcases, potato bakers and hanging dishcloths.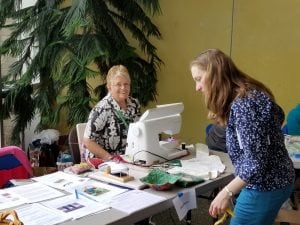 "We encourage people to come out to our Repair What You Wear classes and learn to reuse," Melanie says. "It gets you thinking outside of the box when you learn how to divert these items and turn them into something new. It's so much fun, we've had to cut off the class. We plan them for about two hours, but people don't want to leave. You get involved and it's really fun."
"It's all about teaching the younger generations how to recycle by reusing things in some manner or another," says Jan. "We are such a busy society. Slow down; life isn't meant to be so busy." Take the time to repair something or find fun ways to reuse them. Creativity can be useful while being beneficial to the planet."
To register for Repair What You Wear classes, contact Melanie Case at 360-740-1452 or email swu@lewiscountywa.gov. Find more information about specific classes on their Facebook page.
Classes are typically held at:
Centralia Community Church of God
3320 Borst Ave.
Centralia