Growth is inevitable. Whether a waistline in bathing suit season or the grass on your lawn, things grow. Growth means vitality and—in business—happy customers. Quinault Beach Resort and Casino embodies all these things as they celebrate the conclusion of a long, exciting expansion project.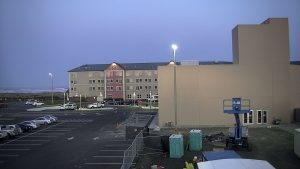 Begun in the spring of 2017, the $25 million project included remodeling 159 resort rooms, the addition of expanded smoke free and traditional gaming areas, a new circular bar, enhanced kitchen facilities, and a tribally-themed, 250 seat buffet restaurant.
But they're not done yet! Coming soon, look for a new four-story parking garage that will hold 500 cars and possibly become a regional tsunami shelter.
To celebrate, Quinault will host a grand opening celebration on Friday, June 22. The event features a traditional Native American blessing and tour of the additions. This overlaps the Casino's 18th anniversary celebrations, which begin June 15 and the annual Cookin' the Blues salmon bake and blues music festival that runs June 15 through 17.
On Saturday, June 23, don't miss the Williams and Ree Indian and the White Guy comedy show at 7:00 p.m.
"We are excited to be able to bring this expansion project to a close. The new casino and games are exciting and the buffet is like none other in the area," says Don Kajans, Quinault Beach's general manager.
"The Quinault Indian Nation is committed to providing the citizens of Grays Harbor County, as well as visitors, an outstanding and memorable experience here in our beautiful area of the Pacific," encourages Fawn Sharp, Quinault Indian Nation president. "We invest in our resort so people will find maximum comfort and have a truly enjoyable base from which they can enjoy the entertainment of the casino, a walk on the beach or a hike in the forest, the shops of Ocean Shores or bird watching at the estuary. There is so much to do here and as the resort continues to expand, so does the value of the experience. The Quinault Nation invites everyone to come join us and enjoy our traditional hospitality."
You can even view fascinating time-lapse videos of the construction work—despite the weather—on Quinault Beach Resort's website. Through sun and rain, calm seas and rough, the building slowly takes shape and comes to life.
For a truly immersive experience, turn your visit into a mini-getaway thanks to the Resort's many package deals. Consider the Cookin' the Blues weekend where your two-night stay on June 15 and 16 includes tickets to the delicious on-site salmon bake. To book, call 888-461-2214 or reserve online using Room Code BL18. RSVP to the Grand Opening festivities by June 18 by calling 360-289-6115.
June 22-23 is the 110K Grand Giveaway where Q-Club members can try for a share of the grand prize. This event is in celebration of their 18th anniversary, during which time there will be $18,000 giveaways each day.
Whether you visit for the day, overnight or a weekend escape, Quinault Beach has something for everyone. Now with new games, dining options and more, come help them say thank you to their loyal guests, visitors and friends.
At less than two hours from Centralia, you can enjoy the fruits of Northwest growth and maybe win enough for a trip through the tasty new buffet, day at the spa or decadent, champagne-filled Lovers Retreat.
Quinault Beach Resort and Casino is located at 78 State Route 115 in Ocean Shores.
Sponsored