It had been four years since a member of the W.F. West High School track and field team last captured a state championship. The Bearcats made up for that in a big way at this year's meet. Senior Kendra Bottenberg and junior Colby White both took home gold medals at the 2A/3A/4A state championships at Mount Tahoma High School, marking just the third time in program history two members of the squad capture titles in the same season.
Bottenberg celebrated her 18th birthday by winning the girls' 2A state javelin title, while Colby registered a first-place finish in the boys' high jump.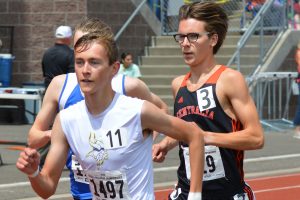 "When you have two state champs within 20 minutes of each other, it's pretty special," W.F. West coach Autumn Ledgerwood said. "It was a hectic 20 minutes, but it was worth it."
The Bearcats had not had a state track and field champion since 2014 when Nike McClure captured the shot put title. W.F. West also won the girls' 4×400 relay title that season.
It's the third time W.F. West had individuals win state championships in the same season. T.J. Emrich (pole vault) and Austin Abbott (1600) were the first to accomplish the feat in 2004. Dakota Parker (800) and Ben Ternan (long jump) became the second in 2009.
Bottenberg, who finished third in the event in 2017, won the javelin championship with a school-record throw of 139 feet, 11 inches. Clarkston's Anna Sharp was second at 138-06.
"When you have an ending like that to your high school career – on your birthday – to throw a PR and a school record, I don't know what else more you could do," Ledgerwood said.
White's title-winning performance was not void of drama either as he cleared his winning jump of 6-7 on his final attempt to edge Woodland's Alexzander Bishop (6-6) for the high jump crown. "I just thought if I didn't get it, I would lose so I had to give it everything I had," said White, who also finished fourth in the long jump and sixth in the triple jump.
"It was very exciting," Ledgerwood said. "It was very emotional. You have to make that jump to win a state title? That's pretty clutch to hit that at that moment."
The Bearcats also received a second-place finish in the boys' 4×400 relay with the team of Carver Brennan, Dallas Taylor, Jasper Ellingson and Ka'imi Henry.
W.F. West finished sixth overall in the boys' team standings with 29 points. Cheney (110 points) won the boys' 2A state title. Ridgefield (82), Bellingham (80), Pullman (75) and Fife (72) rounded out the top five.
Bearcats' freshman Lauren Tornow certainly made the most of her first trip to state, placing four times at the girls' meet.
Tornow finished fourth in the 300 hurdles, sixth in the 100 hurdles, eighth in the long jump and joined teammates Courtney Bennett, Kelly Robertson and Emma Thornburg to finish seventh in the 4×400 relay.
"I wasn't really expecting anything," Tornow said. "I was just hoping to make it to state. That was a big deal to me. At the beginning, I didn't know how I was going to do, but after districts, I got really excited about going to state."