As we begin our march into summer, events pop up on the calendar every weekend. One of the most eagerly anticipated weekends is July 11 – July 15 when one of the biggest, can't miss summer events in Olympia occurs – Lakefair. To add to the fun, this year basketball is taking over the Capitol Campus in the first ever Capital City 3on3.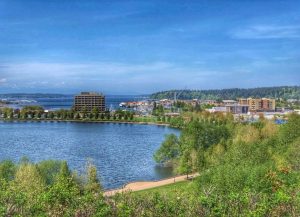 This is not your average basketball game. While a usual game of ball is played with a team of five on a full court, this form is played with only three team members on a half court. These tournaments are especially fun for spectators and players alike as they are faster paced and tend to be more aggressive. Players have more access to the ball than an average game, which provides more opportunities for athletes to show their skills. It's a spectacular show.
These tournaments have been popping up all over the country. You may have already heard of one: Hoopfest. The world's largest 3on3 tournament is held on the other side of the mountains in Spokane. The Capital City tournament was inspired by Spokane's annual competition. "I had just gotten back from Spokane when the idea of this event happened," explains Capital City 3on3 co-founder and owner of 90TEN Training Academy, Robin Johnson. "We wanted to partner with Lakefair and bring it to the west side. We talked about modeling it after the Spokane Hoopfest, as that is already a very successful event. The Lakefair Committee jumped in to help us right away and is excited to put it on. It's going to be an awesome addition to Lakefair."
The goal was simple: bring the community together through physical activity and competition. "3on3 basketball is really for all ages and skill levels," says Johnson. "Starting as young as third grade and reaching all the way through retirement, there will be a division represented for competition. We will also have a family and co-worker division to participate in. After this first year, we would like to expand further and add a kindergarten and Special Olympics division."
The Capital City 3on3 is also special because of its location. "Our basketball courts will be set up on the grounds of the Capitol Campus," says Johnson. "To be right in the heart of that campus with Lakefair in the background really makes this a unique site."
Register Now to Join the Fun
Early registration is key for many of this year's teams. "The cost is $125 per team and registering early is important so we can match teams for competition properly," explains Johnson. "The pre-registration deadline is June 15. The price increases as we get closer to the tournament. Anyone can get involved to play. You can get your friends, family and co-workers together to make a winning team. It's going to be a lot of fun!"
While the focus is seemingly on basketball, there is more to this event. "We want the community to come together," says Johnson. "There is a division for everyone to play in and it's going to be fun to watch. We hope that this event makes people come together to enjoy the sport and the atmosphere of Lakefair. It's really about making our community even stronger."
To register your team, visit the Capital City 3on3 website.
Sponsored