Before Cheyeann Meyer would ever defeat her first opponent in wrestling, before she'd be named the WIAA's 2B wrestler of the week and before she'd ever qualify for state, she had to win a convincing argument. First, Meyer had to convince her parents it was okay for her to turn out for wrestling.
"My mom wasn't so sure about it," Meyer said with a smile. "She was kind of shocked because she had never heard of girls wrestling."
That was back when Meyer was just in third grade, wanting to give wrestling a shot for the first time.
Now a junior at Adna High School and a state qualifier last year with the prospect of making it again this year, Meyer's parents are all on board. Meyer, wrestling year around on a club USA team, has made a convincing argument.
"My mom is now my biggest cheerleader," Meyer said.
Her dad, Abraham Meyer, has been her encouraging voice, even coaching her in youth and middle school wrestling. Once, Abraham even wrestled with his daughter in a freestyle tournament, competing in an open division.
"He got his butt kicked, but just the fact he was there and that he trained with me, that was big," Meyer said. "He was like, 'Hey, if you want to do this, I'll do it with you.' That was really cool."
While Meyer is an old vet when it comes to wrestling, she's a rookie at Adna. She transferred from Kingston and this is her first year at Adna. She made an impressive welcome-aboard statement early in the season when she won her weight class (120) at the Tiger Classic in Centralia, earning her WIAA's wrestler of the week for Class 2B across the state.
"Her quickness and her ability to move is her strength," said Craig Ferrier, Adna's wrestling coach, currently in his sixth season with the Pirates. "She knows her moves. She knows what her strengths and weaknesses are."
Meyer, who wrestlers both boys and girls throughout the season, knows she's not the strongest wrestler on the mat. But with her experience, she's about counter moves and takedowns.
"She's able to realize that if she's wrestling a boy, they are probably going to be stronger than her," Ferrier said. "So, she is able to rely on her technique and her speed. She's a smart wrestler."
Wrestling is strength, quickness, agility and smarts. And, Ferrier points out, conditioning. Meyer, a hard worker, is always ready to take care of the conditioning. She works hard in every practice.
"Yes, she's very driven," Ferrier said.
She's not the one Ferrier has to remind to work hard in practice.
"No, not at all," Ferrier said. "She's a hard worker. She's really fun to coach."
Ferrier has a team loaded with hard workers. The Pirates have four returning state placers and six returning state qualifiers. Two wrestlers – Matthew Slape and Braxton Dowell – return after placing second at state last year.
"Both Matthew and Braxton have wrestled since they were little," Ferrier said. "They've done the whole USA thing. They wrestled year round forever. Once they got into high school I think they wrestled a little bit in the off season. But that's what they live for."
Slape, a junior, is already a two-time state placer. He took fourth as a freshman and second last year as a sophomore.  Both Slape and Dowell started wrestling 11 years ago when they were in just the first grade.
That experience gives them an advantage when it comes to takedowns and pinning combinations. But they both agree it gives them another advantage.
"I like how it pushes you," Slape said. "How it keeps you going. When things get tough, a lot of times people quit. This has really taught me not to quit, to just keep going and battle through the hardships."
Because of all their hard work in wrestling, Slape and Dowell have learned that hard work equals success. It's a solid life lesson.
"I like the grind of wrestling," Dowell said.
Dowell also likes that it's a one-on-one sport. That leaves no room for excuses.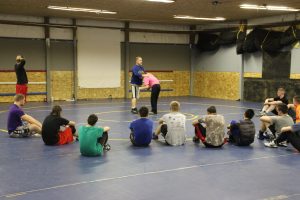 "It's one person verses another person," Dowell said. "You can't blame it on a teammate. You can't blame it on unfair ruling. It's a real match. Sometimes people think it's just power, strength, but there's so much strategy going on."
Both Slape and Dowell know that the winner in wrestling isn't decided by just who's stronger.
"There's been so many times where I've watched guys who were so physically dominate go out there and get destroyed by guys who know what they're doing," Dowell said.
It's not just about brute strength.
"It's 90 percent mental," Slape said.
Which means, you've always got to be rehearsing, going over and over in your head the counter moves. You've always got to be rehearsing.
"You've got to be thinking before the match and after the match," Dowell said. "It's not even just during the match."
The thinking part, always being engaged with the process, is something Meyer is comfortable with. An "A" student, Meyer is a thinker. She's already in running start and after high school she plans on going to nursing school. Running start works for her because she's ready to put her high school experience behind her and take the next step.
"I think I'm a little more mature than most high schoolers," Meyer said. "I can fit into the college environment and I can get my school done a lot faster. If I can get my college done, then I'm not wasting time and money."
And, of course, if Meyer gets the opportunity to wrestle at Grays Harbor College, she's ready for it. Wrestling in college is another challenge she's ready to take on.