Each year before winter kicks off in the lowlands, storm after storm slams the Pacific Northwest, bringing in a deluge of precipitation. Starting in October, as most of us get dumped on with rain, the storms gives the high alpine elevations of the Cascade Mountains the first snowfall of the season. Months before we see snows around our homes in Lewis County, the mountains in the eastern part of our county receive enough snow to plan a weekend trip for some family fun. From easy to access destinations for the whole family, to stunning snowy views after a hike, we want to share a handful of our favorite places to have an early season snow day.
While most areas of the high country become inaccessible due to weather conditions and road closures at the end of October, there are still enough destinations around to get you out into the snow as soon as possible. Keep in mind that before heading out, make sure that you and your family are prepared and make sure you have followed the safety tips to have a fun and responsible experience outdoors. The weather changes fast during the late fall and winter months, so always check the weather forecast for where you are going, not where you live, before you leave.
Once you are ready to go, we have four suggestions to find snow – two hikes and two drives. While there are other destinations to find snow, these are time tested and locally loved, making them an ideal place to get started in your new tradition of finding and playing in the early snowfall of the season.
White Pass
At an elevation of 4,500 feet, late October or early November is typically when White Pass sees the first snow event of the year. Conveniently located on Highway 12, also known as the White Pass Scenic Byway, this area sees some great early season snows and has some places where you can make the first snowman of the season. Once the snow comes in for good, White Pass is a winter recreation wonderland, giving all levels of snow enthusiasts a chance to play in the powder. With miles of snowshoeing and cross country skiing trails, groomed and immaculate ski and snowboard runs, and even a sledding area for the family, White Pass is a must visit destination. For parents with kids in the third grade, White Pass has an amazing program that gets your child a Free Season Pass once they attend a safety and first aid class.
Paradise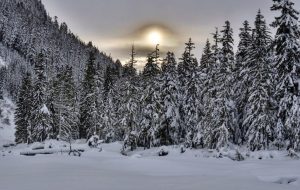 Arguably one of the most well-known and popular snow destinations in Washington, Mount Rainier's Paradise region is full of winter adventures for every style of nature lover. Sitting at 5,400 feet, Paradise has the potential to get snow in almost every month of the year. Once November rolls around, the high-alpine utopia transforms into a snowy nirvana, giving you and your family your fill of activities. Until the sledding area opens for the winter, your best bet for snow fun will be found hiking, snowshoeing or just exploring around near the lodge and visitor center.  Keep in mind that if you do head up to Rainier for some snow play, all vehicles are required to carry tire chains inside the National Park from Nov 1 – May 1. This applies to all vehicles, including four-wheel drive, and is enforced no matter the tire type or weather conditions. Also remember to check when the gates close at Longmire!
High Rock
When the early snows fall, one local hike becomes an incredible place to see a light dusting of powder. Located above the Nisqually River, offering jaw-dropping views of Mount Rainier, Mount Adams and even a glimpse of Mount Hood, the views from the top of High Rock are world class. The drive, much like the hike, are not for everyone. A rough road leads you to the trailhead, which climbs uphill to a knife-edge ridge and an historic lookout tower. The trail is just 3.2 miles round trip, gaining 1,300 feet. Until real snow starts to fall and stick around, the trail is popular and pretty easy to follow if you are used to hiking high alpine trails in the region. Keep in mind that this trail is only accessible during the early season snows and should not be attempted in bad weather.
Eagle Peak
Starting in the lowlands of Mount Rainier's Longmire region, the trail up to Eagle Peak is a fun 7.2 mile round trip trek to just under 6,000 feet above sea level. Weaving through a lush forest before reaching potential snow, the first half of the hike is family-friendly until winter snows arrive. From the forest, the trail climbs nearly three thousand feet, arriving at a saddle that gives off impressive views in all directions. After a storm, seeing the tops of snow-covered trees from high above is a magical experience that will give the wanderlust spirit of average hikers enough eye candy to last through the winter season.