In this day and age, we are lucky that our shopping needs can be fulfilled with the click of a button and we don't need to hop from store to store to compare prices. We don't have to hassle ourselves with going out of the house, waiting in line or bothering a salesperson when our item is out of stock.
But despite quick network speeds and easy checkouts, a personal and tangible connection is lost when not shopping at brick and mortar stores. For instance, when shopping online, you can't smell the wonderful aromas of more than 500 varieties of candles at Tower Trading Co in downtown Centralia.
Owners Tim and Carisa Crocker were made aware of this problem while selling candles through Tim's e-commerce business, Major Goods, and decided to open up a storefront to showcase their goods in person. It also allows Carisa, former owner of Picasso Brothers Espresso, to interact with the public again and experience the convenience of working downtown.
"When you run a brick and mortar business, you get a connection with the community," said Tim.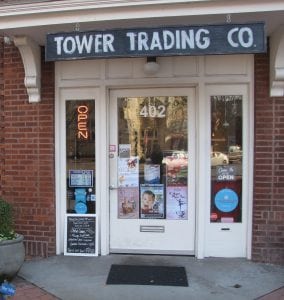 In addition to providing a wide variety of candles, Tower Trading Co is also a one-stop gift shop. You can find gifts for nearly anyone on your shopping list, from the jewelry lover to the coffee connoisseur.
For instance, women might enjoy the locally crafted Camille Beckman soaps and lotions, in addition to the reusable mason jar candles. Tower Trading Co also carries two gallon candles, which are aromatic and practical in the event of a power outage.
For the men in your life, Tower Trading Co sells homemade Beard Balm and other shaving essentials, in addition to authentic Pacific Northwest clothing and coffee mugs.
There's also plenty of gifts for pet lovers, too. In partnership with 4Legz All Natural Dog Treats in Chehalis, Tower Trading is stocked with several varieties of dog treats. These would be great to use in the interactive treat dispenser, which connects to your computer or phone, allowing you to watch and interact with your pet when you're away from home. With the click of a button, you can launch treats across the room for your dog (or cat) to catch. Or, if you're at home with your cat, there's also a non-alcoholic cat wine, so they don't have to miss out!
There's are plenty of gifts for technology lovers. Shoppers can find portable phone chargers and a variety of headphones for a fraction of the cost in other retail stores. Because Tower Trading Co. is an outlet for Major Goods, which works with major retailers such as Amazon, Ebay and Walmart, many of the items sold in the store on a rotating basis and for the lowest price.
"If we price an item, it has to adhere to prices on the internet, so it's the best price you're going to get," Tim said.
Although Centralia is primarily known for its antique markets, Carisa takes pride in providing different items in her gift shop.
"There's so much to look at here," she said.
If there's one attraction you don't want to miss, however, it's Ari—Tower Trading Co.'s official shop cat.
After finding her wandering the streets, Carisa took Ari into the shop and tried to find her owner. Once the owner brought Ari home, however, they noticed that Ari was much happier at the shop, and from then on, Ari has been the official greeter of Tower Trading Company.
"People just come in to see her sometimes," Carisa joked.
While running a business in the downtown is a slower pace than working at a coffee shop, Carisa says she enjoys the flexible schedule and variety of activities that working in her location provides. After working in the busy food industry for 25 years, she and Tim can open later, closer earlier and have more time dedicated to their family
In her downtime, she is able to enjoy several of the restaurants like Boccata, or take yoga classes with her daughter at Embody Movement Studio. By being close to so many local businesses, Carisa is able to support her neighbors and build face to face relationships, and in turn, bring more people into her shop. With the addition of Tower Trading Co., many small businesses have chance to succeed.
"Shopping locally puts more money back in the community and helps out all small businesses," Carisa said.
Tower Trading Co is located at 402 N Tower Avenue, Centralia. You can see more of what they have to offer on their Facebook page or call the shop at 360-669-0441.