Submitted by Lewis County Historical Museum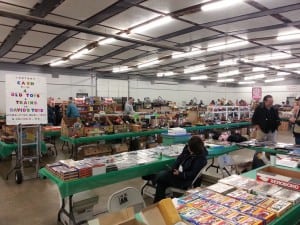 Calling all train enthusiasts! Join the Lewis County Model Railroad Club and Lewis County Historical Museum for the Harvest Model Train Show & Shop Meet at the Southwest Washington Fairgrounds April 2 from 10:00 a.m. – 4:00 p.m. and April 3 from 10:00 a.m. – 3:00 p.m. Admission to the event is $5 and children under 10 is free.
Along with vendors, there are model railroads layouts. Not everybody has a dedicated train room or garage for their collections, so this year, all the train layouts will be small or miniature sets highlighting what can be done in a small space. Two layouts will be on 4' X 8' piece of plywood.
Members of the Lewis County Model Railroad Club will have a demonstration layout to help train buffs understand basic techniques. As always, members will be on hand to answer and questions.
All proceeds from the train show will be directed towards the model railroad display at the museum and we will also fund a specific project for the museum.
For more information please call Ted at Museum at 360-748-0831 or 360-985-7788, check us out on Facebook or our website at www.lewiscountymuseum.org