Beautiful wooden swings, house signs, wine glass holders, exquisitely stained cutting boards, creative plaques, garden stakes, surveyor stakes, planters – all of these useful and decorative items are a product of adults who are learning work skills through a 45-year-old program located in the Chehalis Industrial Park.
Executive Director, Greg Martin explains that back in 1971, some community members had a dream to help adults with disabilities. From that dream, came Lewis County Work Opportunities (LCWO). It originally started as what was known as a sheltered workshop – a place where only people with disabilities are employed. Applied Industries in Longview (maker of pallets, crates and other wood products) supported the program. The founders thought they would have maybe 12 or so people go through the program each month. But the program was so successful it has expanded to serve about 45-60 people each month.
The official mission statement of LCWO is rather long, but Martin says it basically boils down to, "helping people help themselves." LCWO now works with adults over the age of 18 with a disability, veterans, and homeless. They work closely with Division of Vocational Rehabilitation, Developmental Disabilities Administration, and Department of Services for the Blind – and individuals who are not connected with any services and would typically fall through the cracks. They also work with people who have experienced hard times and now need to learn work skills or upgrade their skills to help them reestablish themselves.
A common misconception is that LCWO started as a service of Reliable Enterprises. Martin explains that it is actually the other way around – Reliable Enterprises began as a brainchild of LCWO. They are separate entities with different purposes. They serve many of the same population, but are not otherwise connected.
LCWO helps people by providing on-the-job training in a wide variety of areas. The main focus is wood products. Logs are delivered and LCWO has a small mill on site. They can cut the wood, dry it in a kiln dryer that has recently been installed, then use cut wood to build a multitude of products.
Participants learn how to use both power tools and hand tools. "Like with math, you need to know how to figure things and how to use a calculator because you may not always have the calculator available," says Martin. Program participants also learn maintenance and critical thinking, and figure out what needs done next and how to ensure quality control. They learn basic math skills, assembly, and what the end product looks like, then discover the sales process as well. In addition, participants also learn basic office skills and data entry.
Martin explains, "It's the Gestalt, not just producing this little thing, but that it affects the whole." Each person is moved around to different parts of the business so they are not always doing one thing but are learning a variety of jobs and skills. This also helps the person discover their strengths and which activities they are best at.
LCWO also likes to encourage new ideas from the participants. When an idea emerges, they will discuss how to make it, what materials they have that they can make it with, and continue on through to visualize the entire process.
In addition to the wood products LCWO has a greenhouse where they grow mainly succulents. Then the plants are planted in the wooden boxes created on site. The plants and the other wood products are sold at various events throughout the year, such as the Home and Garden Show. "This helps participants learn the whole process from production to sales," explains Martin. There are plans to expand and add two more greenhouses. Customers can buy at the events, come to the site, or phone in orders. Special requests and orders are also possible.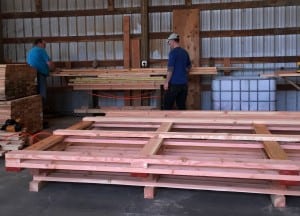 LCWO has helped find jobs for over 300 adults in the last five years. This includes jobs across all environments – retail, hospitality, and manufacturing. Martin explains that LCWO continues to stay in touch with the people who have completed the program. Staff make themselves available as much as they are able, helping in whatever ways the person might need.
Martin has his own personal philosophy about his work, which is shown in a small sign in his office. It states, "The extra mile is filled with opportunities." He says the best thing about working at LCWO is "seeing people develop the ability to stand on their own two feet. They develop a wonderful sense of accomplishment and pride."
LCWO has 14 staff members and Martin says that volunteers are always welcome. It is a non-profit organization but only about 3% of their funding comes from donations. Last year they had their first fundraising auction and will be holding their second auction this year on October 1.
Lewis County Work Opportunities
122 Sears Road in Chehalis
360-345-1094
www.lcworkshop.org