Nestled away in Chehalis sits a restaurant and produce stand that is making a big splash in the local community. Owned and operated by Jeremy Wildhaber, Jeremy's Farm to Table is all about supporting local farmers, showcasing how outstanding fresh food is, and providing a great entertainment destination in Lewis County.
Jeremy is a fourth generation Lewis County resident. His great grandfather originally came to Lewis County from Switzerland around 1920. Later, it was Jeremy's family's produce stand that inspired his love and respect for local farmers and fresh produce. This in turn planted the seed for the inspiration for Jeremy's Farm to Table as it is today and is the guiding inspiration behind his business vision.
Alongside the restaurant is a produce stand where customers can purchase incredibly fresh and local produce. "Our seasonal produce stand has been in operation since 1980 and is a year-round market tied into the restaurant," Jeremy says. Between the restaurant and the produce stand, Jeremy buys from more than 50 farmers within a 100-mile radius of Chehalis.
"Farm to table means fresh, quality, knowing where your food came from," explains Jeremy. "It also means supporting local, helping your neighbor, and putting a face to a name, which makes the whole world go around."
Live entertainment rounds out the fresh produce and tempting menu at Jeremy's Farm to Table. "I wanted to create a community gathering place where people can experience the quality of really good local food prepared fresh," Jeremy shares.
With four rooms available for private rental, a full bar, an espresso bar and live music entertainment every night of the week, Jeremy's is clearly a destination for food, family, and fun. "I do shows here in the restaurant. I sing show tunes, opera, classical, gospel and much more," he explains.
Jeremy's love for music stems from his childhood when he taught himself how to play the piano. Jeremy says, "I still love to sit down and get absorbed by the keys." It's his love for music that has inspired Jeremy to support local musical artists as well as share his own talents with customers.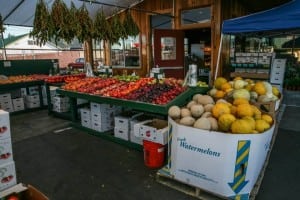 The future of fresh food is bright for Jeremy's Farm to Table. Jeremy continues to expand the business and shares that he is in the final phases of a three-year project where he hopes to have his entire concept completed. The planned additions would include a produce warehouse, a health food store, an outdoor market and a new processing facility. Jeremy hopes to see all of this completed by the end of this year.
"It's rewarding to have customers who appreciate what I do here for our local area, how fast I have grown and the quality of the operation that Jeremy's is attaining," he shares. "I feel that I have always been a part of the community since I was a kid selling fruit in our family fruit stand."
With a family friendly atmosphere, quality food offerings, and live entertainment, it is easy to see how Jeremy Wildhaber lives up to his motto of "Buy locally, think globally. It doesn't get any fresher than this."
Jeremy's Farm to Table
576 W. Main Street
Chehalis, WA 98532
360-748-4417
For more information about special events, click here.