The message Michael Anderson received from long-time friend Damon Thomas was short and to the point.
It simply said, "I'm coming to W.F. West."
It was some tough family decisions that forced Thomas to transfer from Mountain View High School in Vancouver to Chehalis. While the move was difficult, the Bearcats wrestling program, which took Thomas in as one of their own immediately, has provided some much-needed comfort for the gifted athlete.
Anderson, a fellow junior and the top-ranked 152-pound wrestler in the 2A classification by Washingtonwrestlingreport.org, had known Thomas for years, wrestling against each other at USA Wrestling events when they were kids.
Despite the geographical differences, the two remained friends throughout the years, running into each other at a variety of tournaments, including the state tournament last year where Thomas collected a sixth-place finish at 132 for the Thunder in the 4A ranks and Anderson came away with a fourth place in the same weight division in the 2A classification.
Outside of the ever-present social media, the duo believed the extent of their friendship, at least in regards to face-to-face conversations, would be limited to brief visits whenever they appeared at the same tournament venue.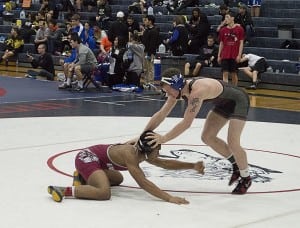 However, things would change drastically toward the end of Thomas' junior year, as his family moved to Chehalis, something Thomas initially frowned upon.
"A family issue happened and my dad had a sit down with the entire family," said Thomas. "We did what we had to do."
"When we first found out, I didn't want to go. I didn't want to leave all the friends and everything I had built in (Vancouver)," Thomas said "It was tough. No one wants to move high schools at that age."
Wrestling proved to be the lone relief at the time to help Thomas cope with the life-altering event.
It was in the physically-punishing sport where he found his comfort zone, providing a little bit of escapism for the 16-year-old Thomas.
"It's a great team. I love this team," Thomas said. "They opened their arms to me and took me in like one of their family the moment I got there."
Prior to Thomas' arrival, however, Bearcats' wrestling coach Jamie Rakevich had already heard rumblings – albeit vague – of a potential transfer during the summer, but failed to give it much attention.
"We had a wrestling camp and someone said we were getting a transfer, but they didn't know who the kid was," Rakevich said. "I didn't give it much thought. It seems like you're always hearing about someone transferring in. Then (once school started) I walk into my Algebra 2 class and he's sitting in there, and I immediately think, 'Okay, this kid looks like a wrestler.'"
Thomas not only passed the eye test. He also had the resume to back things up.  The Bearcats didn't just get "any wrestler." They got one of the state's best in the two-time state participant.
During his freshman season, Thomas advanced to the 4A state tournament in the 126-pound weight division. While he failed to place, the experience alone proved valuable.
"My freshman year was simply stage shock. It was all mental. Walking in (to the Tacoma Dome) for the first time is a lot for a freshman," Thomas said. "But it put into my head that I needed to just go out there and wrestle. It's just a match, it's just another tournament. Wrestle the way you normally wrestle. Whatever happens, happens."
A sixth-place finish followed the next year as a sophomore, placing Thomas among the leading contenders for this year's state title. He is ranked as the No. 2 138 pounder in 2A, falling just behind junior Carlos Lopez, a returning state champion from Selah.
According to Rakevich, Thomas' positive presence isn't just felt on the mat.
"He's just been a great addition, not only points wise but to the room too," Rakevich said. "As a wrestler he goes right into our wheel house. We have a good group of kids that just pulled him in and made him a part of the team right away."
Once a rare occurrence, it is now a common scene to see Thomas and Anderson going at it at practice, both pushing each other toward their ultimate goal of a state championship.
"We're coming together as a team, coming together as family," Anderson said. "We just feel that Bearcat pride. We feel it in our student section and in the fans at dual meets. There are dads who no longer have kids wrestling and they're out supporting us."
"We don't go out there and wrestle just for ourselves. We're wrestling for W.F. West. It's an honor," said Anderson.
No longer a newcomer, it is something Thomas can now completely attest to.
"A lot has gone on this year. Things had been tough. Wrestling here helped," Thomas said. "W.F. West, it's my home now."