When driving in downtown Chehalis, you will notice a pleasant, distinctive aroma of mint that wafts through the air. It is a pleasant burst of freshness that is as surprising as it is delightful.

The mint scent is generated by I.P. Callison & Sons, one of the world's leading mint producers. The tantalizing aroma that comes from their mint, has another local connection – Chehalis Mints. The family owned confection company, got the inspiration to name their company as a way to pay homage to source of their mint supply.
In 1994, Sue Schofield decided after 30 years of working in a bank that it was time to leave her job and try something new. Sue and her husband Mike, through a gradual process, began Chehalis Mints. "Mom had been at the bank for thirty years and she was ready for a change," shares Jennifer Kassel, Sue's daughter.
Now, Sue and Jennifer are joined by Jeff Schofield, Sue's son.  The family works side by side to make Chehalis Mints. "The three of us work together and sometimes our kids will help out and sometimes Dad does too," Jennifer says. "But, it's pretty much my mom, Jeff and me who take care of the daily operation."
The confections might be labeled Chehalis, thanks to where they source their mint essential oil, but the confections themselves are made in Centralia – in a commercial kitchen located in Sue and Mike's backyard, in fact.
Chehalis Mints are famous for their smooth, luxurious texture and balanced taste. You might be surprised to learn, however, that all the mints and creations that come from Chehalis Mints are made entirely by hand. No factory machines are used in the production of their products – partly because the family holds themselves to a high quality standard.
Jennifer shares, "We hand pour, hand wrap and hand package all of our confections." Also, Mike and Jeff hand-craft and silk screen the wooden gift boxes that contain some of their mints. When you purchase Chehalis Mints, you know that the product has been made literally by hand, with love.
"Jeff is the fastest with foil wrapping. Mom and I try to help, but mostly he takes care of the foil because he's just faster than we are," Jennifer shares with a laugh.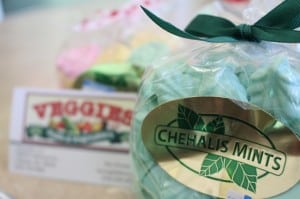 A high quality standard, personal touch, and great taste that really sets Chehalis Mints apart from other sweet treats. Their most popular product is what they call their butter mints – a white chocolate mint that can by dyed and molded into an endless number of shapes and colors and fit for nearly any theme. Jennifer estimates that right now they have around two hundred different molds for their confections. Other Chehalis Mints products include milk and dark chocolate mints and confections.
The Schofield family sells their products wholesale to local shops in the Lewis County area as well as the Olympia Farmers Market and a few other shops in the Olympia area as well. "A lot of our customer support comes from the local area, right here in Lewis County. We also have a growing customer base in Olympia," Jennifer shares.
Along with wholesale, Chehalis Mints also fulfills private and custom orders. Depending on the occasion, Jennifer, Sue, and Jeff have creative ideas to add a personalized, and local, touch to your order. "We've done frogs, baseballs and initials for weddings. The possibilities are endless, really," Jennifer says.
Owning a business and working with family is a gift that the Schofield/Kassel family cherish. Jennifer says, "I grew up with my grandmother right next door. And I'm glad that my kids and nieces get the opportunity to grow up with their grandmother." And, a family-owned business affords everyone flexibility. Jennifer adds with a smile, "We all get along. You have a natural understanding of each other because we've always known each other. It's a balance and it helps us to work together and be successful."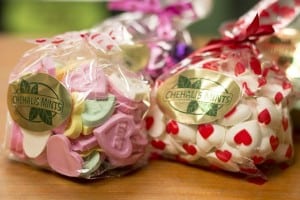 Additionally, Jennifer shares that there is interest from the grandchildren to want to become a part of the company and carry on the family business. "Sadie, my daughter, is very interested in the business operations. My niece, Emma, has always loved baking and has great ideas for possibly expanding our company to include baked goods. It's exciting to see the kids take an interest and get excited about the future."
As is true with many small businesses in Lewis County, the Schofield/Kassel family holds much gratitude to the local community. Jennifer says, "We appreciate the customers and all the local support that we have between Centralia, Chehalis, Olympia and the Lewis County area. Our customers keep us rolling."
To see a complete list of the Chehalis Mints products, visit their online catalog.  For questions, call 360-736-9899 between 9:00 a.m. – 5:00 p.m., seven days a week.