If an opus can be defined as an artistic work, Centralia's Bead Opus is aptly named. Owners Travis Pollanz and Eric Pollard are passionate about supporting local artists, giving back to the community, and providing the best customer service possible.
Both Eric and Travis are originally from the Pacific Northwest. Eric grew up on a cattle farm in Raymond and Travis is originally from Portland. Eric has lived in Centralia for the past ten years and Travis recently moved to the area last year. When faced with the status of the job market, they decided to open their own business.
Eric and Travis thought carefully about where they wanted to open their business. Eric shares, "We kept coming back to Centralia." Travis adds, "Centralia reminds me of old school Portland. We love Centralia. Friendly neighbors, people who say hello, and cars stop to let you cross the street."
Eric says, "There are totally unique stores downtown. That's what people want in a downtown – it's how they used to be. Every store was different and unique. That feeling is here and it is disappearing in other places." Eric and Travis both shared that downtown Centralia inspires nostalgia.
Travis is an artist. His past is filled with jobs and experiences that center around creative pursuits from managing a bead store in Portland, to being a freelance color specialist and makeup artist for Chanel to an apprenticeship with renowned artist Aaron Haba to working on interior design and faux finishing, personal shopping. It was returning to Portland several years later that reawakened Travis's love for beading. Travis shares, "Working with all those artists was so great though. It kept my inspiration alive."
Travis specializes in wire wrapping. He credits his grandfather for inspiring his love for beading. "He taught me how to tie fly. My grandpa was also a rock hound so that's where I got my love for stones," Travis shares with a laugh.
"Wire wrapping can redesign a precious object, such as heirlooms, into something really special." Travis shares. He loves working with customers to help design something personal and custom. Eric shares a story about one customer who lost her son and brought a small vial of his ashes in. Travis created a piece of jewelry that allows her to wear her son's ashes – a work of art and a tribute to her son's memory.
Both Eric and Travis are passionate about helping customers honor loved ones with sentimental pieces as well as helping customers purchase a totally unique piece from Bead Opus. As Travis says, "When you walk into Bead Opus, it doesn't matter who you are, everyone gets the red carpet treatment here."
There is one small request that Eric and Travis have, "leave the rules at the door." Travis says, "We want this to be a creative space. Bead Opus is not just beads. Our shop is about one-of-a-kind finds."
Eric and Travis pride themselves on having a wide selection of goods that is totally different from what you might find anywhere else in the area. They also sell items that, before Bead Opus opened, customers had to travel out of town to find, such as essential oils, sage, fair trade goods, and of course one of a kind jewelry and art. Travis says, "Most things we sell in store are made in the United States. Those that aren't, are community fair trade and help support sustainability."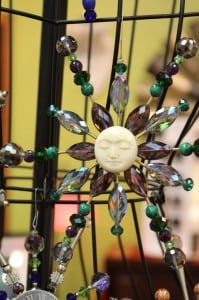 Eric adds, "And by made in the USA, we mean made by the little guy – not commercially made or factory made." By selling goods from local artisans and other small business ventures, they are supporting a network that helps the local community and underscores their business and personal philosophies.
Also, as a thank you to their customers, Travis and Eric give $10 in store credit back for every $100 spent in store. "Save your receipts. They don't expire. And come back and see us again," encourages Travis.
Bead Opus represents five local artists. Their goal is to help them get a leg up. "I wish I would've had that opportunity when I was younger," Travis says, "So this is one way we can help out and give back to the community."
At the core of their philosophy, Travis and Eric strive to do all they can to give back. "We just believe that we should leave the world a better place than how we found it." Travis says.
One local artist they represent is Toledo based Todd Belden. All of the money, every penny, from each piece of Todd's work that is sold at Bead Opus gets sent to Todd, who donates it to his grandson, Gabriel who is fighting cancer as well as other major medical problems.
At the end of the day, Travis and Eric are self-described introverts who enjoy spending time at home with their pets and running their business. Ultimately they are a gift to downtown Centralia for all they bring and inspire in their neighbors and our community.
Visit Travis and Eric at Bead Opus and support these men who are humbly working to make their part of the world a happier place.  Keep track of Bead Opus on Facebook.
Bead Opus
211 N. Tower Ave in Centralia
360-736-0481
http://www.beadopus.com