Olympia, Washington, offers outdoor enthusiasts plenty of opportunities to explore the beauty of the Pacific Northwest. One such adventure is sea kayaking in Budd Bay, a serene and picturesque body of water that lies adjacent to the city. An easy two-mile round trip kayaking trip from Swantown Marina to Squaxin Park (formerly Priest Point Park) is made complete with a lunch pickup from Bayview Thriftway for a picnic amidst nature's beauty at Squaxin Park's beachfront.
A Picnic Lunch for Your Sea Kayaking in Olympia Adventure
Before launching your kayak for this exciting adventure, make a stop at Bayview Thriftway, located at 516 4th Avenue W in Olympia. This well-known local grocery store offers a wide array of delicious meal options, ensuring you have the perfect selection for your picnic at Squaxin Park. They have many locally sourced ingredients and locally made foods. We even picked up drinks made by local brewery, Matchless Brewing.
With your lunch in hand, you'll be all set to embark on your kayaking journey in Olympia's Budd Bay from Swantown Marina to Squaxin Park.
Swantown Marina Launch
It's just a short, one-mile drive from Bayview Thriftway to the Swantown Marina, the ideal starting point for your kayaking expedition. Swantown Marina offers ample parking, restrooms and a convenient launch area for your kayak. There is a $10 launch fee that includes parking. You can pay via credit card at the convention pay station, no need to plan ahead.
Before pushing off, take a moment to appreciate the tranquil surroundings and the breathtaking views of Budd Bay. You will see Squaxin Park from the launch site when looking north and on the east side of the bay. It's a great spot for nature photography, with the chance to see shorebirds and sea life.
Sea Kayaking to Priest Point and Squaxin Park
Once in your kayak on Budd Bay, you will be surrounded by nature's beauty. The bay is flanked by lush greenery and distant Olympic Mountains, creating a stunning backdrop. Take a moment for some photos or just to enjoy the serenity of the sea. One of the easiest kayak trips in Olympia, having land so close, offers wind protection.
Budd Bay is known for its diverse wildlife, so keep your eyes peeled for seals, otters, whales and a variety of bird species. Seals often pop their heads out of the water to curiously observe kayakers while eagles and herons soar gracefully overhead. The bay's rich ecosystem offers numerous opportunities for wildlife photographers to get that perfect picture.
As you paddle further into Budd Bay, you'll be treated to spectacular views of the state capitol building and the Olympic Mountains in the distance. These iconic landmarks add an element of grandeur to your kayaking experience, reminding you of the rich history and natural beauty of the region.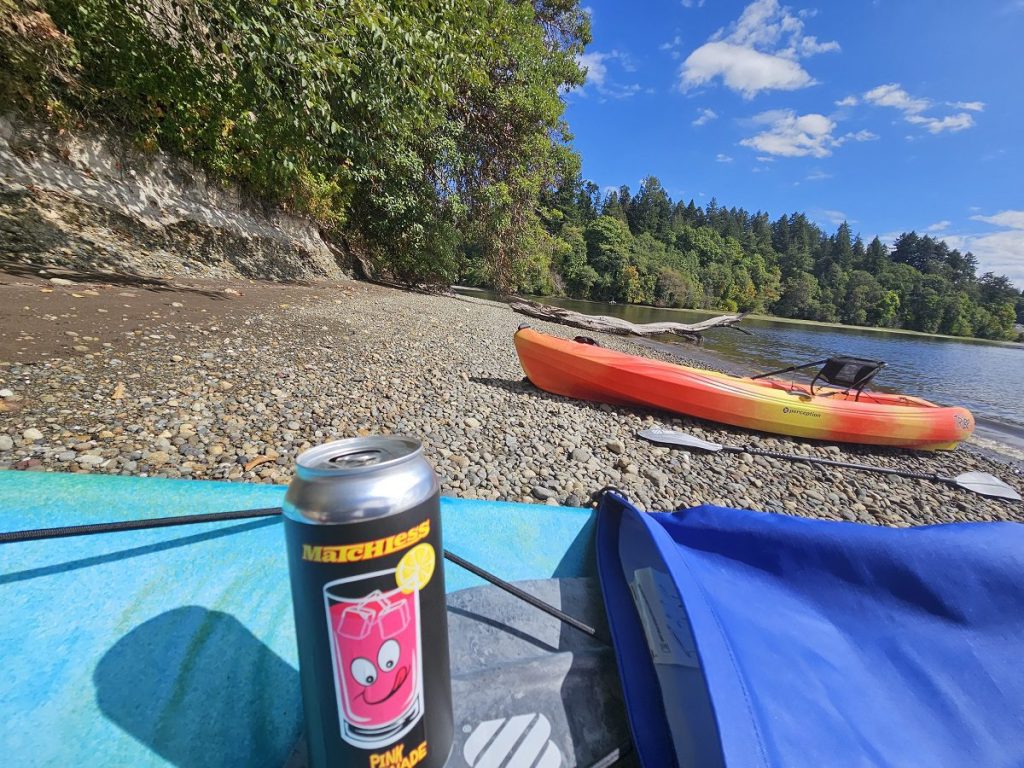 Kayaking to Squaxin Park
After a leisurely paddle north, it takes just about 20 minutes, you'll reach charming Squaxin Park, a hidden gem along the shoreline of Budd Bay. As you approach the park, you'll notice the pristine beachfront, trails to the water and picnic areas, which are perfect for enjoying your lunch. Find a comfortable spot on the beach, spread out your picnic blanket, and savor the delightful treats you picked up from Bayview Thriftway.
Exploring Squaxin Park
After lunch, take some time to explore Squaxin Park. The park offers hiking trails that wind through lush forests, providing an opportunity for a post-picnic stroll. Keep your eyes peeled and your camera ready for more wildlife and the vibrant flora that flourishes in this coastal ecosystem.
Returning to Swantown Marina via Kayak
With satisfied appetites and a deeper connection to the natural world, it's time to head back to Swantown Marina. The return journey offers a different perspective of Budd Bay, with the afternoon sun casting enchanting reflections on the water's surface. Paddle at a leisurely pace, savoring the tranquility and solitude of the bay while enjoying views of downtown Olympia.
Sea Kayaking in Olympia Tips
Before embarking on sea kayaking in Olympia, it's essential to be prepared. First and foremost, ensure that you have all the necessary safety gear, including life jackets, paddles and a whistle. Additionally, it's crucial to check weather conditions and tides to plan your trip accordingly. Budd Bay can experience rapid changes in weather, so it's wise to dress in layers and bring waterproof gear. We enjoyed the trip during high tide, which made it easy to launch at Swantown as well as exit at Squaxin Park for lunch.
Need a kayak? You can rent kayaks at Tugboat Annies.
Need a place to stay in Olympia? Check out The Marie Bed & Breakfast and the Swantown Inn for a getaway in a historical building full of charm. The DoubleTree is also a good choice if you want a modern aesthetic.
And, if this easy journey has you hooked on kayaking in Olympia's Budd Bay, check out these kayak trips from West Bay Marina and West Bay Park. Kayaking in Budd Bay from Swantown to Squaxin Park, complete with a picnic lunch, is a perfect way to experience the natural beauty and serenity of Olympia, Washington. For more information about things to see and do in the Olympia area, please visit the Experience Olympia & Beyond website.
Sponsored