A cappella music – a performance using only human voices – has been around for centuries. The resurgence of this timeless style is due in large part to hit TV shows like "The Sing-Off," "Glee," and the blockbuster movie "Pitch Perfect." And today's a cappella music honors the past while bringing percussion, beatboxing, and the vitality of a rock band to their performance. You won't want to miss two-time global a capella champions Six Appeal as they visit the Washington Center for the Performing Arts main stage on Friday, October 13.
Six Appeal is Rock-and-Roll, Hot Vocals and Side-Splitting Comedy
As their name suggests, the group is made up of six vocalists with a never-ending supply of smoldering appeal. Sextet member Jordan Roll explains that they haven't toured in the Pacific Northwest for several years but can't wait to visit Olympia's Washington Center again. "We are excited to return to the theater for the third time," says Roll, "We won the 2012 Pacific Northwest Harmony Sweepstakes and also headlined here in 2019."
This tour includes Virginia Cavaliere and Mel Daneke, trebles, Jordan Roll and Michael Brookens, tenors, Jeff Skidmore, bass, and Andrew 'Berko' Berkowitz doing vocal percussion and beatbox.
The group typically spends their fall touring and performing at festivals for the holiday season. Warm up for fall with this October's show, including plenty of new material and reworkings of fan-favorites. "Come experience a cappella through a night of entertainment and incredible harmonies," says Roll. "It's a live show using only our voices. Enjoy reimagined classics from every decade, like Earth Wind & Fire, Gloria Gaynor, Michael McDonald, Amy Winehouse and more. All ages are welcome, and anyone who loves groovy classic songs and tight vocal harmonies will love this show."
A cappella music isn't just singing without instruments. It's vocal gymnastics of the highest order, especially with maestros like Six Appeal. "A cappella is a feel-good experience for all," says Roll, "and a thrilling night of live entertainment. We continue to evolve new material and love a good classic."
A Cappella Magic at The Washington Center
Six Appeal's music has been described as a show that will split your sides, feed your musical sweet tooth and leave you wondering how in the world they pulled it off with only their voices. All six members are trained in both singing and music composition, and they even offer an educational outreach program for new singers.
Roll says that when not touring the country, their group can be found singing for the stars. They have even performed multiple times at such glam events as the Vanity Fair Oscar's Party for both winners and nominees. For the last 15-plus years, they've held shows in all 50 states and more than a dozen different countries. When not crooning for A-listers, they sing alongside such luminaries as Andy Grammer, Michael McDonald, Kenny Loggins, Thundercat and Harry Shearer.
But they're not just beloved by North American audiences. Six Appeal competed in the Moscow A Cappella Festival in 2018. The biggest a cappella competition in the world, they were up against 185 groups from 16 different countries and took home the Grand Prix award, which was the first win for an American ensemble. Returning in 2019 to defend their crown, they again triumphed and harmoniously retained their title.
You can see them live at Olympia's Washington Center for one night only!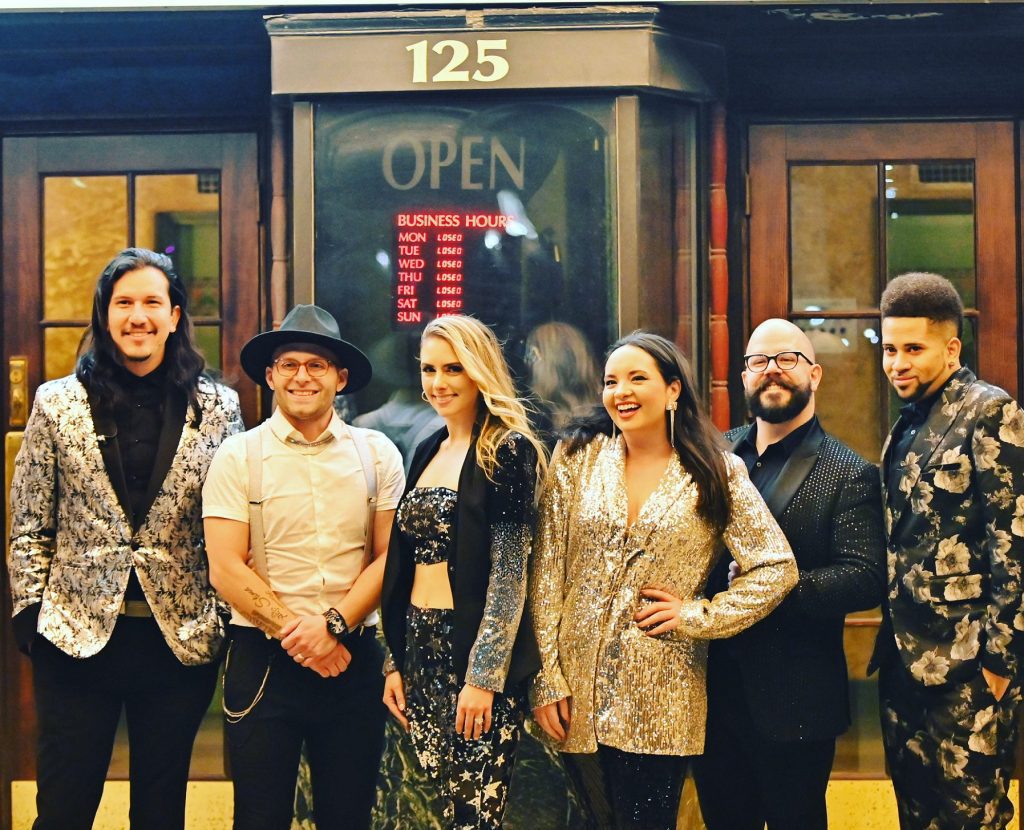 Give Your Friday Night Some Six Appeal at the Washington Center
Don't miss out on seeing this world-renowned group. Their family-friendly show is great for music lovers of all ages. Tickets are available online or at the Washington Center Box Office. Box office hours are from 12 p.m. until 5:30 p.m., Tuesday through Saturday or two hours before any ticketed event. You can also call 360.753.8586 to book by phone or ask questions about this amazing performance.
While on the website, check out other upcoming events at the Washington Center. From documentaries to silent films, they have something for every taste. Future shows include silent movies, magicians, circus performers, comedians, jazz, international phenomena, dancers and improv teams…just to name a few.
From simple melodies to complicated harmonies, the human voice is a timeless wonder. Add in a little Six Appeal, and it becomes downright transformative.
Sponsored