Health can mean different things to different people, but for most of us, we like to feel like we can enjoy our life without disruption. For women, as they age, physiological changes can occur that interfere with daily activities, hobbies, or even work, not to mention personal confidence. Inspire Physical & Hand Therapy offers women's physical therapy for those experiencing weakness or tension in the pelvic floor so they can regain strength and comfort long-term. Physical Therapist Erin Grey is proud to provide such specialized services to women in our community and is eager to help patients lead fuller happier lives.
Physical Therapy for Women
It is no secret that women and men have physical differences, but the exact issues of some of these physiological distinctions in women are not widely discussed or known. Women have pelvic floor muscles that support reproductive health, including birth and pregnancy, urinary control, and healthy sex life. When these pelvic floor muscles become weakened, it can lead to issues with incontinence. If there has been sexual trauma, these muscles become tense and can be quite painful during sex or even just on a daily basis. "Pelvic floor dysfunction is very common and affects 1 in 3 women, regardless of whether you have had a child or not," shares Erin.
Women's physical therapy utilizes a range of modalities to help women get more connected with their bodies and improve the muscular strength of the pelvic floor. "It is an important muscle in the body, but we are often not as in tune with that muscle," explains Erin. "We often don't notice dysfunction of the muscle, but may start to see symptoms that something isn't quite right. That's where we come in to see how this relates to those symptoms and develop a program to help you find a way out of that."
Inspires Physical Therapy's Methods
Inspire Physical and Hand Therapy uses sEMG biofeedback, which is a completely external process. It is quite similar to an EKG for the heart where stickers are applied to the skin. "We are able to connect to the pelvic floor musculature and see the activity of the muscle on the computer in real-time," says Erin. "It helps our patients really get in tune with the musculature and helps overcome dysfunction or poor patterning."
Another classic recommendation and treatment method used is Kegels. This is an exercise of the pelvic floor by contracting and releasing, which has been a long-known practice that swept the internet many years ago. Unfortunately, many women who stumbled upon this modality online may not have been taught the proper way to perform the exercise and as a result, could still be experiencing some weakness. "I have gals who come in all the time that say that have been doing Kegels for 20 years, but they may have never learned how to do them correctly," says Erin. Inspire Physical & Hand Therapy gets back to the basics to reinforce good technique with pelvic floor exercises so that time spent strengthening this muscle is effective and beneficial.
Women's physical therapy takes an average of six to eight weeks to correct any issues with dysfunction or weakness. During this time, patients are taken through very specific steps outlined in their research with certain milestones they have to hit. Once they have been able to successfully accomplish these objectives, they will be tapered off of the exercises and given an abbreviated lifelong home program. This is the most critical part of any successful physical therapy plan since muscles need to be regularly conditioned to perform well. "If we don't use the muscle, it will atrophy again within weeks, so we have to consistently work on strengthening the muscle," Erin says. "It's there and we can't see it, so we love to forget about it." With their high-level, personalized support and long-term guidance, women can stay connected with this musculature and find strength and health for the rest of their lives.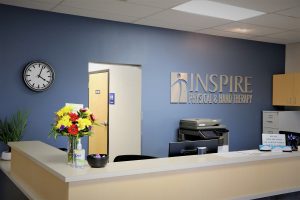 This type of physical therapy can often be sensitive for many women, and at Inspire Physical & Hand Therapy, the program is always completely in your control. "The important thing for each patient is that whatever happens in their physical therapy session is up to them," shares Erin. "If they don't feel good about doing a pelvic exam or pelvic floor release, we won't do it. We want each patient to always know they have bodily autonomy." This is especially important for women seeking support and treatment for pelvic floor tension and pain due to some sexual trauma or abuse. "This is a very emotional muscle, so it holds onto that tension with hypertonicity and stays clamped down," she explains. "We work with dilators, use biofeedback, and offer pelvic floor release therapy with massage to help train the individual to relax their muscles. We want to slowly train you out of the tightened, tender state in a safe and protected place."
Many women may feel apprehensive about jumping into this type of physical therapy, which is why Inspire Physical & Hand Therapy provides a full assessment free of charge. "With a 15-minute exam, we can tell them exactly how weak or strong the musculature is," Erin shares. "If you want to come in and just talk before committing to actual treatment, this is a great place to start to answer your initial questions and help you feel more comfortable diving into care." If you are interested in learning more, visit the Inspire Physical & Hand Therapy website or call 360.491.1815 (Lacey) or 360.819.4335 (Tumwater) today to book your complimentary injury screening and see how women's physical therapy could help you live a happier, fuller life.
Inspire Physical & Hand Therapy – Tumwater
100 Dennis Street SW #A
360.819.4335
Inspire Physical & Hand Therapy – Lacey
4740 Avery Lane SE
360.491.1815
Sponsored