Camping is always an adventure that takes you from the business of everyday life and offers an opportunity to truly enjoy the outdoors for an extended time. Whether you have a large RV with all the amenities, or if you are a backpacker who camps with minimal gear, there is a place to enjoy the great outdoors for all types of camping in and around Packwood.
Skate Creek Road
Turn left at the gas station in Packwood.
For a free camping experience, consider boondocking on Skate Creek Road. This forest service road connects Packwood to Ashford, making it an excellent place to stay while exploring Mount Rainier National Park and more. There are dozens of beautiful sites to choose from along lovely Skate Creek, and even a few would work for an RV or trailer, but keep in mind that the road is bumpy.
Explore the area, and you may just find a hidden waterfall or take a day hike up to High Rock Lookout for amazing views. There are no amenities outside of a few portable toilets scattered along the road, so be prepared to pack it in and pack it out to leave no trace.
Ohanapecosh Campground
208 Ohanapecosh Rd., Packwood
For a truly magical experience, Ohanapecosh Campground inside Mount Rainier National Park is breathtaking to behold, surrounded by ancient trees. With 188 RV or tent camping sites, find drinking water but no electric hookups. Visitors must use extra caution with food storage, as bears and other animals inhabit the area around the campground. Nearby is the outstanding Grove of the Patriarchs trail, which leads hikers through stands of old-growth forest, and several trails that lead to Silver Falls waterfall.
La Wis Wis
From Packwood, go five miles east on State Route 12.
With 122 sites for tents (some walk-in), truck campers and even a loop that can accommodate RVs, La Wis Wis is ideal for all types of campers. Potable water is available in the main part of the camp as well as toilets. Find picnic tables, shelters and grills for convenience.
Take an adventure with easy access from La Wis Wis to the Blue Hole Trail and Purcell Falls Trail for a spectacular hike. Or fish for rainbow trout, cutthroat trout and whitefish at either Butter Creek or Skate Creek nearby.
Soda Spring Campground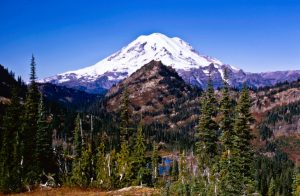 From Packwood, proceed northeast on US Highway 12 for approximately nine miles to Forest Road 45. Turn left on Forest Road 45 and proceed 0.35 miles to Forest Road 4510. Continue straight on Forest Road 4510 for 4.2 miles to Forest Road 4510.052. Bear right on Forest Road 4510.052 and follow to Soda Spring Campground.
For a more rustic camping experience, consider the smaller Soda Spring Campground. At the end of Forest Road 4510.052, find this charming campground with just seven sites surrounded by Douglas fir, western hemlock, and silver fir. Suitable for tent camping, pickup campers, or smaller trailers, the road there is single lane and steep, so consider the conditions before traveling; larger trailers are not recommended. Find vault toilets, tables and fire rings in this less-crowded and quiet area.
Nearby find Summit Creek and a small soda spring. Gain access to Cowlitz Trail #44 from the campground with access to the William O. Douglas Wilderness.
Iron Creek Campground
From Randle, Washington travel south on State Highway 131 (Forest Roads 23 and 25). Veer right after one mile at the Y of Forest Road 23 and Forest Road 25. Follow Forest Road 25 for 7.8 miles and arrive at the campground on your left.
With lush vegetation, Iron Creek Campground offers ample space for those looking to hide away in the mountains. Situated on the Cispus River, relax and enjoy the sounds of nature or take a stroll on the Campground Loop encircling the grounds. With 98 sites surrounded by large old-growth trees, this is a wonderful place to call home while exploring the area including Mount St. Helens.
Other Campgrounds Near Packwood
As always, be sure to check road conditions, follow any local fire bans, and be prepared for the weather conditions before heading out for a camping adventure.
Packwood is a beautiful place to take the family camping. It's a stunning area encompassed by dense forests, beautiful rivers, amazing sites, and many places to explore. So what are you waiting for? Pack up the car, grab the family, and make memories!