Grab your camping chairs and portable coolers — it's outdoor concert season in Lewis County! Our diligent community members have put together some fantastic events this summer, featuring a family-friendly environment and a diverse group of artists performing genres ranging from hard rock to funk.
Mossyrock Freedom Festival
If you like music with your fireworks and blueberry pancakes, The Mossyrock Freedom Festival has a full lineup performing at Klickitat Prairie Park over the weekend of July 2-3. Included on the bill are Hurts Like Hell, the Monty Ray Band, the Chris Jones Band, Kim & Brian, The Redneck Files, and, closing out Sunday evening, Lewis County's favorite Chris Guenther. For a complete schedule and to learn more about the bands, visit the Mossyrock Freedom Festival's official website.
Chehalis Music in the Park
Chehalis Music in the Park returns to Recreation Park for three consecutive Fridays this summer. The series kicks off on July 22 with a night of country music from two unique artists. The Alabama-bred Ty Herndon, whose multiple hits, including "What Mattered Most" and "It Must Be Love," shot to the top of Billboard's country charts, and Michelle Wright, a Canadian artist whose hits such as "Take It Like a Man" and "He Would Be Sixteen" have resonated with U.S. audiences.
On July 29, local favorite Randy Linder returns to perform his favorite classic rock tunes, followed by Kalimba, The Spirit of Earth Wind, and Fire, a ten-piece ensemble paying tribute to the legendary R&B/soul/funk/disco band. Their electrifying live performances are guaranteed to get people out of their lawn chairs and onto the makeshift outdoor dance floor.
On August 5, Marc Broussard and his band will take the stage. Like the delicacy from his native Louisiana, Marc Broussard's style can be described as a spicy gumbo of musical genres and sub-genres, incorporating elements of roots rock, R&B, and '70s singer/songwriter into his original compositions and covers of well-known, deep-cut soul songs.
To receive updates regarding scheduling and start times for all shows, visit the Chehalis Music in the Park's Facebook page.
Mount Saint Helens Bluegrass Festival
Over in Toledo, the 37th annual Mount Saint Helens Bluegrass Festival will take place from August 12-14 at Toledo High School. The sunny weather and rustic landscapes are a perfect setting to experience this traditional yet timeless musical genre. Artists include the Central Valley Boys, Annie Staninec with Whiskey Deaf, Dave Baker & The HeartWood Band, Kentucky Sky, and Robert Catlin and Powell Mountain Band. Additionally, there will be an open mic session on Friday afternoon and a gospel concert on Sunday morning. Camping spaces and weekend passes are available — information can be found at the Washington Bluegrass Association's official website.
Centralia Music in the Park
Roughly seven miles north of Recreation Park, George Washington Park will be hopping on select Saturday nights with Centralia Music in the Park. All shows start at 6 p.m. and are all-ages.
On June 11,  The Olson Bros Band, who formed in Olympia and have amassed a local following via their shows like a recent event at Dick's Brewing Company, return to Centralia with their anthemic country songs.
On August 13, another Olympia-centric band, the power trio Strike 9, makes their seventh appearance at George Washington Park, performing high-octane covers of classic rock songs.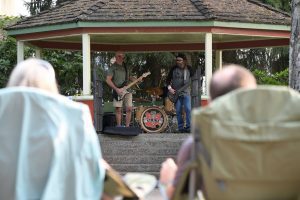 The featured artists for the July 9 and September 10 shows haven't been finalized yet — updates will be posted on the Centralia Downtown Association's Facebook page.
Expect at least one outdoor music stage to be populated by local and regional artists at Lewis County's numerous summer events. The Southwest Washington Fair, weekend nights at Centralia's Pine Street Plaza, ChehalisFest, Winlock Egg Days, the McCleary Bear Festival, and the Chehalis Garlic Festival, among others, will be featuring musical acts on their schedules.