Do you need a ride? Rural areas like Lewis County often have very limited transportation options, which makes it difficult for residents who don't drive or have access to a reliable vehicle to get where they need to go. Fortunately, there's DARTT (Dial-a-Ride Twin Transit).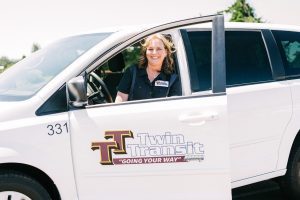 DARTT is a door-to-door transportation service that operates around the Twin Cities of Centralia and Chehalis, as far east as Morton, and as far north as Olympia. In fact, this transportation program serves the majority of western Lewis County, including Pe Ell, Mossyrock, Toledo and Napavine.
How does it work? Simply call 360.330.5555 to book and pay for your ride by at least 4 p.m. the previous day. Then a Twin Transit driver will pick you up in one of the DARTT vans and take you where you want to go.
Twin Transit DARTT Manager, Colleen, says they have a broad range of ride types. "Many people use DARTT to get to the Twin Cities from outlying areas for medical treatments. One of our clients was just telling me how much she appreciates this service because, at the moment, she is unable to drive. She has been just so grateful that she has this option that allows her to remain independent and get the care she needs."
Some clients ride DARTT to and from work. This option is especially popular with high school students who don't have a license or access to a vehicle. Students are also using DARTT to get to school or after-school programs.
People also take DARTT to medical appointments in Olympia. "We've been serving Olympia quite a bit," says Colleen. "If people need to go up to specialists in Olympia or out in Lacey, they can use DARTT to do that. Customers appreciate it because it makes it a lot more relaxing for them not to have to deal with traffic and the distance."
Colleen estimates that close to 200 people have taken at least one DARTT ride, and many are repeat customers.
When riders call the DARTT office at Twin Transit, staff help them figure out when they need to be at their destination and when they're going to be finished and ready to be picked up. "It works out really well," Colleen says.
The cost of a DARTT ride is per trip, not per person. So, if you want a spouse, caregiver or adult child to ride with you, there is no additional charge. The only constraint may be the number of people who can comfortably fit in the van. "And we don't charge for the time in between drop off and pick up time, which keeps the service affordable," says Colleen.
DARTT can also help coordinate multiple trips into one. "We have people from the east county coming into town to go to work by riding DARTT," Colleen says. "They arrange to get dropped off and go shopping first for whatever they might need. Then they hop on one of the buses to get to work. It's huge for folks that live in the outlying areas – and people who want to stay in their homes and age in place." When you book a DARTT ride, you get a Twin Transit fixed-route bus pass for free! This allows you to ride the bus all day. Many people ride DARTT into town, use the bus to get around, and then book a return trip home on DARTT. This provides maximum flexibility and affordability at the same time.
DARTT has proved helpful for adult children who no longer live in the area but want to help their parent get to and from appointments. "We recently helped an adult child who lived out of state help their parent, who lives locally, get to an appointment," Colleen said. "The child called and scheduled rides to get their parent where they needed to go. An adult child could also buy a prepaid gift card that can be preloaded with some money, to give their elderly parent the independence to get around."
And DARTT is not just useful for serious tasks like work, school, and medical appointments – one mom used DARTT to help get her son into town to see his girlfriend because she was tired of driving him there and back every day!
The convenient program is relatively new, beginning in November of 2020. "But it's amazing how quickly it's growing," Colleen says. "So many people are thankful for the option because it's getting a lot of people out of their houses and giving them options again."
The first scheduled ride in the morning can be as early as 8 a.m., and the last scheduled pick-up in the evening is 5 p.m., Monday through Friday. The cost is an affordable $3 to $8 for a one-way trip, depending on how far you need to travel.
"We're really happy with the way this program is working out," Colleen says. "Clients love our drivers. They are grateful for their professionalism and how smoothly the process goes for them. It's really easy for them to reserve and to use."
To schedule a DARTT ride, call 360.330.5555. For more information, visit the DARTT website.
Sponsored