The Thurston Investment Network (ThINk) is proud to support Mossyrock's new medical clinic, River Valley Community Health, with funding from its network of local investors. ThINk is administered by the Thurston Economic Development Council (EDC).
The latest recipient of ThINk funding is owned and operated by Hugo de Oliveira, who felt called to leave his nurse practitioner position in a local clinic system and open an independent clinic in the community where he lives during the COVID-19 pandemic earlier this year. Hugo's community-focused mission is the kind of business endeavor ThINk is eager to fund.
In addition to complete primary care and walk-in services, River Valley Community Health now offers rapid testing for COVID-19. The new clinic is home to one of only a few Abbott ID testing units in Western Washington, making it a destination for individuals who do not have symptoms of COVID-19 but need a negative test result to return to work or travel to a state with entry prerequisites such as Alaska or Hawaii. Hugo has provided testing for patients from as far away as Vancouver and Tacoma. While Hugo is happy to offer this service to the greater region, his focus when opening the clinic was on Mossyrock and its surroundings.
That passion for serving the community spoke to Craig Landes, the leader of seven investors from ThINk who stepped forward to fund River Valley Community Health. Craig grew up in Mossyrock. His parents still live there, and he plans to retire there in a few years. "This felt like a good fit for me as an investor for a variety of reasons," Craig explains. "Having access to good healthcare options where my family lives and where I plan to retire is of interest to me, so I was happy to take the lead on this and help Hugo's business succeed."
Hugo connected with ThINk thanks to guidance from Jennifer Dye at the Small Business Development Center (SBDC). She was helping Hugo tighten up his business plan when she realized River Valley Community Health would be a perfect candidate for funding through ThINk. "I really look for businesses that are making a significant contribution to their community when I send someone to ThINk," Jennifer explains. She connected Hugo to Aslan Meade, the EDC's director of strategic alliances, who agreed the project had the potential for traction with ThINk. Members of the ThINk network had already decided they wanted to evaluate projects from counties outside of Thurston to expand their options in a year of widespread economic hardship, and this is exactly what they had in mind.  "Now that we are funding businesses in Lewis County, we may have to revisit the name of the Network," Aslan says with a smile.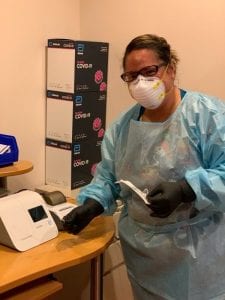 The nature of the revenue cycle in the medical industry is such that a brand-new clinic won't see the bulk of its reimbursement for several months after they open their doors. Claims can't be submitted until after patients are seen, and the first round of claims processing for a new clinic is notoriously slow. What Hugo did not anticipate was the swell of community support and excitement around Mossyrock, and what he realized was a much greater need than he could have imagined.
Jennifer, Aslan and EDC team members helped Hugo prepare his pitch for the panel of ThINk investors. They helped him fine-tune his cashflow projections and prepare a competitive analysis. In ThINk's shark tank-style format, he had 10 to 12 minutes to pitch his business plan to the investor panel. The reception was outstanding.
Seven investors stepped forward to contribute to a loan for River Valley Community Health.  "To see this kind of response from the private sector –  to see community members willing to step up to support a local business during such challenging economic times has really inspired me," acknowledges Aslan Meade.  "I've believed for many years that local investing is a powerful tool to help build our regional economy.  To see this response, in an essential industry sector. . . This has been my proudest ThINk moment to date.  Hat's off to the investors!"
Hugo came prepared with letters of support from the East Lewis County Chamber of Commerce, the Mossyrock School District and the Mossyrock Fire Department. He also pledged free healthcare for one year to all of Mossyrock's 2020 high school graduates.
River Valley Community Health opened its doors on June 8. Hugo treated 68 patients before the end of the month and found he needed to hire help. With insurance reimbursements still weeks or months away, Hugo needed a way to keep the operation afloat during a time of such high need. This is where the ThINk funding made a huge difference. Hugo was able to hire a medical assistant as well as a trained EMT who serves part-time as a medical assistant and part-time as an administrator. Hugo's wife Shelley is the office manager, and they also hired a receptionist. Hugo's daughter was hired to serve as cleaning staff.
Hugo and his team saw 350 patients in October. "We are doing this for the community," Hugo says. Hugo and his wife Shelley bought Shelley's grandparents' property in Salkum, a small town outside of Mossyrock in 2018. His daughter hopes to study medicine and become a doctor. "One day I'll be able to retire and hand her the keys," Hugo muses. "I'm not looking to open 15 copies of this clinic throughout the state. I think we're going to be successful, and I'm happy with keeping the success here."
If you are a business looking for support, you have access to the resources at the SBDC and the EDC. Contact Jennifer Dye at jennifer.dye@wsbdc.org to get started and learn more.
If you are interested in joining ThINk's panel of investors, they are always looking to expand their membership. Contact Aslan Meade at ameade@thurstonedc.com to learn more, or visit their website.
Sponsored