Lewis County musician Mud Gibson's personal trajectory resembles many legendary artists, where a severe health issue results in increased proficiency and productivity with any resulting pain and hardships are channeled into memorable song lyrics.
Gibson, who also goes by Muddy g when performing his hip-hop material is evasive when asked about his birth name. "Just call me Mud", he says. Living in Lewis and Thurston County for most of his life, Mud permanently settled in Centralia right before his freshman year of high school.
Mud credits his mother's collection of cassette tapes that he discovered at a young age in shaping his love of music. "I took those (cassettes) to my room and listened to them back-to-back, over and over again." After learning the basics with a tiny Wal-Mart model, he received an acoustic guitar for Christmas and expanded his craft, studying the techniques of rock and blues legends. "My favorite guitarists are Slash, Stevie Ray Vaughn and Buddy Guy," says Mud.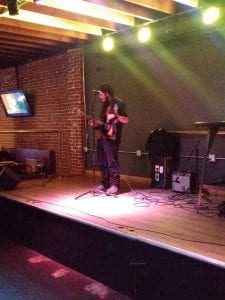 Blues-influenced riffs are featured prominently on Mud's Facebook page, where he films himself performing original songs and popular guitar solos by various artists. Even his acoustic cover of "Billie Jean" has a stripped-down Mississippi Delta feel to it.
At age ten, Mud experienced serious pains that led to a shocking revelation. "I'd been having headaches for years and one time I didn't want to get out of bed," Mud explains. "We went to the doctor on a regular basis until my Mom told the receptionist we weren't leaving until they told her what was wrong with me. So, they sent us up to Tacoma to see if I needed my sinuses drained, and it turned out to be a brain tumor the size of a baseball. I went into surgery that night and was in the hospital for a week."
The type of cancer Mud had is called ganglioglioma. "It's one of the rarest types of brain cancer out there," notes Mud. "It's most common in children and the doctors thought I was probably born with it due to the size of the tumor. The surgeon said that if we waited another two weeks, I probably wouldn't have made it."
Two additional surgeries were performed to remove all traces of cancerous tumors. After the second procedure, Mud experienced changes to his body. "They said I had a bad seizure during my second surgery, but we think I had a stroke due to the weakness and loss of eyesight on my left side," says Mud. "After my third surgery, the weakness was worse." Subsequently, his left hand, which he had used for strumming, was fully paralyzed. Like many artists who have a passion for their craft, Mud was undeterred by the surgeon's claim that he'd never play the guitar again.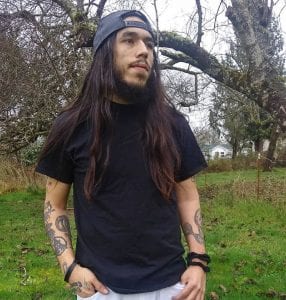 "I couldn't use my strumming hand anymore, so I had to flip it around and learn how to play with one hand," Mud explains. "My neighbor, who first showed me Stevie Ray Vaughn, reversed the nut on my guitar for me and restrung it." In playing left-handed with a restrung right-handed guitar, Mud carries on the tradition of Washington-born guitarists Jimi Hendrix and Kurt Cobain. "I'm limited to what I could do in not strumming, but then again, you'd be surprised at the stuff I can do without my other hand," he says.
In addition to regaining his guitar abilities, Mud's been cancer-free for over nine years. "For my own peace of mind, I still go in (for a status check) every year," he says.
Mud's recent foray into hip-hop as Muddy g was also initiated by his mother's music collection, where he listened to many pioneering artists such as Ice Cube and Tupac Shakur. Several lyrics are drawn from dodging death and coming out stronger. "I'm really trying to get my hip-hop songs heard and tell stories and not just talk smack or about drugs," Mud states.
"I'm Different" has Muddy g rapping over a spare beat, referencing the side effects cancer and his operations had on his appearance and how they've shaped his image and lyrical style. By addressing his struggles in a direct and light-hearted manner, the song becomes a call for compassion and believing in yourself.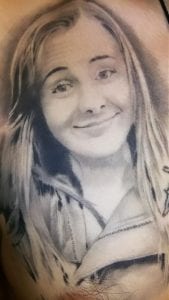 "Love Life" sees Muddy g reflecting on loss, regret and pain related to his close friend Kaylee Denithorne, who died in a car accident in 2017. She visited him in the hospital during his first surgery. "It was a really great memory," Mud says. A tattoo of Kaylee adorns Mud's chest as a permanent tribute.
Playing guitar on his hip-hop songs, as well as shredding while rhyming on stage definitely makes Muddy g stand out. "It's different for a hip-hop show.," he says. In addition to some upcoming local shows, Mud's music has been added to all major streaming platforms and he hopes to release a physical CD soon. Mud Gibson overcame cancer with a near-death experience and kept on writing and performing music with a constant and diverse body of work. Find his latest songs on Spotify and Google Play.
To see Muddy g live don't miss his show at EchoValor Centralia on Saturday, February 15.