Entering the dental office of Dr. Marc Johnson at Twin City Smiles Family Dentistry in Centralia is like entering a cathedral of light. The vaulted ceilings and large panes of glass brighten the building and the natural wood feel gives a sense of warmth. Smiles greet you and make you feel at home.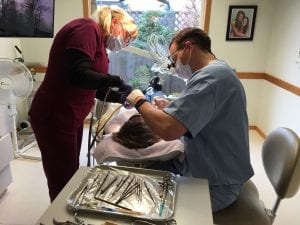 "We love our office," says Dr. Johnson. "It's a friendly place where you quickly discover we care about you, your life, your family and your smile. We earn your trust with each step we take in your treatment."
Since earning a Doctorate of Dental Surgery from Northwestern University Dental School, Dr. Johnson has practiced dentistry for over 20 years. He bought Twin City Smiles Family Dentistry in 2002 from Dr. Cram, although it was started by Dr. Piper 40 years ago.
A Pacific Northwest native, Dr. Johnson is originally from Boise and his wife, Sandy is from Gig Harbor. Sandy is a kindergarten teacher at Edison Elementary School. Their family is their number one joy in life and they enjoy time with their two sons, two daughters, two daughters-in-law and three grandchildren.
The couple loves living in Lewis County and particularly Centralia. "We fell in love with our historic Edison neighborhood and have grown to have true pride in our community," Dr. Johnson says. "I like to participate in the community.  I think most of the joy comes from interacting with other people."
Dr. Johnson is a Twin Cities Rotary member, helped with Pope's Kids Place and served as a volunteer for the White Pass Ski Patrol. One project that is near and dear to Dr. Johnson's heart for the past five years, is the big Edison Christmas tree. "It's a lot of fun to help continue a historic Christmas tradition that seems to be dying off in other schools," says Dr. Johnson. "The kids love it and it brings them security and love at school. It's kind of special."
With a focus on continuing education disciplines of implant dentistry, root canal therapy, orthodontia (braces), moderate sedation and oral surgery, Dr. Johnson's services include what many other dentists don't do. "I offer many services that most general dentists don't offer," says Dr. Johnson. "Many patients appreciate that we don't send them to other offices to have these treatments completed."
For many years Dr. Johnson has offered in-house orthodontia, but now he is moving to the use of clear aligners – orthodontia without brackets. These clear molds fit over teeth and slowly move them into position over time.
Over the past ten years, Dr. Johnson has also surgically placed implants, a growing part of mainstream dentistry. Now if you lose a tooth, you are more likely to have an implant placed rather than a bridge. "Most general dentists don't place implants," Dr. Johnson says. "They place the crown on top of the implant after the specialist has surgically placed it in the bone. I've found that when an implant is placed, it's best to have control of where it is placed."
Sedation is sometimes used to counteract apprehension and anxiety some people feel during dental treatment. Dr. Johnson is licensed to provide safe moderate conscious sedation for his patients. He provides customized sedation which ranges from light to moderate for longer, more invasive procedures or just higher anxiety patients. "We always offer this option to our patients if they feel they are a candidate because it has been so successful," he says.
With his knowledge and experience, Dr. Johnson loves to help anyone achieve the smile they have always wanted. He's done many full mouth rehabilitations. "By using all the disciplines of dentistry, you can give anyone a functional, beautiful smile," he says.
Dr. Johnson continues to modernize his office with a fully computerized system of information gathering. Using small cameras, digital films and scans, you can see all that your dentist sees if you so desire. "We have 32-inch screens in all operatories which makes communication easier for everyone," he says.
Something else Dr. Johnson considers exceptional about his practice is his staff. "I have a lot of confidence in my staff," he says. "They each contribute a special skill set and take pride in providing excellent care of our patients." Two members of the staff are fluent in Spanish, making communication easier with all patients.
Twin City Smiles Family Dentistry has four hygienists providing pain-free dental cleanings. They pride themselves in educating patients about their oral health and help them achieve their best results.
One of his dental assistants has thirty-plus years of experience. "We describe our work as a dance we have done so many times together that we don't have to talk," says Dr. Johnson. "We just know how to move together to get the work done as efficiently as possible."
It was his own childhood experience with a dentist that led him to the profession. "I had a great dentist as a child," he recalls. "I was always impressed that he remembered me and that I loved fishing. He would always treat me with respect and kindness and I loved to tell him about what I loved. I decided I wanted that interaction in my profession."
That same feeling of caring about his patients is something Dr. Johnson expresses to this day. "My hope is when people come here as patients, that our office is a dental home for them," he says. "It's a place where they feel comfortable."
Twin City Smiles Family Dentistry's office hours are Monday through Thursday from 8:00 a.m. to 5:00 p.m. and the first and third Fridays of each month from 7:00 a.m. to 1:00 p.m. Accepting new patients, they are a preferred provider for many insurance carriers or provide special savings plans for those who don't have dental insurance.
Twin City Smiles Family Dentistry
1407 Kresky Ave.
Centralia
360-736-9397