Twin Transit recently unveiled a new bus stop shelter at Chehalis' Shaw Learning Campus. This particular shelter isn't like all the others. For starters, it proudly boasts Chehalis' school colors – crimson and gray. The shelter also featur­es Chehalis School District, Lintott Bobcats, Smith Cougars and Chehalis Middle School Wildcats logos. Across the bottom runs a set of crimson paw prints, expanding from small to large, representing students' journeys from childhood into adulthood.
The goal? To increase school pride and identity, and encourage education.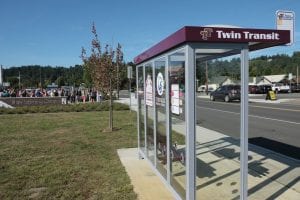 The Shaw Learning Campus bus stop was the first in an ongoing effort to revitalize and enhance Twin Transit bus stops throughout the Twin Cities. The Shaw Learning Campus location was selected first because of education's central role in the growth of our community. "Schools are so important in both the Twin Cities," says Twin Transit Director Joe Clark. "We felt it was an impactful statement of our commitment to improving and increasing our presence in the community. It was an example of Twin Transit's commitment to be a thread in the fabric of our community."
Twin Transit plans to roll out additional community bus stops in the near future. "We want to increase the quality and aesthetic appeal of our bus stops," Clark says. "They reside next to our schools and the other key locations in our community. We want to make sure there's an aesthetic design that enhances the location where each is placed."
Community-branded bus shelters, like the one at Shaw Learning Campus, reflect the positive organizations doing good work in our community. In addition, Twin Transit has stepped up efforts to enhance all bus stops by dedicating personnel to ensure they remain clean and evaluating each stop for safety and security. "We believe it is our paramount duty to ensure the safety of every rider," Clark says. "A clear line of sight, improving lighting and improving access are critically important to our shelter efforts. As such, we will make every effort in the future to ensure that each of our bus stops is as safe and secure as possible."
Community Pride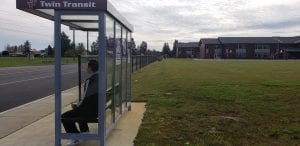 The Shaw Learning Campus bus shelter features the Chehalis School District's Student Achievement Initiative goals: Improve, Modernize, Prepare. The District believes that motivated students, enthusiastic instruction, and involved parents and community are a winning combination in producing well-educated young people.
A special grand opening event was held to commemorate the opening of Shaw Learning Campus on August 28. With approximately 1,000 visitors, the bus stop shelter was the focus of many positive comments. One visitor exclaimed, "Wow! I'd love to see such a community connection in our area."
Chehalis students and staff took notice of the striking new shelter as well. During a walking tour of the campus, one pointed it out to the group, saying, "How cool is that?!"
Administration is also grateful for the personalized bus stop shelter. "We appreciate the show of community support expressed by Twin Transit on providing the bus stop shelter next to Shaw Campus," says Superintendent, Ed Rothlin. "This bus stop shelter not only exhibits pride in the community but also promotes education."
The project exemplifies Twin Transit's role as a true community partner.
Sponsored