Submitted by: Embody
In January 2013 Lewis County natives, Christina and David Wolf walked into 115 South Tower Avenue looking for the future home for Embody Movement Studio. At first sight it couldn't have been further from what they were looking for.
The historic building was in a significant state of disrepair and neglect. "There were holes all throughout the floor, and ceiling," explained David, who would later lead the building renovation project. "There were only three or four hanging lights and it was so dark we could barely see what was underneath all the paint and molding; but we knew this was it … this was the space we would restore."
Built in 1935 – just five years after its neighbor, the Historic Fox Theater, 115 South Tower has had a long history as the home to businesses including a tack shop, ladies dress shop, flower shop, tae kwon do dojo and electronics pawn shop, among others, according to Christina's research.  When the Wolfs purchased the building in February of 2013, they began a seven-month renovation project to transform the deteriorated building into a hidden gem in Centralia.
"As we began work on renovating the building, we really let the building itself guide our direction. As we tore off base molding, we discovered a gorgeous brick wall hidden behind lath and plaster, and underneath layers of carpet glue and old linoleum, we discovered 100-year-old fir floors waiting to have their patina revealed with some sanding and several coats of finish," shared Christina. "We didn't work with a designer or have a master plan for how the space would all come together; we let the renovation evolve one step at a time and unveil itself as something truly beautiful."
Christina's vision for Embody was inspired by her time spent living in major metropolitan cities where she fell in love with practicing yoga and Nia in boutique yoga and fitness studios. "I loved the intimacy and community, depth and connection that those environments fostered; they felt more like a spa than a traditional fitness center or gym," Christina explained. "When I returned to Centralia in 2011, I realized there was an opportunity to fill a void and fulfill a desire to make a meaningful contribution to the community I grew up in. My vision was to create a small-scale, boutique, spa-like studio that would welcome all people in a warm, judgment-free environment and offer not only fitness for the body, but holistic fitness, health and well-being for the whole person while also fostering connection and community."
Scott White, President of the Historic Fox Theatre, says that the influence Christina and David brought with their restoration project inspired and encouraged to him to keep pushing during tough times of bringing the Fox Theatre's restoration project to life. "Restoring a building is one thing, but creating something brand new and bringing it to life is another," expressed White. "Christina's creativity, hard work and skill set are undeniable. Not only did she create a community within Embody, but she brought an entirely new community to downtown. People that may not have come to Centralia are now stopping at Holley's Place for ice cream or walking down the street with coffees from Santa Lucia and The Station alongside their yoga mats; her drive and vision is what I hope for the rest of the buildings that are vacant downtown. Could you imagine that?"
Since opening their doors in August of 2013, Embody has welcomed over 2,000 new faces and maintains an active membership of more than 200 members.
"Each of those members has a unique and personal story to share, many of whom have experienced profound changes through their time at Embody," Christina says.
One of those 200 members is Michael MacCallum of Onalaska, who joined Embody in February of this year.
"In December 2011, I stepped on an IED (Improvised Explosive Device) and lost my legs from the mid-thigh down," he said. "I can still remember the moment being very surreal and not truly understanding what had happened to me. It took me days to realize that my legs were really gone. I got my prosthetics and began physical therapy, but it never seemed to make me feel confident with them. Along with bouts of depression, weight loss and gain, and the effects of my medication, I just couldn't seem to get comfortable in my skin and wasn't moving or truly living.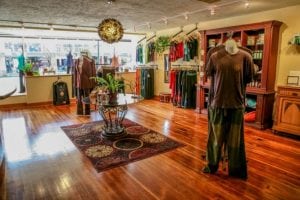 "I didn't know what to expect coming into Embody, but since I began coming to yoga and Nia classes, I felt safe to try and learn how to use my prosthetics as my legs, along with the rest of my body, in ways I hadn't since the accident. I still stumble, but I get back up and continue. I am now working outside and walking my property. My quality of life has improved. Most importantly I am completely off my medication and have an entirely new view of what I will be physically capable of in the future."
Not only is Embody supporting its members, its members are also supporting local businesses as they attend the more than 30 classes offered each week and bring in tourists from all over the world to shop and see all that downtown Centralia has to offer.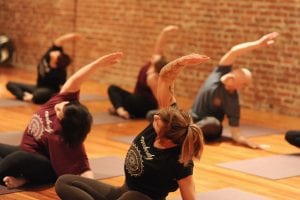 "To my amazement, Centralia turns out to be a small, charming city that I would never have expected to see a wellness center located in, let alone one focused around Nia," shared Debbie Lee Van Ginkel, a Nia teacher living in Siem Reap, Cambodia. "With Christina's sheer determination and perseverance, she created a space that is truly sacred, where people of all ages come together to honor their bodies and their lives in a beautifully authentic way. The minute I walked into Embody, I felt like I was entering a place where I felt nourished, nurtured, safe and inspired to move and create."
For Christina, the result of her decision to spend her life savings to restore a building and fulfill her vision is a dream come true.
"When we started this process, I really didn't realize where it would take us or what it would evolve into; I leapt with my fingers crossed and hoped it would work," she shared. "The community has really embraced the studio and even more surprising for me is how our studio has become a beacon and leader for other studios across the country and world. When people visit from Seattle or Portland or L.A. or New York, they are often floored to find this world-class facility in Centralia.  I'm truly proud of what we've built and feel grateful every day for the opportunity to share my passion with our community."