It was the first day of golf practice – the start of a new season. And besides the introductions and get-to-know-you moments, Centralia High School girls golf coach Hal Gronseth had some other introductory chores.
First, there was, "This is a golf club." And then there was, "This is a golf ball."
Starting from the basics was a prerequisite for his young and inexperienced golf team. For Jordan Blaettler, a freshman, and Montana Knapstad, a junior, that practice was their first time ever on a golf course.
"I had never held a golf club," Blaettler said.
It was all so new to them.
So, for Gronseth, it's been a matter of sticking with the basics in preparation for their season opener. "I think the real challenge we have is to just encourage them to have fun, to learn how to golf and to enjoy golf," Gronseth said at a recent practice at Riverside Golf Course. "So part of that means when it's freezing cold and raining, we need to be very quick and short. And on a sunny day like this we need to get out and play and enjoy it. Our real challenge right now is to just get these girls to enjoy playing golf."
Blaettler said it's already mission accomplished. "I like it," she said. "I like how laid back it is."
For Blaettler, there's also being outside and having a good time with friends. She also likes that there's no sprints or long runs around the track.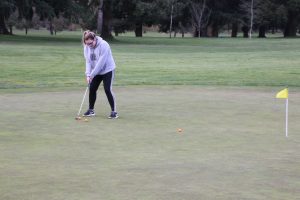 "That's a plus," Blaettler said with a smile.
But Blaettler is no stranger to pushing herself and working hard physically at a practice. She's turned out for swimming and volleyball before. Last fall she picked swimming over volleyball. She had to make a choice because they're both in the same season.
Encouraged by a friend's invite, Blaettler decided to give golf a try for the first time this spring.
"One of my best friends [Mazzi Nowicki] is doing it, so I decided to turn out for golf, too," Blaettler said.
Unlike Blaettler, Knapstad's introduction to golf isn't preceded by a background playing other sports. "This is the first time I've ever turned out for a sport," Knapstad said. For her there was no chasing a fly ball as a grade schooler. No running down the basketball court and popping a shot. "I'm not very athletic," Knapstad said with a smile.
But Knapstad had golfed before – kind of. She has played putt-putt golf. Like Blaettler, her decision to pick up a driver for the first time was encouraged by friends.
"A couple of people said I should try it," Knapstad said. "They said it was cool. And I had never participated in a sport before and I thought this would be an easy start."
Golf has been a win-win for Knapstad. Her biggest challenge has been smacking a tee shot and driving a long shot down the fairway. She's still waiting for her first 300-yard tee shot.
"Hitting for distance is hard," Knapstad said when asked what she's struggling with the most. "I'm a weakling." She's still waiting for her first 100-yard shot off the tee box.
Although both Knapstad and Blaettler are both rookies on the golf course, they're certainly not struggling where it matters most – in the classroom. Blaettler has a 4.0 GPA and Knapstad is at 3.8. But their coach has told them a key to golfing is not to think too much. Just swing and let it go.
For Blaettler, the biggest challenge of golf is accuracy. "All the technical things that go into a perfect swing and aiming is hard," Blaettler said. "That's the hard part." Plus trying to hit for distance is difficult. "The main goal for hitting for distance is you have to get the club right back where you started. There's a lot of things that can affect your swing and mess that up."
Of the six kids turning out for golf this spring for the Tigers, only one returned from last year's team. That's Tessa Smith, a junior who was the sixth player last year. She's the only one who has golfed before, but she had never golfed before last year. "She'll be out in front of our other kids a little bit but she is by no means a veteran golfer," Gronseth said.
So, it's going to be a learn and grow season for the Tigers this spring, and it's one Gronseth is sure they'll enjoy. It's all about having fun. And as they learn, it's not just about how to blast a tee shot. It's a mix of the driver, the irons and the putter.
"For kids to really enjoy golfing, they have to be able to hit the ball," Gronseth said. "Yet the putting and the chipping is what really improves the score."
And as they start to score well, it will be even more fun.