Submitted by: YWCA Olympia
YWCA Olympia recently announced that W.F. West High School student Ashlynn Gallagher was selected as the 2017 Young Woman of Achievement. Ashlynn is a high school senior at W.F. West High School and a Running Start student at Centralia College, living in Chehalis, Washington.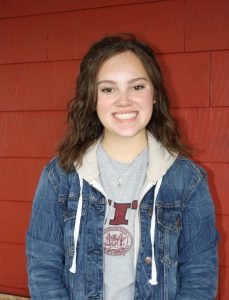 Ashlynn continuously tries to break barriers in her high school by participating in her school's activities and courses that have been shown to have more male participants than female: The robotics club, STEM club and advanced scientific research courses. This summer, Ashlynn was enrolled in two classes at her local community college and two independent studies, and has been active in her community and school by advocating for girls in STEM. Ashlynn wants to stop sexism and racism within not only her school, but the world around us, to show that STEM is not a male or white dominated career, but is for anyone and everyone.
"When I joined the robotics club, I saw girls being judged not based on their work, but on their gender. At first, I was confused because as I was doing my own work. I kept trying to see what other girls were doing wrong that was causing unwarranted feedback. As time went on, I experienced name calling, judgment, was not allowed to work on the robot and I noticed that the boys were given positive feedback and their mistakes were left unnoticed. I found it ironic that although my robotics team was trying to recruit more girls to build an awareness for girls in STEM, they were blocking the girls on their team from actually getting hands-on experience in STEM."
Ashlynn is deeply curious about the universe we live in and space travel. In her free time, Ashlynn is currently researching the effects of cancer treatments correlating to apoptotic gene noxa and tumor suppressor gene p53 on zebrafish embryos to further research on acceptable cancer treatments in her high school. Ashlynn won First Place Overall at the South Sound Regional Science and Engineering Fair which allowed her to compete at the Intel International Science and Engineering Fair this year with her scientific research.
Ashlynn plans to major in biomedical engineering with a minor in mathematics, and to get her Ph. D. and open her own research lab.
"I want to help my family, friends and the world. I see STEM as a way to help the world and fix the problems we are facing today and the problems we will face in the future. I plan to pursue a degree in biomedical engineering so that I can acquire the skills that can help not only my family, but my friends and possibly the world."
As part of her award, Ashlynn will receive the 2017 Mary P. Dolciani Young Woman of Achievement Scholarship, awarded by the Mary P. Dolciani Halloran Foundation. The purpose of the scholarship is to provide financial support to a young woman who has the aptitude and interest in pursuing a college major and career in science, technology, engineering, math (STEM) or math education.
Event Details
The Annual Women of Achievement Celebration will take place on Friday November 10 at the Washington Center for the Performing Arts (512 Washington SE, Olympia). Tickets are $45 per person ($35 for seniors/military and $25 youth). Doors open for the main event at 6:00 p.m.  A limited number of VIP tickets are available for $125 per person and include a delicious catered pre-event reception in the Black Box Theatre at 5:30 p.m., a meet & greet with keynote speaker Nikkita Oliver and the 2017 Honorees, music with the Lizzy & Tarik Duo and a main event ticket. Tickets, information and 2017 Honoree biographies are available online at www.ywcaofolympia.org, under the 2017 Women of Achievement tab. All proceeds benefit YWCA Olympia social, racial and gender justice programs.