During practice, when her players are running up and down the field, chasing a soccer ball, Juli Aselton is not worried about her title.
Her players call her "coach" or simply "Juli." And one player, the starting midfielder with all-league talent on Adna High School's girls soccer team, even has another title she sometimes uses. On occasion Payton Aselton simply calls her "Mom."
They are a mother-daughter duo. "Very few people call me coach," Juli said. "Most call me Juli."
And there is another title that fits for Juli. It is "team founder." Nearly eight years ago, Juli helped start the girls soccer team and then became "coach." Aselton's motivation to start a girls soccer team was simple – her oldest daughter, Kelsey. And Juli wanted to make sure her daughters had an opportunity to play soccer in high school.
"Kelsey was one of the reasons why I started the program at Adna," Aselton said. "Her group of girls did not have a school to play at. So, I started the group so my daughter had somewhere to play."
Mission accomplished. And as for her dual title with her daughters, Juli made a distinction.
"My kids know that when I'm on the field, I'm coach and not mom," Aselton said with a smile. "But for the most part all of the kids feel pretty comfortable with me anyway. We're all friends. It's a small town. Everybody knows everybody. It's really good. I enjoy being able to coach my kids."
It's a special moment. But, of course, there are moments of conflict, times when her daughter is thinking, "Mom, you can't tell me that."
"Payton is a team captain, and she is so good about knowing what to say and how to say it," Aselton said. "But there are times where they just want to contradict you because you're their mom."
But there is a settle down mode when Juli simply says, "Payton, we need to …"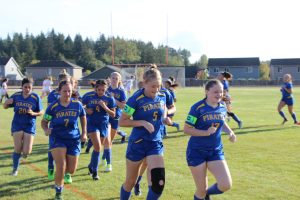 "Then she'll say, 'Yep, okay, I've got that,'" Juli said. "It's wonderful having three captains. They're all good friends, and they'll turn to each other and say, 'No, no, it should be this way.' We're just one big family pretty much."
Payton has discovered that there is a bonus to having "mom" as coach. It is the door to after-practice contact.
"It's just nice because I can have a little input on how the team is," Payton said. "Let her know what the players are feeling. Talk to her about what we should do field-wise for positions."
While Payton is only a sophomore, she is a team captain, voted into that role by her teammates. She can feel comfortable with that leadership role because she has been playing soccer since she was four. And she competes at soccer year around, playing for Blackhills FC's U-16 team. Even when she is playing on Adna High School's basketball team, Payton practices twice a week with her soccer team and participates in soccer tournaments on the weekends.
But all the hard work Payton puts into being good at soccer has not caused her to forget the classroom. She is a true definition of student-athlete. Payton has a 3.95 GPA, earning all A's. Her only "blemish" is an A-minus.
"I like to focus on just sports and just school," Payton said. "I don't do too much else. I hang out with my friends, but I always make sure my homework is done."
And there is another helpful influence.
"All my friends are pretty academically smart," Payton said. "So, they like to help me study."
Like Payton the team's other two captains – Abby Kruger and Brynn Arrington – understand the importance of leadership. Even though Kruger started playing soccer only three years ago and is a relative newcomer, she has been a quick study.
"I love the energy that it gives you," Kruger said when asked what she likes about soccer. "It's just so much fun."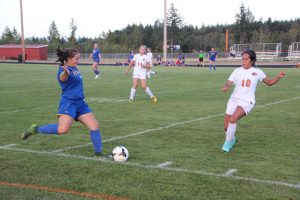 For Kruger, the competition, the challenge, are also pluses. And then there are her teammates. "That's my favorite part," Kruger said. "We're all like family."
Besides running up and down the field, Kruger and her teammates have frequent get-togethers, dinners at teammates' homes. "It's fun," Kruger said.
Arrington is only a sophomore, but she is no stranger to soccer. She has been playing since she was four, often as a teammate of Payton's.
"We've played soccer together our whole lives," Arrington said.
Besides her skill with handling a soccer ball, Arrington is in perpetual overdrive, always pursuing a win.
"I've very competitive," Arrington said with a smile. "My dad always says, 'Oh, she's so competitive.' I definitely am."
But that drive to win does not result in pent-up frustrations for Arrington. She is the calm leader.
"I think her being so calm with her directions has been a huge factor," Juli said. "She doesn't get over excited when she talks to people, and she's just really good and calm. The girls respond really well to her."
For Juli the challenge to win is not the only takeaway she hopes her players gain from playing soccer. It also includes life lessons that friendships equal teamwork.
"We really work on the fact that everybody remain friends," Juli said. "When we come to practice, we're all friends. We help each other out. You don't get down on anybody. You're always picking everyone up. You're always trying to be a leader."
It has been a winning formula for the Pirates.