Many orthopaedic surgeries can be conducted in an outpatient setting. Washington Orthopaedic's Ambulatory Surgery Center (ASC) is an excellent alternative to a hospital visit. Not only is it located right here in Lewis County, so you can stay close to home, but it has many other perks.
ASCs are facilities that provide outpatient (same-day) surgical care. They also perform diagnostic and preventative procedures. Like hospitals, ASCs are held to rigorous health and safety standards including independent inspections that assess level of compliance with state and national standards. A study called "Procedures Take Less Time at Ambulatory Surgery Centers, Keeping Costs Down and Ability to Meet Demand Up" conducted by health economists Elizabeth Munnich of the University of Louisville and Stephen Parente of the University of Minnesota concluded that "ASCs are a high-quality, lower-cost substitute for hospitals as venues for outpatient surgery." The study, published in the May 2014 issue of Health Affairs, included data collected from 50,000 surgical procedures over four years. The data showed that ASCs not only save money and increase efficiency, but also "provide high quality care, even for the most vulnerable patients."
The center at Washington Orthopaedic was designed by physicians to create an organized, efficient environment for all staff, as well as providing a comfortable atmosphere for patients and their families. The ASC has lower overhead and associated costs than a hospital, which means they can charge less for a surgery than a hospital. This means it costs less for the insurance company and the patient.
But not everything is about money. When it comes to surgery, we all know that quality and comfort are at the forefront of everyone's mind. So is getting home as quickly as possible. In all of these aspects, ASCs outperform hospitals as well. Most people choose the ASC setting for a variety of reasons including, but not limited to: lower cost, convenience, personalized care, time efficiency and relaxed environment for both patient and family.
"Our ASC is very streamlined and has everything down to a science," explains Dr. Keith Birchard, board certified orthopedist at Washington Orthopaedic. "Where most hospitals have a 45 minute – 60-minute turn-over time between cases, our ASC average turnover time is 18 minutes.  We also are able to get patients in and out sooner than a larger facility.  The increase in efficiency enables us to provide optimal care for all of our patients."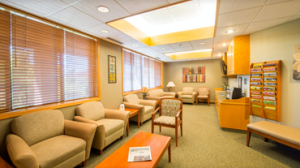 Personalized care is part of that comfort at an ASC. Because it's a smaller facility, your family will get to know the one or two nurses that are helping the doctor, instead of the dozens you may come in contact with at a hospital. "This is very comforting to the patient and allows them to relax more knowing who is going to be caring for them," adds Birchard.
The Washington Orthopaedic ASC has a comfortable "step-down recovery area" where your family will join you as you come out of the anesthesia. You will also be given a light snack and liquids. One of the nurses who has gotten to know you and your family will give you written instructions for your post-surgery care and they will be thoroughly reviewed in person to make sure you understand them. Have questions when you get home? A physician is on-call 24 hours a day.
The Staff Love It Too
Tammy Goodeill has been an RN at Washington Orthopaedic Center since the beginning in 1994. She loves it and has never had the desire to work anywhere else "The ASC has evolved a lot and is the perfect place, for me, to work," says Goodeill.  "I love the small 'family' staff that we have and the flexibility.  I still remember the very first surgery that we had here.  I enjoy being part of the changes and evolutions over-time."  She also mentioned that she is excited for what the future holds for the ASC.
For the surgeons, they enjoy working at a smaller facility that allows for more autonomy when it comes to treating patients. "We appreciate the fact that we have the option of choosing the technology and implants that we may utilize for a case," states Michael Dujela, board certified foot and ankle surgeon.
Washington Orthopaedic ASC Fun Facts
Built in 1994
One of the first ASC's in Washington State
100% physician owned
Average tenure for full-time RN's is nearly 14 years
Very low rate of infection
The Washington Orthopaedic ASC is able to handle most orthopaedic surgeries, depending on the health and recovery needs of the patient. This includes everything from carpal tunnel and bunions to total joint replacements. They can also handle emergency surgeries, including wrist fractures and foreign body removals. Some patients do require a referral, depending on insurance and whether the procedure is elective or emergent in nature. It's always good to check with your insurance provider if you are unsure.
For more information about the Washington Orthopaedic ASC, visit the Washington Orthopaedic website or call the Centralia office at 360-736-2889.
Sponsored