Lacey Duffy was looking for a stress reliever, a break from the pressures of studying. So, during her freshman year at Centralia High School, Duffy found her escape from the rigors of school in a most unlikely place. She found release and relief on the golf course, often the place of high anxiety for wannabe golfers smashing a tee shot out of bounds.


After playing softball for 10 years, Duffy put aside her bat and picked up a golf club and turned out for golf.
"This is more laid back and relaxing," Duffy said before a recent golf match at Riverside Golf Course. "It's a stress reliever."
As a sophomore, she was on the varsity team off and on. Now, as a senior, Duffy is her team's No. 1 golfer with the dream of making it to state going into the upcoming districts on May 16-17 at Riverside Golf Course.
Before her freshman year when she turned out for golf, Duffy had never even picked up a golf club. She had never been on a golf course. But she switched from scooping grounders to smacking tee shots because of an invitation.
"My cousin was golfing on the team," Duffy said. "I thought I might as well go golf with her. It's more laid back. More manageable with all my high school classes and stuff."
Duffy does take school seriously. Her grades are proof of that. She's got a 3.921 GPA. Her only B in high school came her freshman year.
"I got it in honors English my freshman year," Duffy said with a smile.
Other than that one B, there's been only a couple of A minuses, the only "blemishes" on her sparkling report card. But getting A's is nothing new for Duffy. She's always been an A student, from grade school to high school. She's always had that needed support at home.
"Having good parents that push you to try and do your best all the time," Duffy said when asked how's gotten good grades.
There's always been the gentle reminder, the question of "do you have homework" before she turned the TV on.
"Or before I fall asleep," Duffy said with a smile.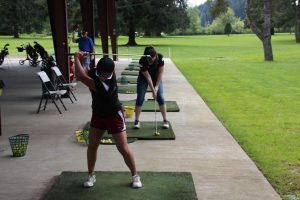 Next fall, Duffy will attend Centralia College, beginning her journey to becoming an elementary school teacher.
Lydia Anderson
Like Duffy, teammate Lydia Anderson was also new to backswings and putting when she first turned out for golf at Centralia her freshman year. Other than a couple of chip shots in her backyard, Anderson was a novice golfer. It was more her teammates-to-be than the game that got her to turn out initially.
"I wanted to do it because the girls that were in it were great," Anderson said. "Lacey was one of my friends when I got to high school, so she helped me with that."
Anderson, who also played volleyball on the school team for a couple of years, has been a quick study with golfing. She's among the top three on her team heading into districts. And like Duffy, Anderson is a whiz in the classroom. She's got a 3.8 cumulative GPA. Now in her second year of Running Start, Duffy will have her junior college degree coming out of high school. In the fall, she'll attend Saint Martin's University. Like Duffy, Anderson wants to be a teacher.
Anderson's academic drive is why she started running start.
"I'm really motivated, so I really wanted to get that AA," Anderson said. "And my sister, she did it.  So, that got me started. She's kind of the guinea pig." And it's worked. "That motivated me to go out and get that AA," Anderson said.
For the Tigers golf team, academic excellence is a team standard. They take care of business in the classroom.
"Our lowest GPA is around 3.6," Tigers coach Hal Gronseth said.
Since golf is such a mental game, these smart kids on the Tigers' team have an edge to their golf game. But sometimes over thinking can be a problem on the golf course.
"Sometimes that helps. And sometimes it hinders," Gronseth said. "You don't want kids thinking too much. You come out and you work with swings. And at some point they have to stop thinking all the time and make it a natural swing. You want it to be a natural swing. It plays a little bit both ways."
Duffy's best round of nine holes of golf is 56. She knows she'll have to shoot in the 40s to make it to state.
"It will be hard, but I'll push myself to try since this will be my last chance," Duffy said.
The Tigers have had an unexpected opponent this spring – the rain.
"It's been terrible," Gronseth said. "When we played Aberdeen, it absolutely poured the entire match. This might be as wet a spring as we've had."
But these Tigers keep on swinging and scoring well in the classroom.