Have you ever wanted to storm a castle? Bravely meet knights in combat? Show your prowess with a bow or dazzle friends with your skills in silk painting or mailsmithing? Maybe equestrian games such as archery, lance or chariot racing is your passion. Perhaps you know nothing of these, but would love to learn. If you answered yes to any of these questions, then you need to check out The Shire of Fire Mountain Keep, the Lewis County Shire belonging to the An Tir Kingdom in the Society for Creative Anachronism (SCA).
This is not your typical "medieval faire" group. The SCA is an international organization founded in 1966 that is "dedicated to researching and re-creating the arts and skills of pre-17th-century Europe." There are over 30,000 members in twenty kingdoms all over the world. Members strive to be as accurate as possible in their portrayals of history – from choosing period-accurate names and garb, to learning how to make things the way medieval people did.
History of Our Shire
The Shire of Fire Mountain Keep has been in Lewis County since 1989. It was founded by Catherine and Gerald Warner, Virginia Tharp and her son Dan Tharp, and Wallace and Judy Krausch. For the SCA, groups are either a shire or a barony, depending on size. You have to be an incipient for a few years before you are granted either. In 1992, the Lewis County group was granted their shire status.
Morgan French went to her first SCA event in Olympia when she was still in high school back in the 70s. While she thought it was interesting, she didn't really get involved until years later.
"I was recently divorced and I had a son, and I was looking for something we could do together," Morgan says. "Fire Mountain Keep was having a demonstration at Fort Borst Park so my son, Bob, and I went to that and decided it was something we could have a lot of fun doing because it involved camping and arts and crafts."
They went to a couple events and were hooked. Her son Bob Kappenman – known as Bors the Luscious in the society – is now the Seneschal, or president, of the Shire. His kids have grown up in the society, making them third-generation SCAdians – the term for members of the SCA.
Making History Come to Life
I attended a business meeting of the Shire, to learn more about the group and what it was really all about. The Shire is exactly what you would expect – friendly people who clearly enjoy playing in the past. When asked why they joined the group, a love for history was a big reason, but it wasn't the only one. Most loved that the SCA gives them a family-friendly environment where they and their kids could all do different things together.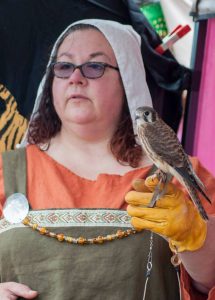 Learning new skills was also a big reason many enjoy the society. "I was not a sewer, at all, when I joined," explains Morgan. "Now I can make my own patterns and sew for just about anyone. It's a learning and educational society. You learn a lot of history."
You can learn just about anything from the medieval time period – from battle skills and equine games to calligraphy and music. Kids of all ages can participate in all most all of the events. Our Shire has a hunting guild, headed by Stephanie McLeod who does falconry with her American Kestrel. SCA events vary from just a couple hours to full weekend experiences. For example, the Shire's Arts & Science officer has been hosting silk painting at her house every couple weeks. Shire members and non-members are welcome to drop in and learn the craft.
"My kids have developed leadership skills through the society," says Morgan. "My 18-year-old son, Shade, has been involved his whole life. And my 15-year-old grandson, Nate, has been doing SCA events since he was six months old." Both of them run an event at the Shire's yearly event, Dragons Down. Shade runs the siege cooking. Competitors are given a protein and a seasoning, and they have to create a dish using only what would have been available to a medieval warrior on the battlefield.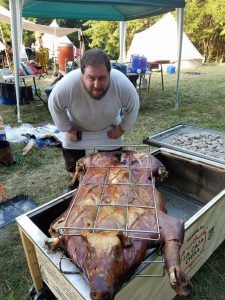 Getting Involved
Non-members are welcome and encouraged to attend meetings and small events, such as the silk painting, to meet members and learn more about joining the Shire. While most events are closed to the public so that members of the society can be fully immersed, Dragons Down allows people to attend in street clothes, so it's a great way for newcomers to get a feel for the society.
For more information, visit the Society for Creative Anachronism's website or send a friend request to Firemountain Keep on Facebook.