Rose Bowman passed away on May 2, 2017, but her presence is far from gone in Lewis County. Rose was the embodiment of the Rotary International motto, "Service Above Self." Starting in 1996, she was a driving force in the Chehalis Rotary Club.
It's no surprise then that they elected her governor of the local Rotary district, which includes 90 clubs spanning Vancouver Island and Western Washington with nearly 5,000 Rotarians. She held office June 2015 to July 2016.
Tom Carroll, founder of Tiburon Systems in Olympia and in-coming Rotary governor says that "everything she touched" was influenced by her incredible drive and belief in service. "You couldn't say no to Rose, that was just the kind of person she was," he adds.
Just a Few of Her Missions
To mention everything Rose did would take a book, possibly several books. She was constantly going. One of her most famous endeavors was her trip to Mexico driving a bus full of wheelchairs. It broke down several times along the way, but she made it to her destination. When she told the story, she would say, "That was the day I became a true Rotarian."
"It is inertia and moving forward that gets things done, and that was Rose," Tom explains. "She was this moving force and people were attracted to that. For example the booth at the fair. She was there every year. Clubs get tired of fundraising over time, but she was a woman who was not going to let that die."
Tom says Rose's number one concern was eradicating polio. Rotary International has been hard at work on this and so was Rose. "We are down to approximately 35 cases worldwide and Rotary did that," he adds. "We partnered with the World Health Organization and Bill and Melinda Gates, and it's a big deal. We think that this year we will see the last active case and if we go 36 months with no cases, it will be wiped from the Earth."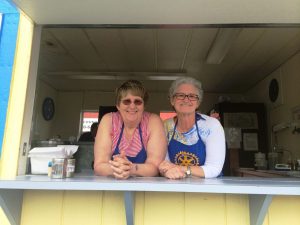 She also served two terms in the Washington State House of Representatives and as Lewis County Treasurer, where Tom says her strong character really shined. "She was a problem solver, that was her representation in the legislature," he says. "There were issues that came up and she was really vocal about it. There was corruption down there and she came right out and said it like it was, like 'These guys need to be arrested.' That was Rose."
Honoring Rose in the Most Perfect Way
"When Rose entered hospice, she said very clearly to me, 'I don't want people to send flowers,'" Tom says. "Instead she said, 'They can give to Rotary.'" In that sentence, is all of Rose – a constant giver to the very end and someone who encouraged others to give as well.
So how do you honor someone whose life was so full? Tom says it's something he and the current Rotary Governor have been discussing for almost a year, because they knew her time was coming.  And they knew Rose would want something that reflected her life of service.
As things sometimes go, an eerily coincidental, yet perfect opportunity arose the day before she passed away.
"Her husband, Leon, called me the night before Rose died and starts to tell me about this problem," Tom explains. "He has a broken-down bus in his auto repair shop that needs a $3,800 engine." But it wasn't just any bus. It had been purchased by the Rotary Club of Strathcona Sunrise in Canada and it was full of electric and manual wheelchairs bound to El Tuito, a small village near Puerto Vallarta, Mexico. But the bus had only made it as far as Everett before breaking down. That's when Leon – out of his own pocket – towed the bus to his shop in Chehalis.
The Canadian Rotary club, however, did not have the extra funds for the engine and so they were going to junk the bus. Leon did not feel right about that. And so, he asked Tom to ask the members of our district to pitch in, but Tom wasn't sure they would be able to since each club already has their own projects budgeted out.
Tom didn't sleep that night. At 5:00 a.m. the next morning, an idea came to him. "Why not present this as a tribute to Rose? It just came to me," he says. It seemed perfect considering her own infamous bus trip. A couple hours later, Tom learned that Rose had passed away at 5:00 a.m. "That clenched it for me. I knew then that this was the right thing to do."
The Rotary set up a GoFundMe page for people who would like to give in memory of Rose. An engine has already been donated, so the funds that are being raised will cover other repairs and purchase additional medical equipment for El Tuito.
The Lewis County Commissioners declared Saturday, May 13 as Rose Bowman Day in Lewis County, which is the day of her memorial service being held at Bowman Rotary Banquet Room in the TransAlta Student Commons at Centralia College at 2:00 p.m.
For more information, visit the Chehalis Rotary Club's website or Rotary International's website.