Amongst the antique and collectible stores, art galleries and furniture shops on Centralia's Tower Avenue sits Madly Eclectic, an establishment that deals in "all of the above," plus many other eye-catching items on display. A list of adjectives on Madly Eclectic's website succinctly summarizes their inventory and aesthetic style: Vintage. Industrial. Repurposed. Upcycled. Shabby. Junk Chic.
Anyone who enjoys mid-century modern furniture, various styles of 20th century artwork, and random objects from decades (even centuries) past will get lost in Madly Eclectic's cavernous space, where co-owners Nelson and Kay Murray's recycled creations are so meticulously arranged throughout the store that the display shelves resemble mini art gallery installations. "Nelson's mindset was to create a trail of art within the store," says Kay.
"When our kids were little, (Nelson) was a stay-at-home dad, and he would buy, sell, and refurbish old furniture and collectibles, and things like that." Initially, Nelson would sell his items on eBay, Amazon and occasionally at the local mall. After some "now or never" discussions regarding taking their business to the next level, Kay decided to retire from her job at Boeing, and they set up a trial store in Auburn. Taken by the like-minded nature of fellow vendors and dealers, as well as the local camaraderie, the Murrays decided to set up shop in Lewis County, first at Yard Birds Mall, and then in downtown Centralia, where Madly Eclectic has been operating for the past year.
"We knew we wanted to move to a smaller town that was more built around the things we like. Centralia is wonderful in that way. There's so many shops here, and it's such a great network – everybody works together so well, and it just was like home."
Kay and Nelson have witnessed the kindness of fellow antique store owners first-hand, and are always willing to spread the word when they come across an item that one of their neighbors might want to have in their collection.
"Steve Kopa at Northwest Tub Company has got things that he's known for. He comes to us with items like mid-century furniture, and we come to him with things like doors and bathroom fixtures, and he will send people our way when he hears customers mention things that we have in our store and vice-versa. We try to keep up on what other vendors have – it's hard, but it all works out. We've met so many people, and we're getting people who come back, which is always nice."
While searching for antique furniture, Nelson would often come across discarded paintings, which led him to a new creative outlet. "He finds them everywhere and then he would add to them," putting his own unique spin onto the covered canvases. In one instance, Nelson enhanced a landscape featuring a rural lake to include the titular vessel from Yellow Submarine, complete with The Beatles looking on. A western-style barn painting became an homage to Thurston County when Nelson added classic Olympia beer cans, bottles and logos throughout the canvas.
In addition to assisting Nelson with painting the furniture, Kay has her own line of resin-based jewelry for sale at the shop, another creative outlet where found items can be encased and transformed into wearable accessories.
For customers who may want to enhance their own wood-based furniture, the shop has a variety of chalk and clay paint in stock. "Whatever you are into, you can find your palette here." If an ambitious craftsperson buys a piece of furniture from Madly Eclectic with the intent of refurbishing it, the shop offers a 15 percent "project piece discount" on paints.
Many of the smaller antique items in Madly Eclectic can be co-opted into art or home furnishing projects by people who have an eye for creativity. Case in point: a collection of leather letters that are very popular with people who want to make unique signs, or parents who want to spell out their children's names. Madly Eclectic also has letters cut out from old book covers, as well as Scrabble game pieces, to use for similar projects.
"A man came in who worked at an elementary school and wanted to make a sign for his classroom. Also, we had a couple in the store a while back, and they are going to have a baby boy, and they were looking for a dresser that they could customize for his room."
Given the number of local residents who come in and purchase items specifically for various art projects, Kay would love to make improvements to the upper floor of their space so that she and Nelson can teach art classes. For now, she's happy that Madly Eclectic provides inspiration for people of various generations who want to create something new using found materials, or enhance a vintage object with their own unique vision.
"My daughter is in her twenties, and I've noticed that her generation is into reusing things, and I think it's part of their young culture. We get a lot of young customers who want to make things out of existing materials, as well as people who are just nostalgic."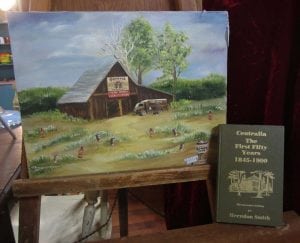 "Sometimes people – we're all like this – we think stuff we make like furniture or jewelry isn't art because I just made it, but we're all artistic in our own way. We all make art."
Madly Eclectic is located on 109 N. Tower Avenue in Centralia. For store hours and updates, visit their official site or their Facebook page.