Art is a fascinating gift. You are born with it or you are not. Most of us unfortunately are not, but Joshua Paulino has found both passion and success in his artwork.
"My mom would say as soon as I learned to hold a pencil I was drawing stuff," says the co-founder of Lucky No.3 Tattoo Company in Centralia.
Josh and his business partner Alex Cook celebrated the six-year anniversary of Lucky No.3 on November 17, and looking back, they have a lot to be proud of.
Josh was born and raised in Tacoma along with his twin sister, before the family moved to Olympia in his sophomore year of high school. The two of them witnessed works of art throughout their childhood, as their father was an artist by hobby. Josh always knew he would find his career in the arts, but never really thought about tattooing until he received his first piece of ink at the age of 18. He was a college student enrolled at Northwest College of Art in Poulsbo, where he eventually would earn his bachelors degree in Fine Art.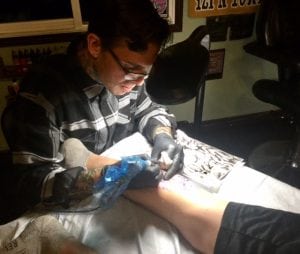 While sitting in the chair for the first time he describes being, "totally stoked about it."
Chatting with the artist, they began to discuss tattoo apprenticeship programs. Josh, needing to complete an internship for his degree, decided to ask his school if they would accept a tattoo apprenticeship in place of an internship. They agreed, and so his journey to become a tattoo artist became the new focus for his life. He found an apprenticeship under mentor Boe Mencarelli of Tat-2-Times in Olympia. Boe showed confidence and faith in Josh's artwork and had him tattooing clients just two weeks into his apprenticeship, something Josh now says is not the best approach.
Following his apprenticeship, and a few years of living in Europe, California, and Florida, Josh had finally gotten homesick enough to make his way back to the Pacific Northwest. He was working in Olympia running his former mentor Boe's shop when someone else bought it out. The new purchaser lacked the skill and responsibilities necessary to run a good business, which ultimately left Josh fearful as he watched the company begin to crumble before him.
It was a backward business proposal some might say, when Josh was contacted by a Centralia businessman looking to invest in a tattoo shop. He was not knowledgeable in the arts; he just wanted to be the money behind it.
In what Josh calls "perfect timing," he accepted the offer and was running Fine Art Tattoo out of Centralia.
It did not take long before an increasingly difficult relationship between Josh and his business partner began to fizzle out. He was unhappy with the way his partner was treating fellow employees, and Fine Art Tattoo was going downhill. He decided to sell-out his share of the business, which left him once again open to a new path. It was then when he asked piercing and tattoo artist Alex Cook if he would be willing to open a place up together. The two had been working at Fine Art Tattoo for some time, and both shared feelings of discontentment. Within one-month, they were opening the doors of their very own place, Lucky No.3.
"This place fell into our laps at the right time," explained Josh when talking about the location in the historic Stahl building. The building is unique, with a classy vintage feel, and it has a completely comfortable atmosphere.
"We're all artists here, we all can do pretty much whatever you want, so there are not really any limitations," he said when talking about Lucky No.3.
"I've never liked the rockstar attitude of some tattoo artists. All ideas are awesome, and we try to make people feel comfortable. I think people respond to that," he explains when asked what sets his shop apart from ones he has worked at in the past.
While meeting with Josh, he was in the middle of tattooing a detailed image of Medusa on the calf of new client, Zach Waber. Zach, who came down from Elma, has had his appointment scheduled with Josh since last June. When asked how his experience was thus far, he says, "Amazing, it doesn't hurt at all."
There are currently three working tattoo artists at Lucky No.3: Josh, Alex and their newest artist, Justin Cornelison. For anything that will take over an hour, the booking time with Josh is at least two-to-three months out. And although he works sometimes up to 80 hours a week, he says the first thing he learned in art school was "if you want to make money, go somewhere else." But the best part of the job for him has never been about money, it is being able to do what he loves while getting paid for it.
Whatever you are looking for, the crew at Lucky No.3 will help you find it, draw it, or even help to inspire it. Josh has over 16 years of experience behind him, and he is hoping his current apprentice Tyler will someday hold the fourth and final chair in their shop.
Lucky No. 3 is located at 121 N Tower Avenue, Centralia, WA 98531. You can reach them at 360-807-0433 or visit their website to learn more.