Here in the Pacific Northwest, we love anything local. Tradesmen, artisan crafters, or mom and pop stores, everyone has their favorite hometown go-to. This dedication to all things local includes looking to companies based right here in Lewis County for home services, including carpet cleaning.
Northwest Carpet Cleaning, based in Chehalis, has been owned by Rick and Julie Bayne since 1985. They've spent the last three decades building relationships and providing excellent service. No matter your cleaning needs, their employees have seen—and cleaned—it all. After so many years in the community, they've learned more than a few things about success. The company's staff are well-trained and includes two IICRC Master Technicians and two IICRC-Certified Carpet Cleaning Technicians, and can go beyond cleaning carpets too. Got an old sofa, area rug or tile floor that needs some attention? Northwest Carpet Cleaning can help you.
Small Business Trends explains that: "We small businesses are all about the personalized approach. With small businesses, it's not about casting a wide net, but rather about connecting with a select number of customers, enlisting their trust and loyalty, and having that positive impression spill over among their circle of friends and colleagues."
This positive impression brought Northwest Carpet Cleaning employee Alan Pierson to their door twenty years ago. A Navy veteran and transplant from North Dakota, he heard about the company from a friend. "Talked to Rick Bayne and we hit it off," he says of how he initially connected with the owner.
Pierson is a self-described people person. "I love to talk to and meet new folks," he explains.
In fact, it's his favorite part of the job. Having spent so long with the company, he laughs that "my good customers are good friends. Clients open the door and welcome me by name!" Positive word of mouth means has not only taken Northwest Carpet Cleaning and Pierson far within the community, it's taken them multi-generational. Pierson says he's now working with the children of current and previous clients.
"Anybody can clean a clean carpet," says Pierson. "We take real pride in getting it done."
Typical turnaround from a client's call to their sparkling carpets, upholstery or tile is approximately one week. They're slower in winter like many service industries and "really, really busy in summer."
Northwest Carpet Cleaning is always willing to tackle residential, commercial, boat, RV, auto or leather-cleaning needs, too.
Pierson's long-term employment goals are simple. While he's been with the company for two decades, he plans to "stay with 'em as long as I can."
Outside of work, he loves to bowl, ride bikes and spend time with his wife and two children, ages 13 and 16. This summer, he competed in the National Bowling Tournament in Reno, Nevada, and proudly celebrated his seventeenth wedding anniversary.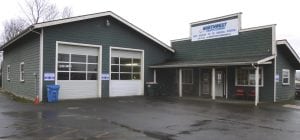 Building a successful local business is all about creating connections in the community. While this sounds simple and straightforward, it's rare in this fast-paced world. But Alan Pierson is a sterling example of a dedicated company hiring dedicated staff and providing decades of quality service and friendship to one's chosen community.
To reach Northwest Carpet Cleaning's experts, visit their website, call 360-748-9327 or follow the company on Facebook to learn more about for cleaning specials, job openings or to see stunning before and after photos.