Judging from their success on the football field, you might think that Wyatt Stanley and Sam Fagerness were single minded, focused only on throwing and catching touchdown passes. That they were athletes first and students second.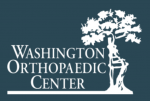 But these two seniors on the Napavine Tigers football team are the true definition of student-athlete. They excel at both.
Stanley, an all-state quarterback with a throw-deep arm, has a 3.5 cumulative GPA. Fagerness, a two-way starter and all-league running back, has a 3.9 GPA. His only B in high school came in English his sophomore year. Then there have been a couple of A-minuses. Math, the class most students dread, is his favorite class.
And besides the effort Fagerness spends on school work and studying off-tackle draws, he is also involved in school student government. He's the ASB president. His takeaway – a life lesson – from being in sports and student government is learning how to work with others. It's about teamwork.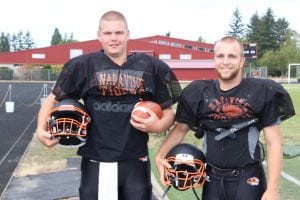 "For me, one of the biggest things is the leadership part," Fagerness said when asked what sports have taught him. "Then there's teamwork. There's lots of things you think you can do by yourself, but really in the real world it's more about teamwork. That's my two biggest things I've learned."
Stanley, an all-state selection as a quarterback with the size of an offensive lineman (6-foot-3, 225 pounds), isn't sure where he'll be next year. After his high school days are over this spring, when he throws his last strike during the baseball season, he's not sure if he'll be pitching or quarterbacking in college.
"Right now, I'd like to play football, but I'd also like to play baseball," said Stanley, who is also an all-league player in basketball. "So, I'm keeping my options open right now."
Stanley's focus, as with his teammates, is on the upcoming season. It's about getting back to the playoffs.
The high fives, all the congratulations and back slapping about last year's accomplishments are done, finished.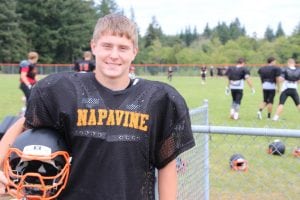 For the Tigers, placing second in the 2B state football championship game last year for the second straight year is yesterday's headlines. On the Tigers' first day of practice, coach Josh Fay handed out a paper with new goals, new objectives. It includes getting back to that state championship game and winning it all.
The team's tradition of success – the Tigers have placed second in state two straight years and won it all in 2008 – is an incentive. It's a pep talk and source of enthusiasm.
"It definitely pushes the team harder," said Cole VanWyck, a junior who is both a running back and a defensive back. "Coach Fay gives us our papers at it our first practice and that tells us our team commitment. That's one of the first things on it."
That's getting back to the state tournament. And this is one team that understands the price of victory – hard work.
"If we want to win, we definitely have to put in the work," VanWyck said.
Sometimes, expectations can make a player tight, anxious. VanWyck knows that the community is hoping for a repeat, a return to the state championship game. But that doesn't weigh heavy on this team.
"Yeah, there are expectations," VanWyck said. "I don't think it's as much as what the fans are expecting. It's what we expect ourselves. We all want to get back. That's no doubt."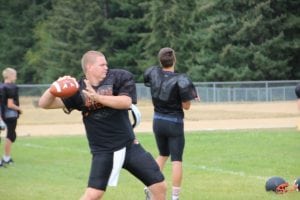 This year, the Tigers are going to rely more on Stanley's throwing and his accurate passing. They have lots of talent at receiver and running back.
"We've got a lot of guys back from last year. A lot of skilled guys," Stanley said. "We have four, five, six receivers I feel comfortable throwing to at any time."
In the backfield, the Tigers have three guys who are going to carry the ball.
"It keeps the defenses guessing," Stanley said. "Definitely helps our offense. Keeps everyone fresh."
Sam Fagerness is double trouble for opponents on offense. That's because he's got a twin brother, Mac Fagerness. Both have the breakaway speed and the moves to pick up the first down and keep a Tiger drive going.
"We bring back some really good skilled players," Fay said. "We'll let Wyatt get it in those guys' hands and see what they can do."
Those go-to-guys include the Fagerness brothers.
"They're both great athletes," Fay said.
Then there's Jordan Purvis, a 6-foot-2 wide receiver.
"I think we're going to have to figure out lots of ways to get him the ball," Fay said.
Add Noah Lance, a junior, and Cliff VanWyck, and these Tigers are deep in talent.
Stanley has the size and the skill to be the quarterback who leads the team to the playoffs.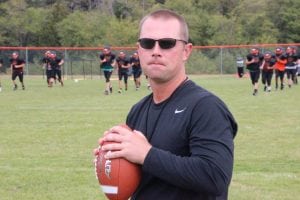 "He's not afraid to mix it up," Fay said. "He's got great instincts. He's got what we call down here farm strength. He's not a terrible weight room guy, but he's not the best I've ever had. But I think if he had to throw 500 bales of hay in a day, he wouldn't have any trouble doing it."
With the Tigers depth, Fay won't have to rely on just one player, giving a running back 30 carries a game.
"Our offense is really a spread it around type of offense," Fay said. "If you get 10 carries in our system you've got a lot of carries."
The Tigers will run three backs in their single-back offense. That makes it hard for a defense to focus on just one player to stop Napavine. Fay has embraced a coaching philosophy of Pete Carroll, the Seattle Seahawks coach.
"His whole next-man-up philosophy, we've tried to embrace that," Fay said.
It's been a winning formula.
Fay and his players all agree that a big secret to their success has been their community's support.
"Napavine has a great following," Fay said. "There's a small community atmosphere and it's a special thing to be part of."