Sparkling clean windows. Freshly power-washed siding. Clean house. Beautiful landscaping. And the final touch – your home lighting up the clear crisp night with professional Christmas lighting. It sounds like a lot of work, but all you have to do is call Calypso Window Washing because they actually do more than windows.
Calypso is owned by Cameron and MacKenzie McGee and is a conglomerate of five businesses that include window washing, power washing, landscaping, housekeeping, and Christmas and event lighting.
McGee didn't originally intend to run a business, although he ran one in high school through the DECA program and really enjoyed it. He planned to be a nurse, since several family members are nurses. He was attending college when he decided maybe he would try his hand at running a window washing business. It turned out to be successful enough that today he owns the five businesses that complement each other.
McGee says that more than half of his clients use three or more of their services. Calypso likes to schedule work in advance and will call to remind customers of upcoming appointments. He's also proud of the fact that he has an office manager, Matthew, so when people call about any of the services, they only have to make one call and talk to one person to get all of the work scheduled. They try to schedule it all in one day to take care of everything at once for clients. "That's been really nice for us as well as the clients," McGee says.
A customer can choose to have one service performed, more than one, or all of them. If a customer asks for something they can't do, for instance something that requires an electrician's license, McGee has a roster of trusted companies that he will refer to.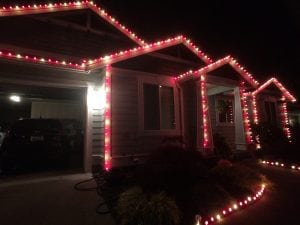 While he still enjoys washing windows, his favorite venture is the Christmas and event lighting. It's also the part that brings in the most new clientele. Calypso will come out to your house and decorate as simply or extravagantly as you want. A string of lights is cut to specifically fit your house. The team installs the light display for you. You can buy the lights or rent them and while you have no obligation to use them the next year, they will safely store the lights for you. "We have one neighborhood where we decorate 17 homes. It's fun. I also have a great topiary deer that has tons of lights and looks amazing at night, but during the day, it just looks like a well-shaped bush, not like a wire deer," McGee says.
One of the reasons the holiday light displays is his favorite business is because people are always happy when it's completed. "Although we always get positive comments with our other work, this particular work and the time of year, everyone is in a good mood. It's really fun. It's instant gratification," he smiles. The lighting business is also growing quickly. Last year they decorated about 100 homes and expect it to double this year. But that's not the only kind of lighting they do. "We've been doing a lot of weddings lately as well," he adds.
McGee talks about the education provided for staff. "We go to conferences and trainings to continually learn about new techniques and state-of-the-art equipment. Our staff is all well-trained. Before a new window washer is sent out alone on the job, they spend about three months training with an experienced washer. Our staff are also experts in their field, and we rarely use them in other areas of the business. For example, we wouldn't send a window washer to be lead on a landscaping job, but would use them during off-times to help with general labor. The same as we wouldn't have our power wash staff setting up Christmas lights." Calypso also pays for staff to take other trainings to continually stay educated.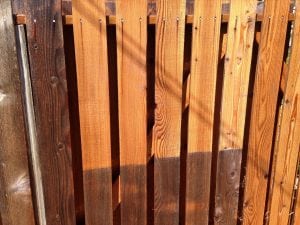 McGee says that Calypso mostly works in Lewis County but that they have done jobs as far away as Grays Harbor and Cowlitz County. Business is growing every year and McGee wants to make sure that they continue to do quality work. Right now he is in the process of finding a new facility that can house all the equipment. Once he has the space he plans to expand and add hire more staff to compliment the current team members.
McGee and his wife are life-long Lewis County residents and love it. "Everyone knows everyone," he says. They are very active in the community, having sponsored two shows at the Fox Theatre and have donated gift certificates for services to various charity auctions.
Many different people use Calypso's services, from businesses to busy young families, to older citizens who want to stay in their homes but don't want to be doing the upkeep that requires climbing ladders or crawling on roofs. "Our goal is to make things as easy as possible for our customers and I think we do that really well," says McGee.
Contact Calypso Window Washing at 360-269-4947 for all your window washing, power washing, landscaping, house cleaning or event lighting needs. Calypso is also currently hiring for landscaping and house cleaning jobs. Send an email to calypsowindows@gmail.com if you are interested.
Sponsored