By Sara Alvarado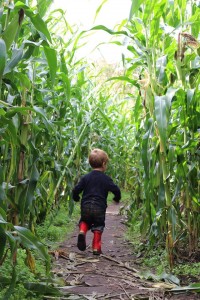 Every fall our family is amped up for the return of football season, however, my son is more excited for the return of pumpkin patch season. We always have so much fun at the pumpkin patch and we can't get away with just one visit. Luckily, Lewis County hosts a wide variety of pumpkin patches to choose from and no two are alike.
The Pumpkin Patch located at 518 Goodrich Road in Centralia has been family owned and operated for four generations. In fact, Tim Crockett's granddaughters planted this year's pumpkin seeds by hand! Tim mentioned that they always plant the seeds by hand and that this year was the first year his granddaughters were able to get in on the action.
The Pumpkin Patch offers a wide selection of pumpkins and various squashes of all colors and sizes ranging from munchkin to decorative to edible to giant. They aren't just all about the squash either.  They also offer hayrides, and tractor train rides on the weekends for $2 per person.
The fun doesn't end there.  The Pumpkin Patch hosts a corn maze, covered straw pit for kids to jump and play in, goats and other animals to visit and large character cutouts for capturing a fun photo. Last year, The Pumpkin Patch featured Minions characters, but Tim wouldn't tell me what this year's cutouts were going to be.  They are a surprise. These attractions are free with your visit to the patch.
The Pumpkin Patch is open daily from 10:00 a.m. until dusk through the end of October.
Parkerosa Farms is another Lewis County must see and is located at 292 Chilvers Road in Chehalis. The Parker family has owned the property for over 40 years. They opened the pumpkin patch to the public in 2009. Three generations help in the maintenance and operation of this fantastic family destination.
In addition to selling pumpkins, Parkerosa Farms hosts many fun activities for all ages, including a free corn maze and petting zoo. They also offer face painting for $2, a corn maze for $1, and three shots of the apple cannon for $5.
Visit Parkerosa Farms through the end of October on Monday – Thursday from 2:00 p.m. until 6:00 p.m., Friday – Sunday from 9:00 a.m. until 6:00 p.m.
Story Book Farms can be found at 5058 Jackson Highway in Toledo and is worth the drive. Story Book Farms is owned by Ron Brett. Ron was inspired by his granddaughter to make his pumpkin patch more accessible for children and families with disabilities.
The hay ride offered at Story Book Farms is on a Contessa wagon. This means the ride is large enough to accommodate wheelchairs and has a canopy cover to keep passengers dry in case of rain. Ron has also built a ramp for easy wheelchair access on and off the wagon. The rides last about 20 minutes and cost $3 per passenger.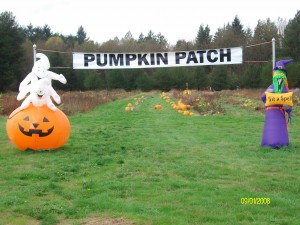 Ron has also planted strips of grass between the rows of pumpkins to help keep the ground firm. This allows easier access to the pumpkins without too much worry about getting stuck in mud, giving all visitors an awesome pumpkin patch experience.
Story Book Farms also features a bounce house for $2 per child with no time limit, and a candy dive in a hay pit for $1 per child. Story Book Farms grows seven different varieties of pumpkins ranging from ornamental to edible to giant. They also sell sweet corn, cucumbers and other veggies.
Story Book Farms has been in operation for about six years and is open daily from 10:00 a.m. until 6:00 p.m., weather permitting. For more questions, call 360-864-4388.
Willy Tee's Pumpkin Patch is full of character and fun at 3415 Jackson Highway in Chehalis and has been in the Teitzel family for seven generations, dating all the way back to 1890.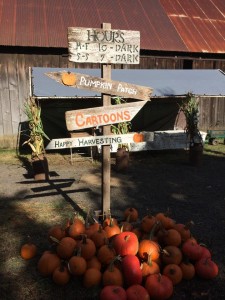 A trip to Willy Tee's will treat you to 1920s farm architecture and a mini-museum of antiques. Bill Teitzel (aka Willy Tee) is a cartoonist in his free time and offers a free caricature drawing of your child when they find the perfect pumpkin. He is available usually after 5:00 p.m. on weekdays and all day on the weekends.
In addition, Willy Tee's has crafts for sale and a wonderful selection of pumpkins to choose from.
Their hours of operation are from 10:00 a.m. until dusk, every day in October.
Lewis County has a wide range of fun pumpkin patches for families to explore. There is enough variety to make everyone in the family happy. My recommendation is to visit each of these pumpkin patches, one per week in the month of October. That way you don't have to pick just one.