By Nancy Keaton
With its charming artisan pastries and sophisticated dishes, The Pearl Café has burst onto Lewis County's farm-to-table scene in a big way.
If you walk into The Pearl Café when they open for breakfast at 8:30 a.m. you'll be treated to the enticing aroma of freshly baked desserts. You'll second-guess your decision to have breakfast and actually think about just eating the goodies instead. But don't. The breakfast choices are vast, flavorful and locally-sourced.
The Pearl Café opened on April 1 by owners Karen McSwain and Maureen (Mo) Anderson. McSwain had previously owned the Blue Lotus Café in Olympia and didn't plan to open another restaurant. But Anderson saw that she missed it and encouraged her to do it again.
When they were looking for a building, they wanted one close to the Community Farmers Market to make it easier for people to connect with their food. They took one look at the little cafe and decided it was perfect. Things were on their side as they were able to buy supplies and equipment cheaply at a yard for a discontinued tea shop.
McSwain and Anderson are proud of the fact that all the ingredients are locally sourced, purchased from the local farmers. All food, except bread, is homemade every day and made from scratch. They like to share where they get their ingredients so that others know that they can get locally sourced food as well. The bread is bought from The Essential Baking Company in Seattle because it's all made to order so much more fresh that store-bought bread. The coffee comes from Olympia Coffee Roasting Company. Winter produce will come from Olympia Food Coop.
A basic core menu is offered, along with daily specials, such as Biscuits and Gravy or Tex-Mex Migas. Want vegan? They have you covered. Gluten-free? Check. Carnivore? The bacon is certainly not fake. If you have any other accommodations that need made, they cheerfully create your meal as you ask.
The most popular dish ordered is the Curried Chicken Sandwich (curried chicken salad with Granny Smith apples) as well as The Memory or "Thanksgiving on a bun" as they call it – roasted turkey topped with stuffing and cranberry mayonnaise on a hearty artisan bun. McSwain's favorite dish to cook is soup, but she also thoroughly enjoys making the green salads. "They're works of art," smiles McSwain.
Breakfast is the most difficult meal of the day to make. McSwain uses a four-burner electric stove and some breakfast items take two burners. If a group comes in, the odds of them all getting breakfast at the same time are pretty small. However, customers are welcome to phone in their orders and take them to go if they like.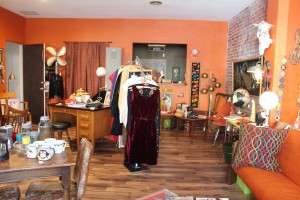 Even with the popularity of the restaurant, McSwain and Anderson are not looking to grow. They plan to keep the business small and manageable so that they will always enjoy it and not feel overwhelmed. The one area they did expand was to a little room next to the café called etc... Anderson explains, "That's the living room, this [the café] is the kitchen." etc… is also an overflow room where customers can wait if the restaurant is full. There are games to play, books to read, and of course, everything is for sale.
McSwain and Anderson are pleasantly amazed at their success. Business has been thriving and Anderson was able to leave her state job to devote more time to their venture. One day Anderson was still at her state job and drove by the café on her lunch hour. She saw that every table inside was full and every table outside was full, and McSwain was working on two very large orders. That's when they realized Anderson needed to be there full time to help.
The name of the café is the brainchild of McSwain, who likes the 1920's, and Pearl is a name popular in that era. They also think of the cafe as being like a pearl, a beautiful gem created from irritation – and they want to be recognized as a hidden gem in Chehalis.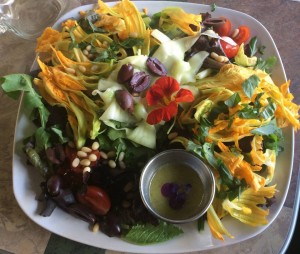 McSwain and Anderson want to be known as a place where people are able to talk and connect, as they love connecting with their customers. "Historic downtowns are great and quirky and the people that come in are unpretentious and genuine," states McSwain. People are always bringing them gifts, like Kombucha tea, corn, or blueberries. Interesting conversations are valued, particularly those with travelers passing through. At the end of the day they often go home saying, "That was fun!"
The Pearl Café
527 NW Pacific Ave
Chehalis, WA 98532
Hours: Tuesday-Friday from 8:30 a.m. – 3:00 p.m.
Beginning in late October and continuing through April, winter hours will be Wednesday-Saturday, 8:30 a.m. – 2:00 p.m.
Follow The Pearl Cafe on Facebook to see what the duo is cooking.